Courtesy of the Berkley Fishing Team
Summer sped by, but autumn offers ample opportunities to hook up with big numbers of beefy bass on lakes, rivers and ponds across the continent. To help make this your best fall yet, we asked a handful of top pro bassers to share their favorite lures for fall bassin'.
Ike's Minnow Magic
"It's a tough call given all the great baits to choose from, but if I was limited to just one, it would be The Jerk from Berkley's Havoc lineup," says iconic bassman Mike "Ike" Iaconelli. "Baitfish are key to fall bass location and behavior," he explains. "Soft, fluke-style minnow baits like The Jerk mimic this forage and are phenomenal for both largemouths and smallmouths."
Color matches the predominant baitfish. "If bass are feeding on shiners, shad or smelt, go with Pearl White or Disco Shad," he says. When sunfish are on the menu, shades of watermelon or green pumpkin get the nod. Matching yellow perch calls for a watermelon pattern with gold flakes, with a dab of orange from dye or a permanent marker for good measure.
Ike rigs The Jerk weightless on a 4/0 or 5/0 offset hook and fishes it near the surface with a series of tantalizing twitches and falls. "The Jerk darts in a different direction every time you twitch it, which attracts fish," he says. "On the drop, it shimmies like a dying baitfish. Every two or three twitches, throw in a longer pause to let The Jerk work its magic."
When dealing with smaller baitfish and bottom-hugging bass, Iaconelli says a 3-inch PowerBait Pro Twitchtail Minnow is a great alternative to The Jerk.
"Nose-hook the Twitchtail on a dropshot rig, with a size 1 hook and 3/16- to ¼-ounce tungsten dropshot weight," he says, adding that braided mainline and a fluoro leader is hard to beat, though he eliminates the swivel in favor of an Alberto knot.
Palaniuk's Money Maker
Brandon Palaniuk helped Berkley design the Havoc Money Maker, and says he reaches for the 4 1/2-inch slender soft bait anytime he wants to cash a tournament paycheck or simply catch fall bass for fun. "I really like the Money Maker for largemouths and smallies this time of year," he says. "Bass are in transition mode between the seasons and I can fish the bait in a lot of different situations and depths."
Palaniuk focuses on prime lies with easy access to deeper water. "I generally concentrate my fall efforts around any cover that has a good, quick transition from shallow to deep water," he says. "Having deep water close by is extremely important.
Palaniuk predominantly drop shots the Money Maker wacky style on a 1/0 hook, varying leader length depending on the situation. "But I also throw it on a wacky jig head, shaky head and even Neko rigged," he adds.
He typically relies on spinning gear, given the presentation's finesse nature. "I use 8-pound NanoFil mainline with a 6-, 8- or 10-pound leader of Berkley 100% Fluoro, depending on the cover," he says.
Suggs' One-Two Punch
Scott Suggs offers thoughts on hard and soft lures. "Berkley's new Dredger is my top fall crankbait," he says. "It casts a mile, fishes effortlessly, and reliably reaches its target depth."
The tight-wiggling, 2¼-inch bait comes in different models allowing anglers to effectively fish depths from nine to more than 25 feet. Once he pinpoints a pod of bass over a shale bed or other rocky bottom on a ditch swing or creek mouth, Suggs deploys Dredgers with three different dive curves to pluck as many fish from the spot as possible.
"In 12 feet of water, for example, I thump bottom with the 14.5 version first," he says. "After catching a few bass, if the bite slows, I tie on the 17.5 option, to really stir up the bottom and follow the contours. Then I follow up with a shallower bait like the 10.5 to check for suspended bass before moving on."
Often, Suggs also experiments with different crankbait colors before pulling the plug on a fish-producing area. "Shad patterns are great in fall," he says. "But when bass quit biting, I also try chartreuse with a black back or a crawfish pattern."
Suggs also firmly believes in matching the predominant forage. Toward that end, he religiously checks caught bass for signs of what they're eating. "People look at me like I'm crazy, but I can tell if bass are on shad or crawfish by smelling their mouths," he offers. "Other telltale signs include red lips from pinning crayfish against the bottom, and either crayfish antennas or shad tails sticking out of the throat."
On the soft bait side, Suggs says the 4-inch Havoc Rocket Craw is an all-around favorite. "It's so versatile, you can fish it on a vibrating jig, on the back of a swim jig, football jig or flipping jig, and even by itself," he says. "It has a lot of action and is a great choice anytime I need something that can be fished on a steady retrieve."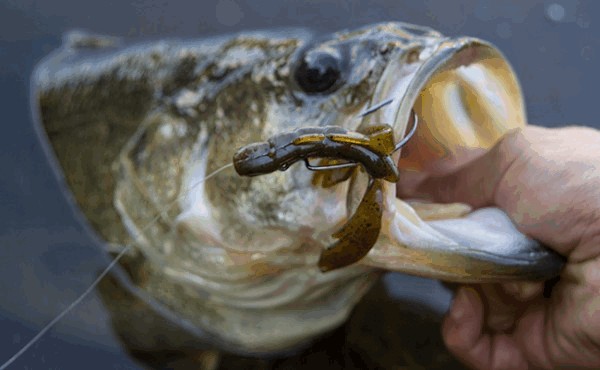 Lucas's Utility Players
Justin Lucas leans on versatile lures in autumn. "My favorites are Berkley's PowerBait Chigger Craw and Pitbull," he says.
Armed with high-action pincers and jiggling legs, the Chigger Craw excels in a variety of applications. "You can flip grass, rocks and wood—wherever the bass are, you can fish them with this bait," he says, explaining that his go-to setup is Texas rigged on a 4/0 Berkley Fusion19 EWG hook, pegged to a ¼- to 1½-ounce weight, depending on depth, cover and conditions.
On the crankbait side, the Pitbull tops Lucas' list because of its utility and relatively diminutive size. "Bass key on smaller baitfish in fall, so a small crank works great," he says. Of the three Pitbull size offerings, he prefers the 2-inch model 3.5, which swims down two to five feet and produces a unique hunting action.
"I fish the Pitbull along outside grass edges and around laydowns and docks," he says. "A slow, steady retrieve is usually best, spiced up with a couple of rodtip twitches here and there to keep it erratic."
Ott's Thoughts
Soft-spoken yet hard-fishing Ott DeFoe throws a variety of soft baits in the fall, depending on the conditions at hand and mood of the bass.
When asked to choose just one, however, he doesn't hesitate. "The PowerBait Crazy Legs Chigger Craw," he says, explaining that the 4-inch craw-and-creature cross features all the action of the regular Chigger Craw, plus the wild gyrations of antenna-like "crazy legs."
"I can throw it in so many different places, and fish it so many different ways," he says. "It's perfect as a trailer on standard, football and articulated jig heads. You can also fish it by itself, gliding and pitching." Top colors include variations of green pumpkin, including patterns with a bluish shade. "I always keep orange dye in the boat to touch up the tips of the claws," he adds.
One of DeFoe's favorite riggings for the bait is Texas rigged on a 4/0 wide-gap hook, pegged to a 3/8- to ½-ounce sinker. "It works on a Carolina setup, too," he says.
"Whether you're flipping brush or grass in two feet of water or dragging a jig over deep rocks, the Crazy Legs Chigger Craw is deadly whenever bass are actively feeding," he says, offering yet another bit of hard-won wisdom to help you catch more bass this fall.