Shadow Cliffs Regional Recreation Area, a regional park on on Stanley Blvd on the border of Pleasanton and Livermore that is part of the East Bay Regional Parks (EBRP) system, is a great example of what can happen when government agencies, business and the public work together to do things right.
A former gravel quarry, Shadow Cliffs is now a prime fishing spot to catch rainbow trout, channel catfish and largemouth bass in the Pleasanton area. The land was donated to the East Bay Regional Park District EBRP by Kaiser Industries, formerly the operator of the quarry, and opened as a park in 1971.
The U.S. Bureau of Outdoor Recreation provided a grant of $250,000 for development of park facilities. With this funding, EBRPD developed a 266-acre park that included an 80-acre lake, picnic facilities and large parking lot.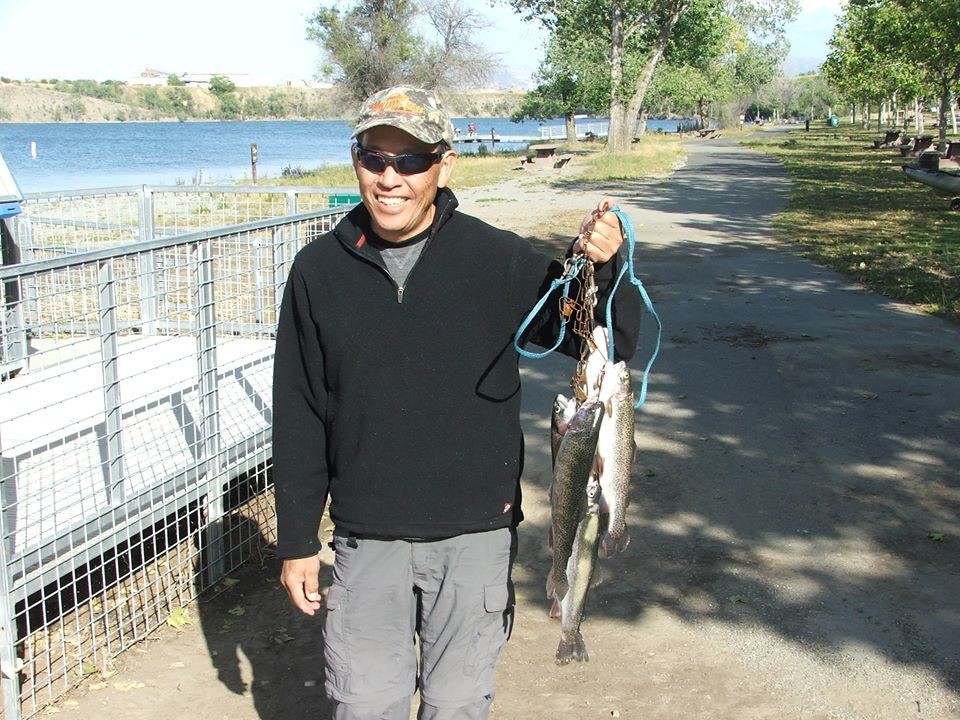 The lake includes a sandy beach with swimming, water slides and supports fishing and recreational boating. It is also a popular picnic area for Pleasanton and East Bay Region families. Now the water slides have been taken down and is now planned to be replaced by an Interpretive Center.
During periods of big storms when other East Bay lakes become muddy and hard to fish, Shadow Cliffs and its East Bay neighbor, Quarry Lakes, remain fishable.
"Shadow Cliffs maintains relatively clear water conditions during and after winter storm events," said Ed Culver, EBRPD fisheries biologist in his latest report on the reservoir covering the period from 2013 to 2017. "For this reason, the rainbow trout catches are often very good when other local reservoirs are turbid and unfishable."
Fish community surveys are conducted annually at the same sites from June-July, according to Culver. Surveys are conducted at night using an electro-fishing boat. This method utilizes an electrical current sent from the boat through the water, which temporarily stuns the fish for easy collection. Upon collection, fish are identified, measured for length and weight, and released back into the lake. Four sites were chosen at Shadow Cliffs along the nearshore zones.
"Due to issues with the boat trailer in 2016, and mechanical issues with our electrofishing boat in 2017, we were unable to sample Shadow Cliffs in 2016 or 2017, therefore, this report includes information from 2013-2015.,' said Ed Culver, EBMPD fisheries biologists
"There has been a decrease in total catch rate over these 3 years," said Culver. "Largemouth bass dominated most of the catch for all years. The largemouth bass we collected consists of high numbers of juvenile and young adult fish, but few larger adults.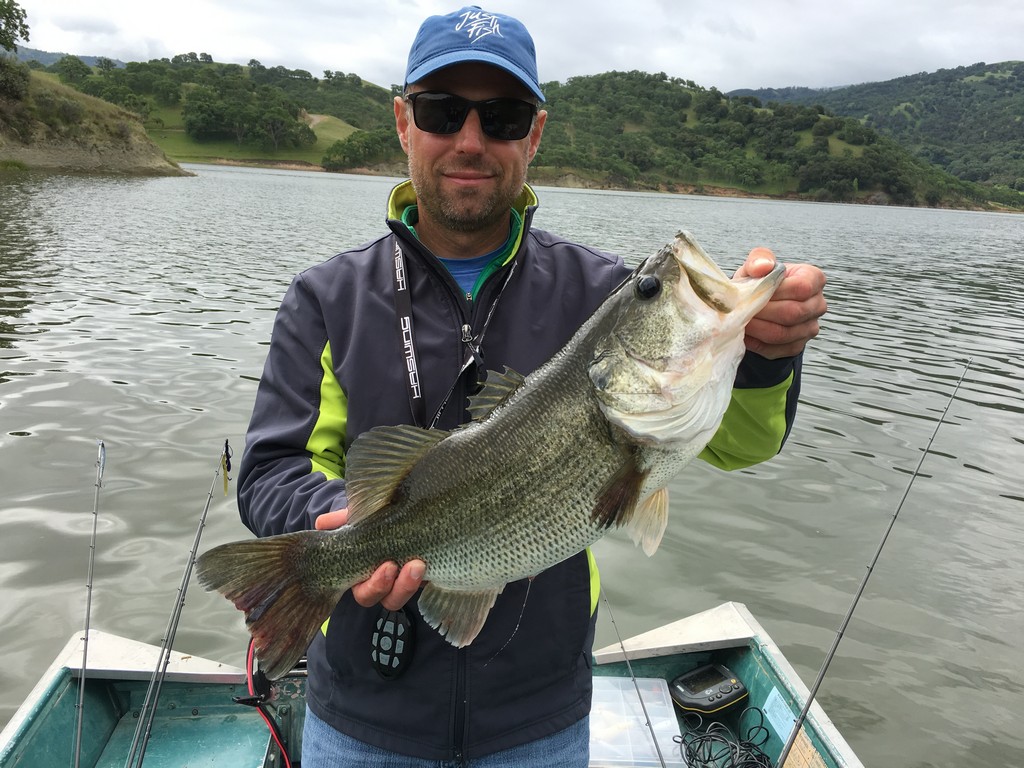 "Because Shadow Cliffs is a steep-sided reservoir, there is a relatively narrow littoral zone, (submerged aquatic weeds), along the shoreline of the lake. The littoral zone of a lake provides important rearing habitat for young bass and sunfish. A majority of largemouth bass sampled in Shadow Cliffs are from smaller size-classes.
"Because of the general shape of Shadow Cliffs, with a narrow littoral zone surrounding fairly deep water, our surveys typically do not sample the larger fish that are deeper and further from shore where electrofishing is not effective. Therefore, the survey data primarily reflects the smaller bass found in the nearshore habitat that is accessible to electrofishing," he said.
Besides the naturally reproducing fish species discussed here, Shadow Cliffs supports a popular put-and-take fishery for rainbow trout and channel catfish.
Funded by the District's Fishing Access permit program, Shadow Cliffs generated over $76,000 in revenues and over $93,000 was expended on fish plants in 2016.
Shadow Cliffs received 20,750 pounds of rainbow trout from EBRPD and an additional 6,750 pounds of trout from the California Department of Fish and Wildlife in 2016. The District also planted 3,250 pounds of channel catfish during the summer months.
In 2017, EBRPD planted 20000 lbs. of trout and 3250 lbs. of catfish, while the CDFW stocked 6000 lbs. of trout/catfish.
In 2018 so far, the EBRPD has planted 9,700 lbs. of trout and 3250 lbs. of catfish, while the CDFW has stocked 5500 lbs. of trout/catfish). The CDFW Urban Fishing Program also stocked 500 lbs. of trout.
The lake received the first trout plant of fall 2018 when the park district stocked 750 pounds of rainbows the week of October 1. You can expect trout fishing to improve as the weather cools and more rainbow plants go into Shadow Cliffs in the coming months.
Some of the largest fish caught and reported by anglers since 2013 include: two channel catfish over 16 lbs. in addition to one 26 lb. catfish, one 15 lb. and one 16 lb. 14 oz. largemouth bass, and a 17 lb. rainbow trout, according to Culver.
Additionally, in May 2017, the East Bay Regional Park District held a Special Kids Derby at Shadow Cliffs where 240 anglers caught a total of 267.8 lbs. of rainbow trout, that were donated by the District's trout contractor, Mt. Lassen Trout Farms.
"Shadow Cliffs remains an important east bay fishery for not only the planted rainbow trout and channel catfish but it also supports a very popular trophy largemouth bass element," noted Culver. "The largemouth bass are apparently spawning each of the years sampled but it is virtually impossible to track the growth of these fish or estimate the numbers of adult largemouth bass due to the configuration of the lake."
"We know, however, that the adult bass are in the reservoir as evidenced by the large bass caught and often released by anglers as well as the number of largemouth bass spawning nests that are observed each spring along the shelf of the lake adjacent to the east shoreline. It is important that we continue to monitor these fish communities because the more we can learn about them, the better we can make decisions to manage this important fisheries resource," he concluded.
Besides the trout, channel catfish and largemouth bass populations, the lake also features a solid carp population, as I found on a trip I made to Shadow Cliffs. As I caught trout, another angler, originally from England, was targeting carp with expensive and specialized gear and his own dough bait concoctions. He said the gear he brought down in the cart cost around $4,000.
"Carp is the thinking man's fish," he said, as he got ready to set the hook on a carp. "I catch and release all my carp. I would never keep a creature as magnificent as a carp."
The recreation area also features another unique fishery – the catch and release largemouth bass fishery in the back ponds of Arroyo Del Valle. Fishing the ponds requires purchasing an EBRPD Daily Fishing Permit, as well as a CA State Fishing License.
The fishery is limited to catch and release, barbless hooks and artificial lures only. No boats – only float tubes – are allowed.
For more information, contact the Rocky Mountain Recreation Company, Shadow Cliffs Recreation Area, 2500 Stanley Blvd, Pleasanton, CA 94566, Phone: (510) 544-3230, http://www.ebparks.org/parks/shadow_cliffs/
Shadow Cliffs Recreation Area Facts
Size and Location: Shadow Cliffs is situated only a mile from downtown Pleasanton on Stanley Boulevard. Swimming, fishing and non-motorized boats are allowed at the park. The park was formerly a gravel quarry and was donated to the Park District; 266-acres have been developed with an 80-acre lake, parking and picnic grounds. An arroyo with a chain of smaller lakes and ponds provide retreats on hot summer days.
Contact Information: 2500 Stanley Blvd. Pleasanton, CA 94566, (925) 931-0540
Parking Fees: Parking $6 Vehicle / $25 Bus, Trailered Vehicle $5 each
Launch Fees; Boat $5/day per trailered boat, Car-top or Inflatable $3 per day, Windsurf Board $2 per day
Other Fees: Dog Fee $2 per dog, EBRPD Fishing Permit $5 per day. Contact the Lake for Annual Parking & Fishing Membership Prices
Boat Rental Fees:: Type First Hour Add'l Hour Deposit, Aluminum/Electric Boat $15 $10 $50
Kayak $15 $8 $40, Pedal Boat $15 $8 $40, Paddle Boards $15 $7 $40 Canoe $15 $8 $40
Fishing:: Rainbow trout are planted in the fall, winter and spring. Channel catfish are planted during the summer when the surface water temperature is too warm to stock trout. Bluegill and largemouth bass are also found in the reservoir.
Snack Shack Hours.:
11:00 am – 6:00 pm
Easter Weekend – Memorial Day: Weekends Only
Memorial Weekend – August 14: Open 7 days a week
August 15 – September 10 ,2017: Open Weekends Only
Concession:
Food – hamburgers, hot dogs, French fries, nachos, sodas, Icees, sports drinks, ice cream, chips and candy.
Beach Toys – inflatable toys, sand toys, water guns, beach shoes, beach towels, etc.
Picnic Items – charcoal, starter, condiments, plates and cups.
Boating and Beach Rules:
• Size Limit: 17 feet
• Electric Motors allowed
• No Jet Skis
• No Gas Engines
• Pets and glass containers are not allowed on the sand portion of the swim area
• Swimming is not allowed in the arroyo areas