By Paul J. Kneeland
The October opening of trout season at Pyramid Lake is a date my friends and I will never miss. The fishing at this spectacular desert lake is excellent almost all year, but the opener is something else altogether!
I actually missed the Monday opener this year because my puppy had a doctor appointment, but my friend Brian Garcia of Colfax and I went up to the lake on Monday afternoon, where we met Mark Kalinowski, John Brassfield and Dave Barsi, all who fished on Mark's beautiful 22-foot Rogue Jet. We stayed with them at their trailer from Crosby Lodge and had a good dinner at Crosby's as well.
Tuesday morning we launched The Fish Sniffer Rogue Jet 22' Coastal at 6 am with a bunch of other boats. The weather was very unusual, with a slight north breeze of about 58 degrees and clouds and overcast all over the lake. Brian and I headed over to the east side and started trolling at the south end of Hell's Kitchen.
The water temperature was 67 degrees and very clear. We hadn't gone 100 feet when a fat cutthroat ripped the line off Brian's downrigger. After a spirited fight, I netted a beautiful 22 inch, 3 ½ pound trout.
A few minutes later, my rod popped off the rigger and I was into a nice fish. This one was pretty heavy, and a few minutes later, Brian netted a gorgeous 8-pound cutthroat! What a way to start the day!!
And, typical of the opening week at Pyramid Lake, the action never slowed down. We trolled the length of Hell's Kitchen and up north a little as well, and had fish on constantly. We could see lots of marks on the Lowrance graph at 60 feet, and they were there for the next 2 days.
We were trolling fairly fast at 2.5 to 3.0 mph, and had a lot of blowback on the downrigger lines. My downrigger said it was out 80 feet, but I wouldn't touch bottom until we came into 60 feet of water.
For once, we didn't spend a lot of time changing lures! No need to when you are constantly hooking fish. Our best offerings were Lyman lures in "watermelon" and "dill pickle" colors, 4-inch Doctor Spoons in "triple threat" color, and the B-21 spoon from Bottom Line tackle in "bloody frog" color.
We ended Tuesday with a total of 46 cutthroat landed, with the largest a fat 10 lb. 4 oz fish that slammed a watermelon Lyman in 70 feet of water. We had 3 trout over 8 pounds, and many in the 5 to 7-pound range.
Tuesday evening Brian and I camped on the shore just south of the boat ramp. It was a beautiful evening, highlighted by the Pyramid across the lake shining in the orange alpenglow of the setting sun. After great barbequed steaks, a nice cigar and a touch of Kentucky's finest, we hit the sack after a wonderful day.
Wednesday morning was again overcast, but with not much wind. We headed back to the east side and spent all day at the north end of Hell's Kitchen. They say never to leave fish to find fish, so we stayed on them!
It was a beautiful morning, with broken clouds over the lake shimmering in the refracted light of the rising sun! We even got rained on for about 20 minutes! But none of that slowed the fishing down.
At about 2 in the afternoon, we were about to call it a day when my line got ripped off the downrigger and the rod tip bowed quickly to the surface of the water. I grabbed the rod, and the Daiwa Lexa Line counter showed the 8-pound test P Line Fluorocarbon peeling out at an alarming rate.
The trout finally stopped after tearing out 125 feet of line and then just sulked near the bottom. I started working him slowly in, trying to keep him calm and keep the line on my reel. He had other ideas however – coming in for a while – then turning and ripping more line off the reel.
Pyramid cutthroats are not known as great fighters, but this one was fighting like a champ! As he got within about 100 feet of the boat, Brian cleared the other lines, and even turned the downriggers away from the stern of the boat.
Three different times I got him within 30 feet, only to have him make another 50-foot run, mostly straight down! After a good 20-minute battle, Brian finally netted a fat, 29-inch, 11 lb. 4oz. cutthroat! This fatty had slammed the B-21 spoon, which promptly fell out of his mouth as Brian netted him!
My friend Tom Hamada of Loomis was fishing with Mike Stears in Mike's 22' Rogue Jet Center Console. We had trolled by each other several times and exchanged information. The last time they trolled by us, Tom was grinning like a Cheshire cat and shouted "I just landed a 16 pounder!" That is what it is like at Pyramid Lake. You never know when that 10, 16 or even 20-pound cutthroat is going to inhale your lure!
Jack Bishop of Osprey Lure Distributing in Roseville was on the lake the following Monday and Tuesday with Craig Newton of Willfish Tackle in Auburn. They had the same luck as we did, catching 30 or 40 fish a day up to 16 pounds on a variety of Lyman Lures.
The fishing at Pyramid Lake will continue all winter. Some of the largest fish are caught in February and March, but you have a chance at a 15 or 20 pounder at any time! It is wonderful to have such a world-class trout fishery so close to home!
Pyramid Lake is located 33 miles north of Reno, and owned and managed by the Pyramid Lake Paiute Tribe. You do not need a Nevada fishing license, but you do need to get a permit from the tribe.
Pyramid Lake covers 125,000 acres, making it one of the largest natural lakes in the state of Nevada. The lake is also the biggest remnant of ancient Lake Lahontan, the colossal inland sea that once covered most of Nevada.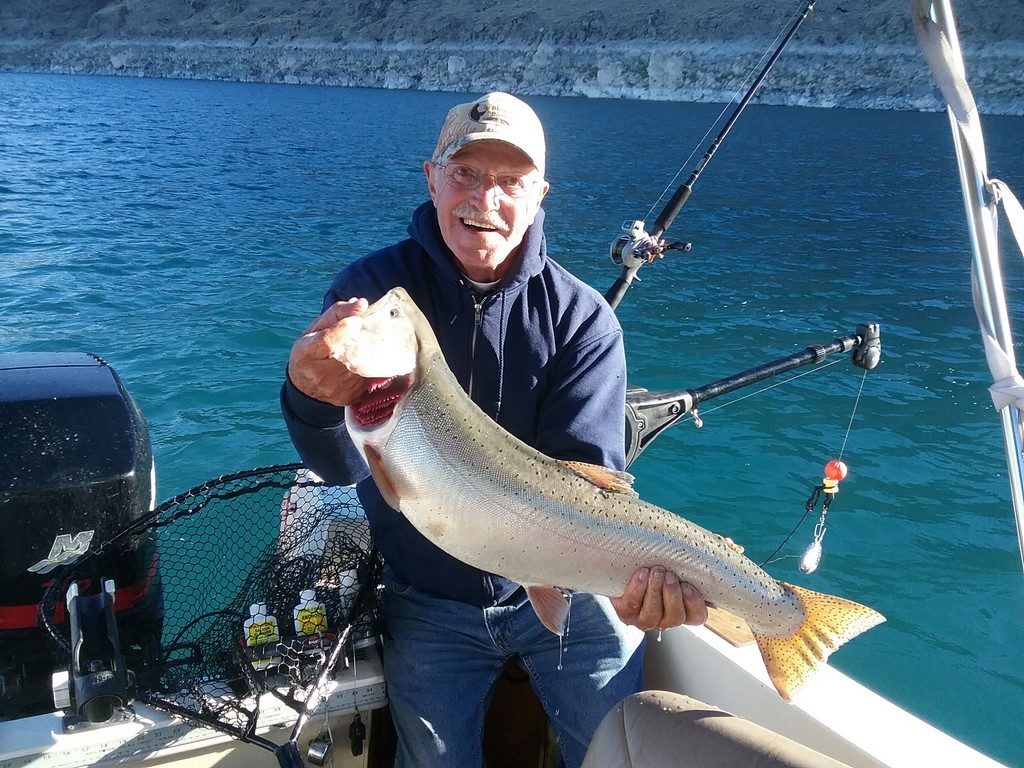 The scenery is spectacular and the color of Pyramid Lake changes from shades of blue or gray, depending upon the skies above. Pyramid Lake is also surrounded by unusual rock formations, including the Stone Mother. Pyramid Lake's significant role in the history of the Paiute Indian Tribe also adds to its mystique and many myths and tales surrounding it.
Widely acclaimed as the North America's most beautiful desert lake, it's actually the world class trout fishery that has brought Pyramid Lake worldwide fame. In addition, Pyramid is the home to the endangered cui-ui fish that has been around for over 3 million years.
For more information on Pyramid, including fishing permits, etc. call Pyramid Lake Fisheries at (775) 476-055 or www.pyramidlakefisheries.org. For fishing information tackle and lodging, contact Crosby Lodge at (775) 476-0400 or www.crosbylodge.net
Pyramid Lake Facts
NIXON—The Pyramid Lake Paiute Tribe welcomes fishermen to this world class fishing destination which attracts fishermen from throughout the country and the world.
The lake produced the world's record Lahontan Cutthroat Trout which weighed in at 41 pounds in 1925. Prime fishing await fishermen at the many open beaches including Pelican Point, Warrior Point, Blockhouse, and Popcorn Rock.
The Tribe has closed beaches on the east and north-east side of the lake including Howards Bay; Dago Bay; Pyramid/Stone Mother; Red Bay; Anderson Bay; and Needles. These locations are closed due to past vandalism as well as the cultural importance of the area to tribal members. Persons caught in this area can be cited for trespassing pursuant of the tribe's laws and regulations.
Surprise Valley Road from Warrior Point to the reservation boundary remains closed until road construction is complete. The road is tentatively scheduled to reopen on October 20, 2018. At that time 9-Mile and Monument Rock area will open. Willows area will remain closed due to safety concerns. Please visit the Tribe's websites for updates: www.plpt.nsn.us or www.pyramidlake.us.
Regardless of the closures Pyramid Lake offers many activities for visitors, such as fishing, boating, camping and day use. Permits are available at the Tribe's Ranger Station and Pyramid Lake Marina in Sutcliffe, I-80
Smokeshop in Wadsworth and the Nixon Store.
The Pyramid Lake Marina, Nixon Store and I-80 Smokeshop will be open from 5am-10pm to accommodate fisherman with their permit and fishing needs. Permits are also available at several local sports and convenience stores. A list of permit sellers can be found here: www.pyramidlake.us/wp-content/uploads/2018/03/Permit-Vendor-List-2016.pdf
Permits may also be purchased on-line at the following link: plpt.nagfa.net/online/
Permits are non-refundable and non-transferrable. Funds are used to support the Tribe's costs for public safety and lake maintenance.
Visitors must observe all regulations in the Pyramid Lake Paiute Tribe's Regulation Brochure. The Tribe appreciates the practice of "Leaving No Trace" upon the end of your visit. For more information visit the website www.pyramidlake.us.