Participants in the NorCal Trout Anglers Challenge Tournament of Champions at Collins Lake, sponsored by the Fish Sniffer magazine and Angler's Press, found top-notch fishing, particularly from shore, on the weekend of November 3-4.
Nestled in the beautiful Sierra Nevada foothills, just over an hour northeast of Sacramento between Marysville and Grass Valley, Collins is a 1600-acre lake and recreation area with 12 miles of shoreline. Collins receives large rainbow trout plants in both the fall and spring, with 31,800 pounds of trout planted this spring and another 5,000 pounds stocked so far this fall, with 5,000 pounds more expected.
"This was perhaps the most exciting Tournament of Champions event we have had in the past 6 years," note Vince Harris, President of Angler's Press Outdoors. "With over 125 adult anglers and youth participating, the best weather imaginable, and a great bite, we couldn't be more pleased with this event."
Jeremy Phillipson won first place in the kid's division with a 5.36 lb. rainbow that he landed on Saturday while fishing from shore with chartreuse PowerBait. "It was a slow morning off the beach when suddenly my rod was slammed down by the fish, said Phillipson. "Angel Blanco netted the fish for me."
Moises Blanco placed second in the kid's division of the event with a 4.97 lb. rainbow. He was fishing PowerBait with his father, Jose, off their campsite.
The third through tenth place winners were (3) Austin Soucy, 3.22; (4) Ryder Peterson, 3.22; (5) Jacob White, 2.99; (6) Victoria Reyes, 2.77; (7) Colby Hill, 2.53; (8) Angel Blanco, 2.44; (9) Devin Osterberg, 2.44; and (10) Anaya Tinsley, 2.38.
Matt Kinsey won first place in the adult division by landing a whopping 5.82 pound rainbow trout.
The second through tenth place winners were (2) Mike Strauss, 5.16; (3) Dave Soucy, 5.02; (4) Dan Grass, 4.31; (5) Nick Billmeier, 4.24; (6) Craig Smith, 3.66; (7) Bruce Alger, 3.48; (8) Kevin Potter, 3.46; (9) Mark Sepelak, 3.44; and (10) David Bixler 3.42.
The top 10 winners in each division participated in a drawing for a boat. The adult winner, Bruce Alger, won a 14 foot tracker boat, motor and trailer package, courtesy of Gone Fishin' Marine in Dixon. The youth winner, Austin Soucy, won a Sea Eagle inflatable fishing paddle board, courtesy of Sea Eagle.
The father-son team of Rich and Ryder Peterson, like many, found their best fishing while bait fishing.
"We tried trolling all morning without catching anything," said Rich. "So, we pulled up the boat on shore and fished from the bank. We ended up catching two trout that we weighed in."
"On the following day, we went back to same spot and ended up going back to the same spot," said Peterson. "We caught a total of 9 fish, all over 2 pounds. We used green and rainbow Power Bait and Mice Tails in just five feet of water."
Ryder's biggest fish was 3.22 pounds, putting him in fifth place in the kid's division.
The adult winners also received cash prizes and the youth went home with an array of prizes.
Sponsors of the event included Gone Fishin' Marine, Fisherman's Warehouse, Atlas-Mikes, Berkley, Yo-Zuri, Yakima Bait, Costa Del Mar, Silver Horde/Gold Star, Panther Martin, Dodge, Mack's Lures, Pro-Cure, SeaEagle.com, Dick Nite Spoons and Thomas Fishing Lures.
Anglers who finished in the top 50 in any one of the 2017 NorCal Trout Angler's Challenge events were qualified to participate in the end-of-the season championship at the lake.
The 2019 trout tour will open at San Pablo Reservoir on February 2nd, 2019. For more information about the NorCal Trout Anglers Challenge, call Vince Harris of Angler's Press, (916) 768-0938.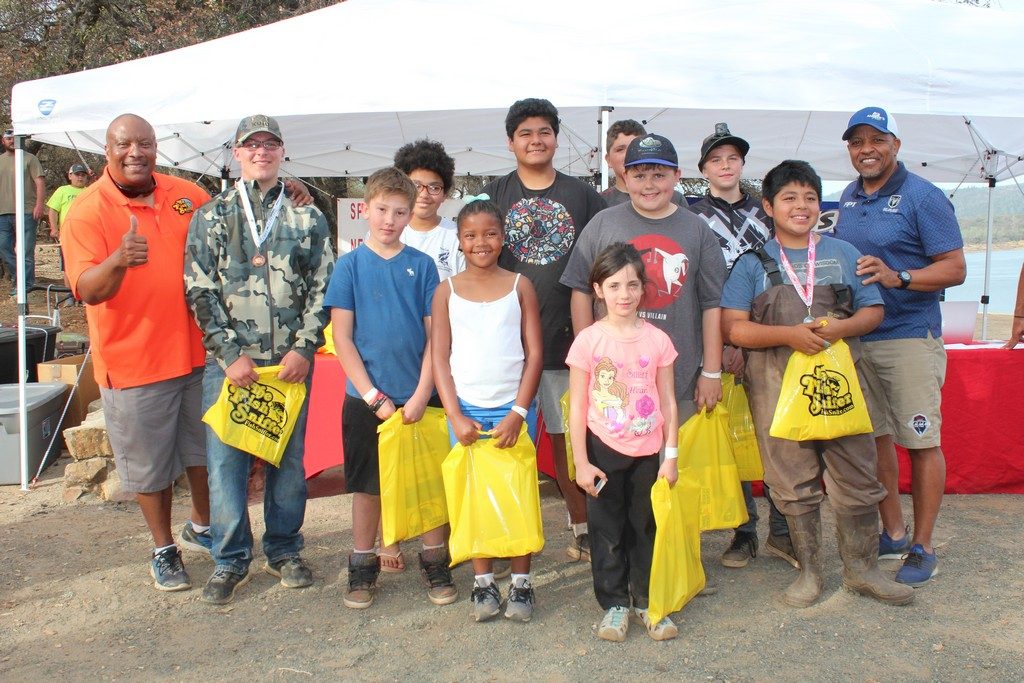 Collins Lake, located on Dry Creek, a tributary of the Yuba River, features 12 miles of shoreline located in the beautiful Sierra Nevada foothills.
More than 50,000 rainbow trout are planted in Collins every spring and fall, meaning that Collins Lake has the largest private planting program north of Sacramento. Thousands of these trout are trophy- sized, planted at 3 to 8 pounds and growing even larger.
The resort, in cooperation with the CDFW, Kokanee Power and CIFFI, has also sponsored a successful pen-rearing program to enhance the trophy trout fishery at the reservoir.
The CDFW puts the trout in the 12 floating pens at a size of 2/3 lbs. each November. When they are released in increments between mid-March and the end of April, they range from 2-1/4 to 3 pounds. This year the net pens will be filled on November 19 by the CDFW, assisted by lake staff and local volunteers.
"They're beautiful fish with full fins that look much more like native or holdover trout," said Lincoln Young, manager of Collins Lake Resort. "Since they're already acclimated to the lake's waters, they're brightly colored, their flesh is firmer and they fight harder than recently planted trout."
The CDFW planted brown trout in previous years, but they haven't stocked browns for over 8 years.
Trout grow big and fat in Collins, feeding heavily on the lake's abundant threadfin shad and other forage. Rich Moore set the lake rainbow record of 14 pounds, 3 ounces in May 2009. The lake brown record, set in 1991 by Bill Clutter, is 9 pounds.
Spotted and largemouth bass offer great fishing at Collins also. Dan Raub captured the lake largemouth bass record of 13 pounds, 4 ounces in June 1998 while fishing a live crawdad. James Everhart employed a trout swimbait to nail the lake spotted bass record of 9 pounds, 8-1/2 ounces in 2008.
"Spotted bass are the most abundant bass in the reservoir," said Collins. "We see good numbers of 4 to 5 pounders and fish up to 7 pounds every year. Over the years, we've weighed in a dozen spotted bass over 8 pounds."
Channel catfish also offer an excellent fishery at the lake throughout the year, with the best action generally available during the summer and early fall months. The lake catfish record, set in 2008, is 24 pounds.
To supplement the bass and panfish fishery, Young and the lake management in the past have stocked the lake with Alabama spotted bass, black crappie, bluegill and redear sunfish. "We plant the fish at the size that they can spawn that season," Young noted.
The lake crappie record of 3 pounds, 4 ounces was set by Probhat Palma in October 2012,.
In addition to replanting the reservoir with warm water fish, they also have conducted their own habitat enhancement project every 6 to 8 years to rebuild the lake's food chain from the bottom up.
"A positive aspect of the recent drought is that it has exposed the shoreline and allowed brush to grow around the lake," said Young. "When the lake filled this spring with the rainbows, it inundated the brush, providing good habitat for juvenile bass and sunfish to feed and hide from predators."
For more information, contact the Collins Lake Recreation Area at 530-692-1600, www.collinslake.com.
Collins Lake Facts
Location and Size: The recreation area, located at 1200 feet in elevation, covers about 1,600 acres when full and features 12.5 miles of shoreline. Collins Lake is about 1-1/4 hours northeast of Sacramento and about 30 minutes east of Marysville.
Season: The recreation area is open for day use 7 days a week year-round. Anglers fish for rainbow trout, brown trout, spotted bass, largemouth bass, smallmouth bass, channel catfish, black crappie, bluegill and redear sunfish.
Boating: The water ski season runs from May 15 through September 30. Jet skis and small personal watercraft aren't allowed on the lake. A double wide concrete launch ramp with a dock and a full-service marina with moorage and boat rentals are available.
Fishing Access: Collins Lake provides outstanding access for shore anglers and campers. Shore anglers find success while fishing along the dam, on the west shore and around the bridge on the river arm.
Camping: A safe and clean family campground includes hot showers and laundry, RV hookups and tent campsites. The campground is patrolled by security and emergency medical personnel are on call. Groups are welcome. Rates vary on time of year and amenities provided.
Other Facilities: Collins includes a 600-foot sand swimming beach, children's playground, beach volleyball, picnic area, general store, laundry and hot showers. Check out their famous huge ice cream cones! Three large group picnic areas located near the swimming beach and playground.
Information and Services: Collins Lake Recreation Area, 1-800-286-0576 or (530) 692-1600, www.collinslake.com.