By Paul J. Kneeland
The 19th Annual Shasta Lake Fall Trout derby took place on the weekend of October 20 and 21. The lake was in good shape, down about 90 feet which is about normal for this time of year.
John Brassfield and I arrived at Sugarloaf Cottages in Lakehead and were joined by Bruce Wicks and Al Fiske of Foresthill, Dave Barsi of Oak Run, and Mark Kalinowski of Concord. We launched the Fish Sniffer Rogue Jet 21 Coastal and parked it in the slip below the cabins. As the sun set and the night cooled, we barbequed steaks and had cocktails and cigars overlooking the beautiful Sacramento River arm of Shasta Lake.
Friday morning we were in the boat and heading down the Sacramento River arm of the lake about 6:45 am. On pre-fish days, John and I like to try different areas of the lake, not our favorite spots. We tried several spots in the Sacramento arm, Dry Fork and Big Backbone.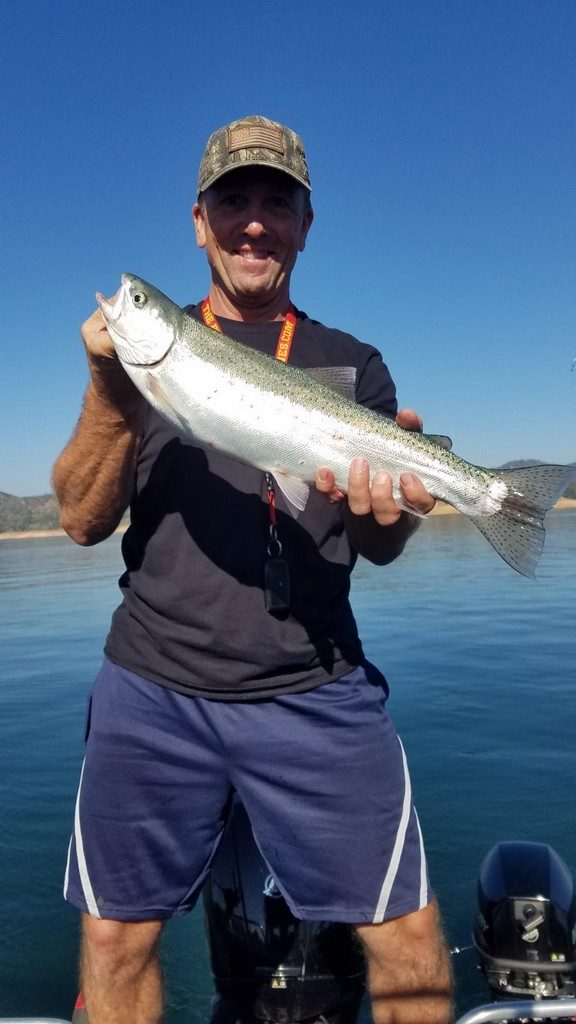 There was one very consistent factor – everywhere we went we saw tons of bait – mostly near the surface and sometimes down to 50 feet or so. We trolled through these bait balls for hours and caught – nothing but bass! The water temperature was 66 degrees and was very clear. I ran a top line most of the morning using several different lures to no avail. Finally about noon, we caught our first trout – a fat 15-inch rainbow that hit an RB Tackle spoon.
John's brother Jeff Brassfield was fishing with Kurt Koch of Rocklin in Kurt's 20' Thunderjet and Kurt landed a beautiful 4-½ pound rainbow at the mouth of Big Backbone. Too bad they didn't catch a trout like that on Saturday!
We had dinner at the Basshole Bar & Grill, along with many of the participants in the tournament. There was a general agreement – the bite was very tough, and trout had been caught from the surface down to 100 feet deep. The few fish caught came on spoons, plugs, wiggle hootchies, and several other lures. There was no pattern that anyone could discern. Just have to keep your lure in the water and hold your mouth right!!
Saturday morning we were all in our boats in the slips by 6:30 am and ready to go. The weather was beautiful! A cool 48 degrees in the morning with some northerly breezes until about noon. Then it heated up to over 90 degrees by midafternoon.
John and I headed to one of our favorite spots – the mouth of the McCloud. We ran up to the Caverns, and turned and trolled downwind. We didn't see as much bait here, and saw no interesting marks.
Finally, about 11 am we caught our first trout on a Hart's Indian Special Excel spoon at 10 feet deep. We moved to the dam area and caught 3 more medium size trout – at least we had enough to weigh in!
About 2 pm, we were trolling out in front of the dam in 300 feet of water, when John's line went off and started tearing out line. His braided line was disappearing fast when he yelled "I'm about to be spooled!"
I put the 15 hp Evinrude kicker quickly in reverse, just in time for him to gain a little line! I cleared the other 3 lines, 2 of which were wrapped around downrigger lines because of the sudden reverse, and in a few minutes, we landed our biggest rainbow of the trip, a feisty 3-½ pounder that came on a red/UV Mack's Lure Humdinger trolled right on the surface.
After weighing in our fish at the Bass Hole, we attended derby dinner at the Lions club across the street. The meal of barbequed tri tip or chicken, rebaked potatoes, seasoned vegetables, Caesar salad and great cake for dessert was excellent, as usual. There was a spirited raffle that was very efficiently run, and we were out of there by 8:30 pm. Then we headed back to get some sleep and be ready for the final day.
Sunday morning dawned bright and clear. John and I headed for Bass Cove off the main body, and Bruce and Al went back to Big Backbone where they had luck yesterday. We put down the gear and just as we turned into the cove, my top line went off and we were into a nice trout. This one was about 1 ½ pounds on a shad pattern Doctor spoon. As I was unhooking the trout, my other line was bouncing on the downrigger and I grabbed the rod and another fish!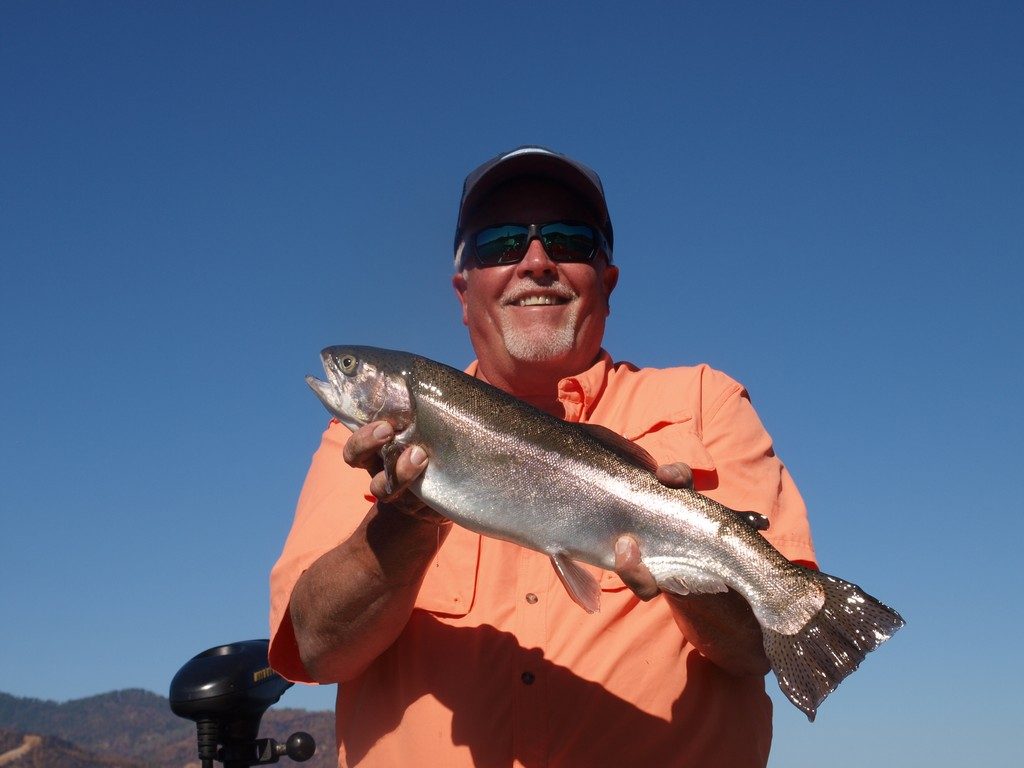 This one however, was the bane to all good trout fishermen – a fat spotted bass! We trolled through Bass Cove and had 4 trout in the box by 8:30! We were very happy to have enough to weigh in, especially considering how tough trout were to come by.
We ended the day over by the dam with a total of 7 trout to the boat. Most of our fish came right on the surface, trolling about 2.5 mph and 200 feet behind the boat. The deepest fish we caught all weekend was at 14 feet.
Back at the Basshole for the final weigh in, we were not surprised to see few anglers checking in. Some of the very best fishermen I know were skunked on Sunday! That happened to John and I last year. Bruce and Al had 4 nice fish to weigh in, all caught in Big Backbone the same as Saturday. The rest of our group had the same bad luck as most everyone else.
However, a few guys caught some really nice trout! The team of Nick and Gerry Flanagan won the derby with a two-day weight of 26.2 pounds, including big rainbows of 4.54 lbs. on Saturday and 5.99 lbs. on Sunday! They caught their fish trolling both large and small Kastmasters on the surface and down to 15 feet near Digger point.
As always, we had a great time fishing this derby, in spite of the tough fishing. All the folks in Lakehead who put on the derby are very friendly and want everyone to have a good time.
We stayed at the comfortable Sugarloaf Cottages Resort. They offer 16 comfortable cabins right on the lake, with one, two or 3 bedrooms, full kitchens with utensils and dishes, comfortable beds and bedding, and great patios with barbeques overlooking the lake. For more information, call (800) 953-4432 or go to www.shastacabins.com.
For more information on the Fall Trout Derby, as well as the spring Trout & Salmon Derby, contact Harold at Sugarloaf Cottages or the Basshole Bar & Grill at (530) 238-2170.
SIDE BAR OF WINNERS:
1st Place – Gerry & Nick Flanigan – 26.20 lbs
2nd Place – Tony & Diana Whiteside – 20.80 lbs
3rd Place – Doug Philpott & Tim Sellars – 18.55 lbs
4th Place – Dale Gibbons & Jason Tidwell – 18.36 lbs
5th Place – Paul Kneeland & John Brassfield – 18.33 lbs
6th Place – Jim Brittan & Chad Watson – 16.90 lbs
7th Place – Al Fiske & Bruce Wicks – 16.67 lbs
8th Place – Dave Stockton & Mike Shoemate – 15.65 lbs
9th Place – Pat & Jim Griffith – 14.11 lbs
10th Place – Larry Abernathy, Rand Smith & Allen Finocchio – 13.84 lbs
11th Place – Chris & Mary Dunham – 13.58 lbs.
12th Place – Chris & Butch Jacobsen – 13.25 lbs
13th Place – Jack Shulltz & Allen Traynor – 12.77 lbs
14th Place – Charlie & Darrell Davies – 12.70 lbs
15th Place – Kenny McDonald & Steve McSween – 12.42 lbs.