On a cold December morning in 2001, my cousin, the late Tom Mulderrig, and I arrived to sit in a long line of cars waiting for the grand opening of the Quarry Lakes Regional Recreation Area in Fremont. After the gate opened, we paid our parking and fishing fees at the kiosk, quickly parked my truck and walked down to the lake.
It was exciting to fish a new lake, Horseshoe Lake, that had been planted with many thousands of pounds of trout. For years, I had heard stories of people who snuck into the quarry ponds to bag big smallmouth bass.
I quickly caught my limit of rainbows in the 1-1/2 to 2-1/2 pound range while throwing out Power Bait and nightcrawlers. Others around us were doing well also. It was the great way to begin a new chapter in outdoor recreation in the Fremont and Union City area.
Pete Alexander, the fisheries program director for the district at the time, was walking along checking out the catches and I showed him my limit of rainbows. It was the first limit from the lake he had seen that day – so I always joke with people that I caught the first "officially certified limit of rainbows" reported from Quarry Lakes.
Quarry Lakes has quite a history. The quarries that Quarry Lakes Regional Recreation Area is named for were established in the mid-19th century. Gravel taken from the banks of Alameda Creek was used in the construction of the transcontinental railroad's western section, according to the East Bay Regional Park District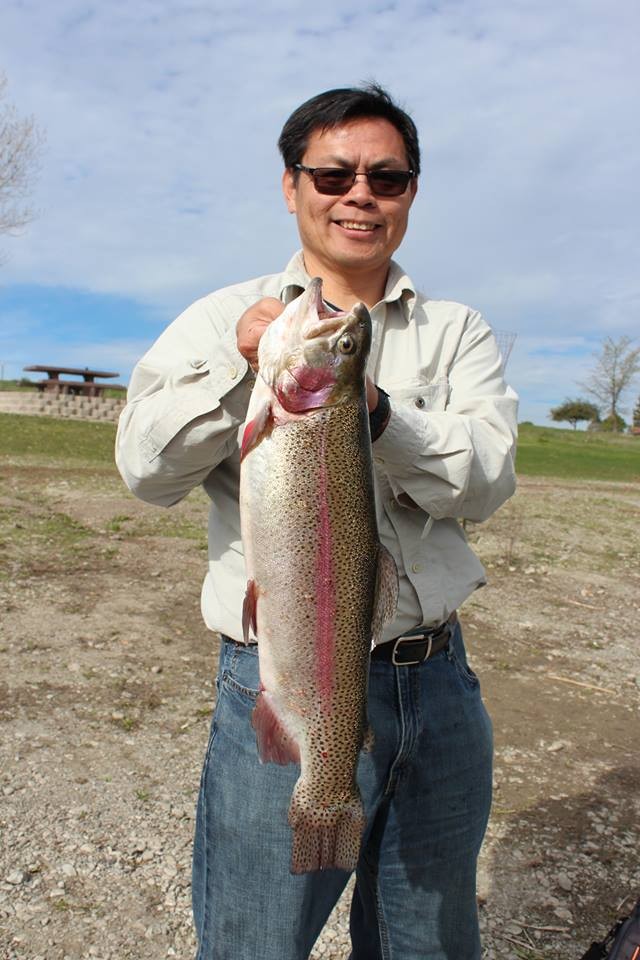 After quarrying ended, the Alameda County Water District began to use the lake for groundwater recharge by diverting water from Alameda Creek into the pits.
Quarry Lakes Regional Recreation Area was the culmination of many years of planning and partnership between the Water District and the East Bay Regional Park District. The two agencies acquired the property that now comprises the park between 1975 and 1992 through purchase, donation and inter-agency agreements. Of the park's 471 acres, some 350 acres are the lakes.
The first phase of park construction began in 1997, when the Alameda County Water District used grading equipment to flatten the slopes of the quarry pit. This minimized erosion and sedimentation, while also creating land contours more suitable for parkland.
Then in August of 2000 the Park District began creating the recreational facilities at Quarry Lakes, including turfgrass lawns, picnic areas, shade pavilions, a swim beach, a boat launch ramp, and a trail network.
There are two lakes you can fish in the Quarry Lakes Recreation Area, Horseshoe and Rainbow. The most heavily fished one, Horseshoe Lake, offers a year-round trout fishery, since the rainbows are able to thrive in the lake's deep waters during the summer.
The park district and CDFW together stock tens of thousands of pounds of rainbow trout in Horseshoe every year. During the summer, the district also plants channel catfish in Horseshoe.
In 2017, the EBRPD stocked 18880 lbs. of trout and 3250 lbs. of catfish. The CDFW also planted 2900 lbs. of trout/catfish and CDFW Urban Fishing program stocked 500 lbs. of trout.
In 2018 to date, the EBRPD has planted 14,700 lbs. of trout and 3750 lbs. of catfish. The CDFW also stocked 4000 lbs. of trout/catfish and the CDFW Urban Fishing program planted 1250 lbs. of trout.
There is lots of great bank access around Horseshoe Lake, including a handicapped accessible metal dock. Anglers can also launch their boats at the boat launch.

Bank anglers experience the top trout action while tossing out nightcrawlers, Power Bait, Kastmasters, Rooster Tails and other lures. Trollers find the top action while using an array of spinners, spoons and plugs or nightcrawlers behind flashers or dodgers.
Anglers catch both trout and catfish during the summer – and many catfish are landed by anglers bait fishing for rainbows.
At Horseshoe you never know when that next bite may be from a trophy rainbow. Mike Cassell of San Jose landed the lake record 20 lb. rainbow while tossing out a Kastmaster from shore in December 2009.
Other fish found in the lake include bluegill, carp, tule perch, Sacramento blackfish, Sacramento sucker, Sacramento pike-minnow and Sacramento hitch.
The park district does annual fish community surveys at the same sites from June-July to assess the fish populations. Surveys are conducted at night using an electro-fishing boat.
"The highest catch rates for sport fish in Horseshoe Lake were observed during 2016," according to Edward Culver, fisheries biologist for the East Bay Regional Park District, in his most recent report on the lake. "Largemouth bass continue to make up the majority of our catch. The largemouth bass population appears to have had good reproduction most years, especially in 2016."
"Due to the structure of the lake, adult largemouth bass cannot be effectively sampled because they are likely in the deeper zones where electrofishing is ineffective, However, the presence of younger age-class bass suggests they are successfully reproducing," he noted.
Both Horseshoe Lake and the nearby Rainbow Lake, which isn't planted with trout or catfish, hosted a habitat enhancement conducted by the district in cooperation with Jon Walton, former tackle store owner, volunteers from Black Bass Action Committee and local scout troops for several years.
"In 2013-2015, the District installed Christmas trees on the western shore of Horseshoe Lake to provide better habitat for fish. While this project has since been cancelled, we hope that the installation of these Christmas tree reefs in Horseshoe Lake provide important nursery rearing areas for fish," said Culver. "Indeed, we saw a large increase in the number of sampled juvenile largemouth bass and smaller size-class bluegill (>75mm in length) in Horseshoe Lake in 2016 that may be related to the installation of these Christmas tree reefs."
While Horseshoe yields bass to those who target them, Rainbow has the most productive bass fishery. "Rainbow Lake continues to support the highest numbers of largemouth bass, (primarily young of the year), out of all the Quarry Lakes.," said Culver.

"Catch rates were very high in 2015 and 2016. These samples were also almost completely dominated by largemouth bass. In addition to largemouth bass, the fish community consists of inland silverside, prickly sculpin and channel catfish. In 2016, we observed the presence of bluegill in Rainbow Lake. Previously, we had not observed bluegill since 2008."
Much like Horseshoe Lake, Rainbow Lake supports healthy numbers of younger age-class largemouth bass, he said.
"Rainbow Lake received Christmas trees through 2013 for the purpose of creating reefs suitable for largemouth bass and other sport fish as nursery habitat for young of the year fish. These reefs were placed on the southeast end of the lake where the depth is relatively shallow and the prevailing winds drive the warm surface water. These conditions provide the best bass and sunfish spawning and rearing conditions," stated Culver.
While neither the District nor Department of Fish and Wildlife plant rainbow trout or channel catfish directly into Rainbow Lake, these species do migrate into Rainbow Lake via an underground pipeline, noted Culver.
"Quarry Lakes remains an important East Bay fishery, not only for planted rainbow trout and channel catfish, but also for largemouth bass. Due to the depth of the lakes, it is difficult to track certain fish species; however, anglers are continuing to catch large fish and fill their limits," Culver concluded.
Quarry Lake Facts
Fishing Regulations: Fishing is permitted ONLY in the Recreational Unit of Quarry Lakes, which includes Horseshoe Lake and Rainbow Lake. A California Fishing License is required for all anglers aged 16 and above. An EBRPD Daily Fishing Access Permit is also required for all anglers age 16 and over. The Daily Fishing Access Permit may be purchased at the park entry kiosk. Daily Fishing Access Permit sales fund the planting of trout and catfish in Horseshoe Lake. For fish planting schedule, see the Angler's Edge Online. Note that daily bag limits apply at all fishing locations.
Lead Weight Exchange Policy: Please note that the use of lead fishing weights is prohibited at Quarry Lakes. In partnership with the Alameda County Water District, the Quarry Lakes Lead Fishing Tackle Awareness and Exchange Program was created to educate local anglers on the hazards of using lead fishing tackle and to provide the opportunity for a no-cost exchange of toxic lead split-shot weights and sinkers for lead-free split-shot weights and sinkers. The kiosk attendant will exchange weights at any time the kiosk is open, currently 6 a.m. to 5 p.m. daily. They will exchange one-for-one of the following items, (maximum 15 items per visit): splitshot; egg weights, ¼, 3/8, ½, ¾, 1 oz.; bullet weights 1/8, and ¼ oz.
Picnicking: Picnic sites with tables and barbecues are available on a first-come, first-served basis. Reservable sites are also available. Reservable sites include Ensenada North and South, which are pavilion-shaded sites that accommodate up to 200 people each; Osprey and Lampert Knoll, which accommodates 50; and Niles (alcohol not allowed), which accommodates 35. For information or reservations call 1-888-EBPARKS or 1-888-327-2757, press option 2.
Boating: Sailboards/stand-up paddle boards, canoes, kayaks, and boats with electric-powered motors may be launched into Horseshoe Lake from the boat launch. Since the lakes are used for groundwater recharge, gasoline-powered engines are not allowed to enter the park by regulation of the Alameda County Water District even if you don't plan on using the gas motor. There is a launch fee. All watercraft must be inspected prior to launching. Float tubes may be launched into Horseshoe Lake and Rainbow Lake. Persons using float tubes must wear waders or other wet-suit material to prevent body contact with the water.
More Information:: https://www.ebparks.org/parks/quarry_lakes/default.htm, (510) 544-3130