The weather has been tough. We've had heavy snow in the mountains, heavy rain in the foothills and valley and the snow level has fluctuated wildly at times, meaning that plenty of fresh snow has been melted by falling rain.
The net result is that most waters are stained at best, if not downright muddy and the water is cold. Many foothill and valley lakes are in the 40's and the lower end of the Delta has been locked into the 48 to 50-degree zone for the past month or so.
I can't sugarcoat things. These conditions make for tough fishing. So much so that I've spent most of the "fishing time" over the past couple weeks in the garage getting my Hobie ready for the action to come.
Now this isn't to say that there aren't viable options available for both hardcore anglers and the weekend warrior that has cabin fever and just needs to hook up…Here are a few options on where and how you might find some willing fish.
Sturgeon, Largemouths & Spots
I'll start with a couple thoughts for the hardcore community. Right now, for the guys and girls in the black bass and sturgeon fishing communities that don't mind wet cold conditions, some tremendous fish have been up for grabs.
Trophy hunters in search of huge largemouths and spots that have fanned out across foothill lakes are finding success on fish that range from 4 to 10 plus pounds.
The number one approach is working a 4 to 8-inch swimbait along steep banks and main lake points. Big fish are often up and on the hunt at this time of the year. Better still, off color water is thought to make them a bit more vulnerable to anglers than they would ordinarily be.
Shasta, Folsom, Don Pedro, New Melones and Berryessa have all kicked out big fish recently. You likely don't have to travel far to cross paths with a trophy black bass. They exist at most of our major reservoirs and now is a great time to hook one!
Moving on to sturgeon, diamond backs are spread out from the extreme south end of south San Francisco Bay all the way up past the town of Rio Vista, but the best fishing is taking place in Suisun and San Pablo Bays.
Of the two, San Pablo is arguably the best choice simple because sturgeon guys are hooking up with good numbers of incidental stripers on the San Pablo mudflats.
Salmon roe and eel are the top sturgeon baits. Mix in some ghost shrimp, grass shrimp and pile worms to increase the odds of hooking a bass.
Trout
There is widespread trout action available, but you've got to consider water clarity and access before you go.
At Amador, Camanche and Pardee the bite is on for both bank and boat anglers and water clarity ranges from excellent at Pardee to good at Camanche and Amador.
The average rainbow at Camanche and Pardee goes 1 to 2 pounds and fish up to and beyond 6 are possible. At these lakes trolling with Berkley Power Grubs pays off, while bankers soak the standard stuff including PowerBait and inflated worms.
At Amador, a mix of both rainbows and lightning trout are on the chomp. Fish weighing 3 and 4 pounds are common and fish to 8 have been caught. Trollers are getting some fish at Amador on flies and grubs, but bank anglers using Power Eggs and small balls of PowerBait do the best.
Bay Area urban lakes are also booting out plenty of rainbows and some of them are hitting double digits, although the average fish is a 14 inch one pounder. PowerBait tossed off the bank makes the magic happen.
Top spots to visit in the east and north bay are Shadow Cliffs, Quarry Lakes, Chabot, San Pablo and Lafayette Reservoir.
The Sleepers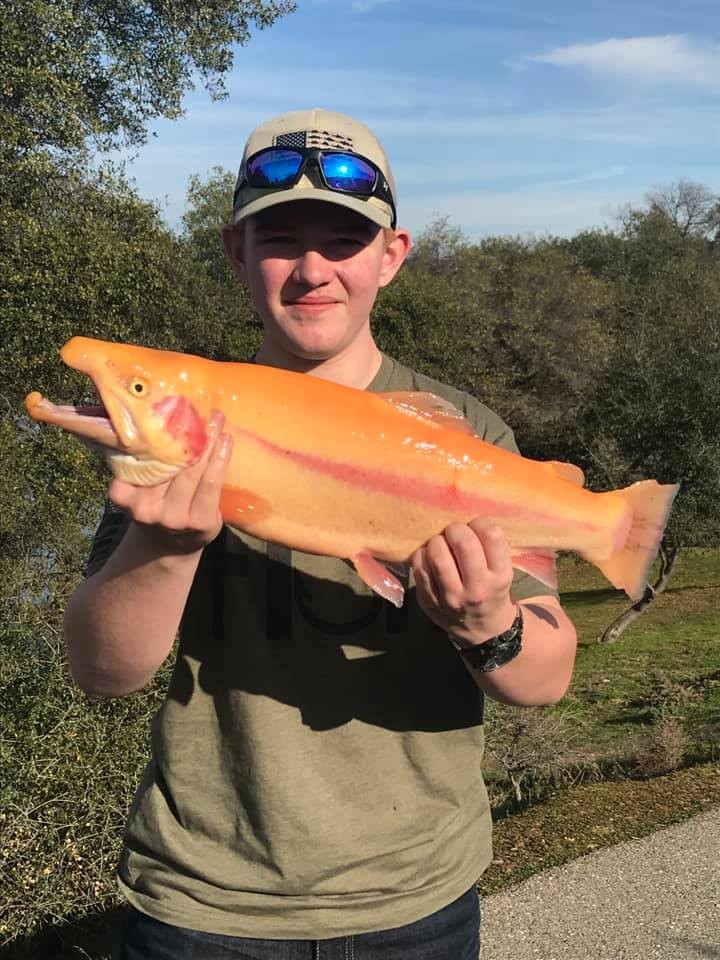 By California standards steelhead fishing is very good. Anglers that hit the American and Feather Rivers on the right day using flies, bait and spoons are hooking multiple fish per outing. On the Feather a 3 to 5 pounder is a good fish. On the American double digit battlers have been common.
North coast rivers like the Eel have been excellent at times, but as anyone that fishes them knows, timing is everything on these rivers. To enjoy the best action, you've got to hit them after they've blown out and are dropping.
Shifting gears, panfish action has been very good. Clear Lake, Camanche and Berryessa are all producing crappie in the one plus pound range.
Once you located some crappie, mini-jigs and live minnows do the damage, but trollers pulling grubs and small crankbaits score too.
Final Thoughts
If you want to seek it out you can get into some good fishing right now, but this is also a great time to prepare your gear, get your work and chores under control and plan your spring fishing schedule and goals.
The spring action looming right around the bend promises to be epic. We are going to have a lot of run off and full lakes. Trout, black bass and striper action fishing should be great. I can't wait for things to start heating up. I'm looking forward to big things in 2019!