A total of 606 anglers fished in gorgeous spring weather at Rancho Seco Reservoir during the annual Sacramento Municipal Utility District (SMUD) Trout Derby on April 6 and 7.
"The annual SMUD derby has always been a ton of fun," said Vince Harris, president of Angler's Press Outdoors, the event's hosting organization. "But this year's event – that enjoyed absolutely beautiful weather, not only made it more enjoyable, but also seemed to increase the size of the winning weights! "
Harris noted that although big numbers of trout weren't weighed in, the size was exceptional, with an average weight of 4 pounds each.
Hang Pao won first place in the adult division on day one with a 9-pound trout. For his efforts, he won a boat and a trophy.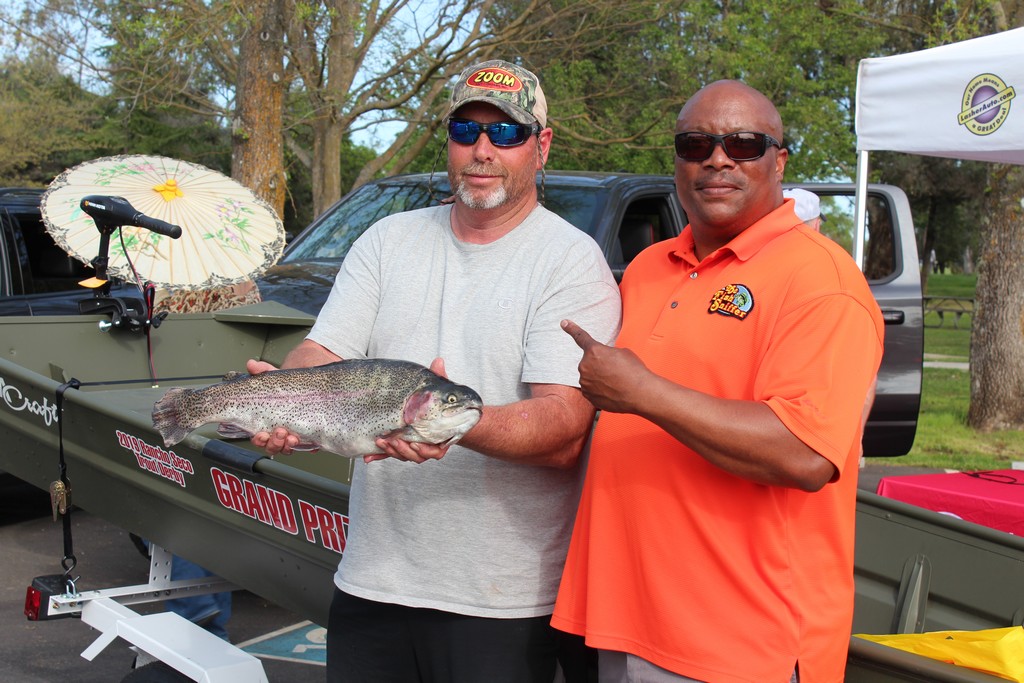 Todd Clareboat placed second with a 7.9 lb. lb. rainbow winning $100, while David Phillips placed third with a 7.8 lb. rainbow, winning $100.
The fourth through eighth place winners were (4) Rebecca Roberts, 7.48; (5)Ryan Wagner, 7; (6) John Treadway, 6.6; (7) Gary Krula, 6.5; and (8) Lee Roger, 6.2.
The fourth place winner took home $60, the fifth and sixth place winners each won $25 and a 2 day park pass, and the seventh and eighth place winners each won $20 and a 1 day park pass.
Cameron Ringler won first place in the youth division with a 4.9 lb. rainbow, winning $50, and a kayak. He landed this fish while using orange Power Eggs from shore.
Adam Yang placed second with a 4.7 lb. trout, winning $40. Bella Monier placed third with a 1.4 lb. rainbow, winning $30. Austin Gropette won fourth place with a 0.9 lb. trout, also taking home $30.
Only two anglers entered fish in the kids division of the event on day one. Kayleen Conway placed first with a 4.6 lb. trout, while Daniel Thao placed second with a 4.4 lb. rainbow, going home with $35. Conaway landed her fish while using a fly under a water bobber.
The beautiful weather – and the weigh in of big, beautiful trophy rainbows – continued on day of the SMUD trout derby.
Mike Ringler placed first on day two with a 7.08-pound rainbow. "It was the first derby that I've ever won," said Ringler. "I've been fishing this derby for eight years. I placed second place two years ago. I had the biggest fish, but during the last 20 minutes another angler brought in a larger fish. You just have to stick it out."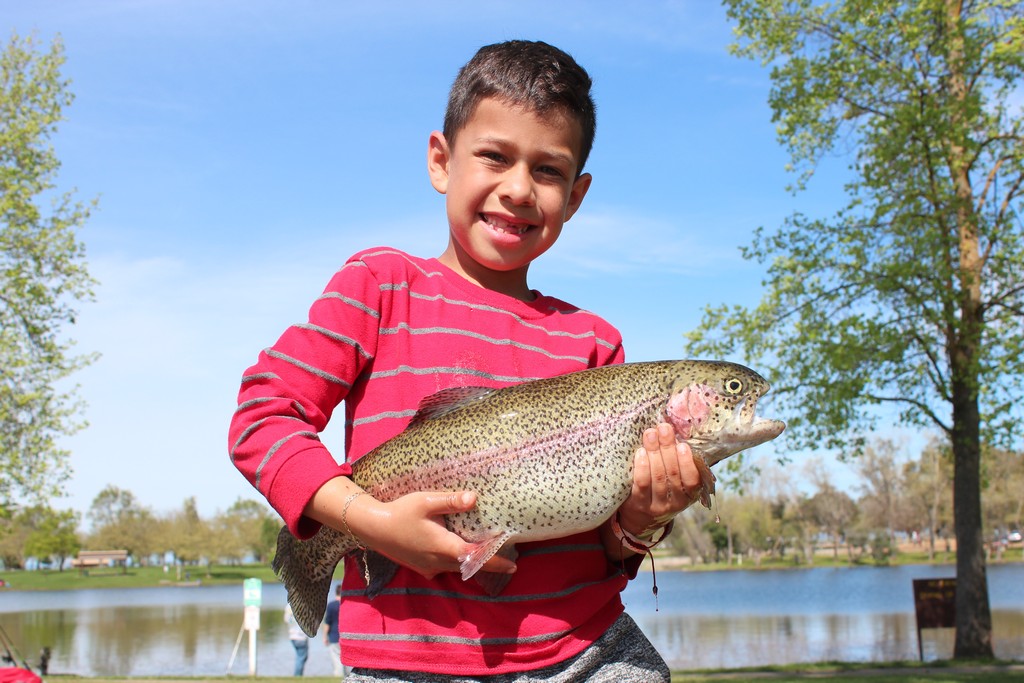 Amazingly, he caught the trout while fishing orange Power Eggs from the kayak that his son had won in the youth division. His son, meanwhile, fished from his kayak.
Julie Kramer finished second with a 7.08 lb. trout, winning $100, while Clint Morretto placed third with a 7.04 rainbow, winning $75.
The fourth through eighth places were (4) Remy Malabanany, 6.87; (5) Owen Owens, 6.39; (6) Mike Hang, 6.26; (7) Tong Thao, 5.78; and (8) Evan Owens, 5.63.
The fourth place winner took home $60, the fifth and sixth place winners each won $25 and a 2 day park pass, and the seventh and eighth place winners each won $20 and a 1 day park pass.
No fish were weighed in f the youth division, but two fish were weighed in for the kids division. Kayleen Kuykendall took first with a 5.29 lb. rainbow, winning a kayak. Skyler Hayes took second place with a 4.4 lb. trout, winning #35.
Grand prizes were furnished courtesy of Elk Grove Ram, The Fish Sniffer magazine, and Anglers Press Outdoors.
1,000 pounds of larger trophy size trout plant were planted on April 5 and another 500 pounds of trophy rainbows were stocked on April 6, providing anglers with many chances to hook huge trout. A total of 6500 pounds of trout will have been planted by the end of this year.
Trout plants will resume this fall the week of October 28 when 500 pounds of trophy rainbows will be stocked in Rancho Seco. To see the plant schedule, go to: https://rockymountainrec.com/lake-facilities/listing/rancho-seco-recreational-area
Supplied by the Folsom South Canal diverting water from the American River, Rancho Seco was built to serve as a source for emergency cooling water in the event of a nuclear accident. After the power plant was decommissioned in a ballot measure approved by the region's voters in November 1990, the lake became a year-round recreational facility.
Rancho Seco not only kicks out huge trout, but also is legendary for the big Florida-strain largemouth bass that thrive in its fertile waters.
Matt Allen of Vacaville landed a 17.2 lb. largemouth bass measuring 29-1/2 inches long and -3/4 inches in girth at Rancho Seco on February 16, 2005. He used a Huddleston Deluxe 8″ Rainbow Trout to entice the bass while fishing in an aluminum boat with an electric motor.

He had caught twin 11 lb. bass on a Huddleston swimbait a few days before and bolstered by his new found success. Matt returned to the lake with a renewed confidence.
The largest bass are taken in the late winter and spring during the pre-spawn, spawn and post spawn periods. Anglers nail them while using Huddleston and other rainbow trout swimbaits, Senkos, swimbaits, plastic worms, spinnerbaits and jigs.
Rancho Seco is a lake with the potential for producing a state or world record largemouth bass. The lake has the three characteristics needed to produce record class fish: Florida-strain genes; conditions that allow the fish to reach large size; and a good food source, particularly planted rainbows.
The lake also features good populations of redear sunfish, black crappie and bluegill, along with channel catfish. Fishing for all four species is best for boaters, float tubers and shore anglers in the spring and summer.
The park sits in the middle of an oak woodland with oak trees dominating the horizon when looking away from the lake. Below the oaks, a variety of grasses and flowering plants grow especially near the vernal pool locations. The lake shore has a thick barrier of blackberry bushes everywhere except the dam and the picnic/camping areas.
Ducks and geese swim in the recreation areas where the shore is clear. Great blue heron eat the fish from the lake. Bald eagles and hawks nest in the trees surrounding the lake. Many insects are present including dragonflies and grasshoppers. Raccoons are a notable mammal using the lake as a water source, with their droppings dispersed along the narrow animal trails cutting across the park.
On August 16, 2015, Brad McGarity of Galt set a new California state record for "hybrid sunfish" when he landed a fish weighing 1 pounds, 4 ounces and measuring 11 inches long and 11.25 inches in girth.
Rocky Mountain Recreation Company is the concessionaire at Rancho Seco. The lake's amenities now feature boat rentals including aluminum fishing boats with electric motors, paddle boats, and kayaks.
Fishing at the family oriented facility, now operated by the Rocky Mountain Recreation Company in conjunction with the Sacramento Municipal Utility District, (SMUD), is available year-round.
For more information about the Rancho Seco Recreational Area, call 209-748-2318 or visit http://www.rockymountainrec.com/lakes/lake-rancho-seco.htm or https://www.smud.org/en/about-smud/community/recreational-areas/rancho-seco-lake.htm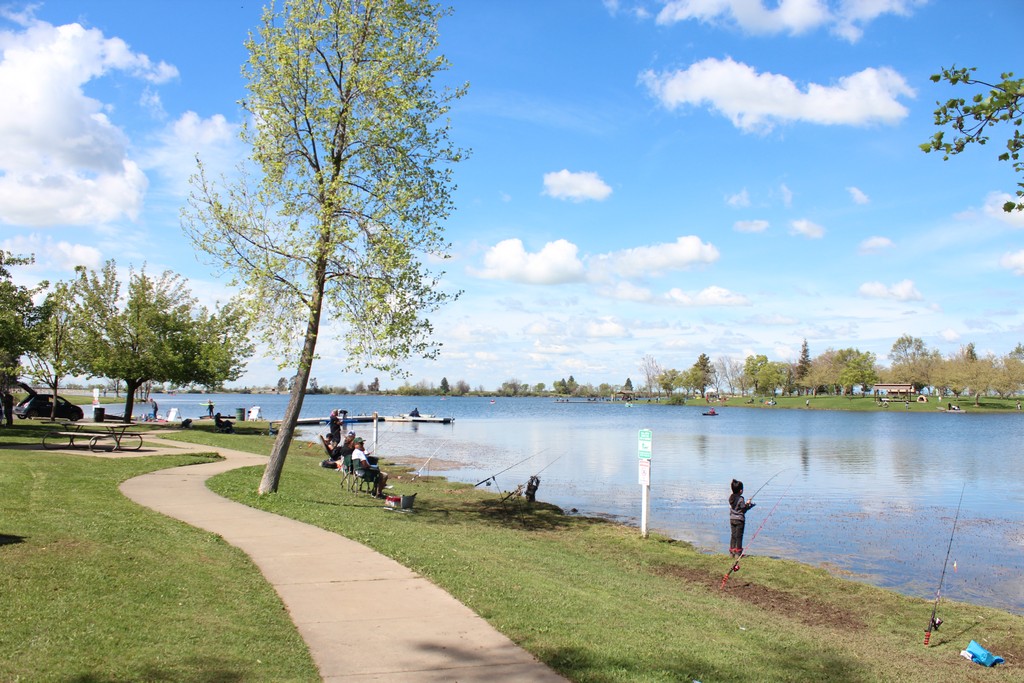 Rancho Seco Facts
Location: in the rolling hills of southeastern Sacramento County east of Herald. From Sacramento, take Highway 99 south to the Highway 104 exit. Go east on Highway 104, 15 miles, to the Rancho Seco Park exit.
Fishing Season: The park is open year round to fishing and other activities from 7 a.m. to 6 p.m. The park entrance gate is locked nightly.
Day Use: The day use fee is $12 per vehicle.
Boat launching facilities: The park's 160-acre lake is maintained at a constant level year round, so you will find no problem launching. You can launch an electric motor boat, rowboat or sailboat from either of the two boat ramps. The boat launch fee for a trailer and vehicle is $15. The fee for car top launch kayak is $15.
Tent Camping: There are 20 lakeside campsites where you can pitch a tent or sleep under the stars. Each campsite has a barbecue, picnic table and drinking water. A semi-private 1-1/4 acre grassy area is available for group campovers and special events. Reservations are required at least two weeks in advance.
RV Camping: The southwestern rim of the park features 18 RV campsites. Each site has a barbecue, fire pit, picnic table, drinking water and electrical outlets. A dump station is conveniently located. The maximum stay is 14 days.
Picnic Facilities: One hundred shady, grassy picnic areas adorn the lake's southern shore. Picnic tables and barbecues are available on a first come basis. Picnic areas can be reserved for groups of 30 people or more.
Swimming: the lake is roped off along a 36,000 square foot sandy beach. Lifeguards are on duty during the summer. Children should always be supervised by a responsible adult.
Extras: General Store (open May-September), solar heated showers, fish cleaning station, 3 public restrooms, horseshoe pit, Rec. Room with washer and dryer (for overnight campers only), handicapped access.
Information: 24 hour informational recording, (209) 748-2318; RV, tent and group camping and picnic reservations, 800-416-6992.