By Cal Kellogg
I've said it before and I'll say it again. When trolling for trout and landlocked kings it's best to troll fast until the fish tell you they don't want a fast presentation. The only time I slow down is when I can't hook a big enough volume of fishing moving quickly.
Fast trolling offers a number of benefits. First quick trolling allows you to cover a maximum amount of ground in a minimum amount of time. Second a fast presentation enables you to find fish quickly. Third, a quick moving lure triggers strikes from the most aggressive fish. And forth, when it comes to artificial lures, it is generally easier to draw strikes from large wary fish with a fast moving lure simply because it doesn't give them much time to weigh their options and evaluate the offering. They've either got to react and strike or let the opportunity pass.
As you might imagine, being a life long angler and professional outdoor writer I've got a pretty deep selection of lures to choose from. Yet, in reality I don't use that many different lures on any given day on the water.
I've been doing a good deal of trolling for trout and landlocked kings this spring and I've done nearly all of my fast work with a half dozen different spoons. Let's take a look at these lures. As we do you'll note that the common theme among them is that they are fairly large from 2 to 3 inches in length and they all run well from 2.5 to 3 plus miles per hour.
Silver Horde KingFisher Lite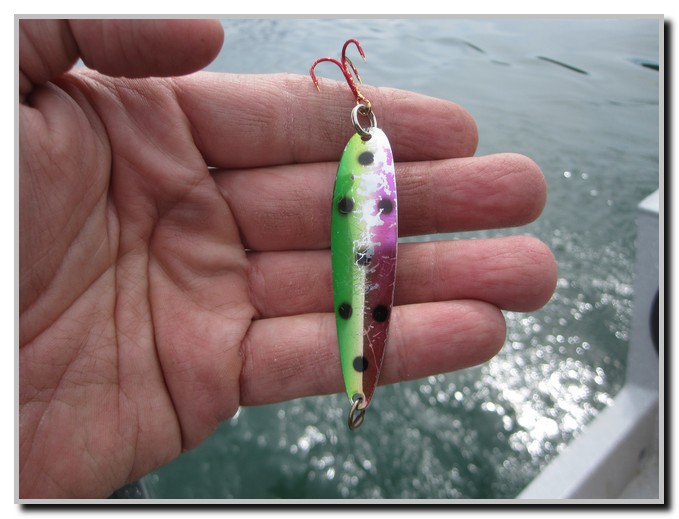 The KingFisher Lite or KFL in the No. 3.5, 3 inch size is my hands down favorite trout and salmon spoon these days.
KFLs do an exceptional job of imitating a wounded baitfish. The spoons are made of brass and are very light in weight, hence the name. The lightweight of the spoons, makes them very responsive, so they work well when teamed with either medium or large size dodgers.
For me shape and action are the two most important cues when it comes to generating strikes, but color plays a factor too. I give the KFL two thumbs up in terms of silhouette and action. The fact that the KFL lineup includes a long list of both utilitarian and creative finishes is only icing on the cake.
You'll find standard, double glow and UV finishes in the KFL lineup. The colors I use most for trout and landlocked kings are the same colors I use most for ocean kings. Here are my favorites in descending order. Silver Horde doesn't name the finishes of these spoons only identifying the finishes by number: No. 731, this is a UV watermelon finish. No. 650 UV Chrome. No. 651 UV Chrome w/purple stripe and No. 652 UV Chrome w/green stripe. No. 675 UV Double Glow cop car and No. 677 UV bloody cop car.
Every once in a while I'll tie on a super bright model like No. 616 wonder bread or No. 624 a Double Glow green, white, pink and orange monstrosity that nothing should hit, but everything from bass to salmon grab it anyway.
As great as the KFL works for trout and kings, they weren't designed for freshwater fishing. They are built for targeting silvers and kings in the ocean, so out of the package the lures come with a pretty large J hook attached to the rear end. I remove that hook and replace it with an appropriately sized treble, usually one that is red in color.
Acme Tackle Kastmaster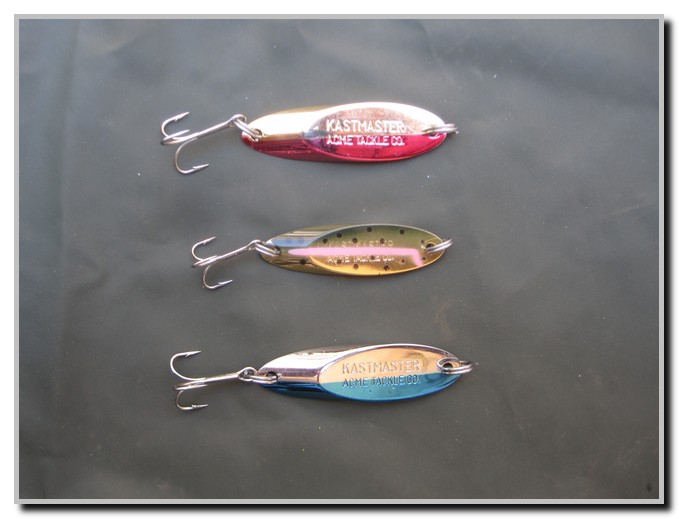 Kastmaster's balance produces wild action without line twist! The Kastmaster is machined from solid brass. It won't break, bend or corrode and it retains its luster. Kastmasters come in a range of different sizes and trout will hit several of them, but the ¼ ounce version is my personal favorite. It's not too big for pansize trout, but big enough to interest the big boys.
In terms of color again my approach is systematic. I begin with natural colors that match the shad and smelt the trout feed on. If those colors fail to produce I start experimenting with bright offerings. Chrome, chrome and blue, gold, brass, brass and red, brass and orange and firetiger have been the most consistent Kastmaster colors for me over the years.
Dark colored Kastmasters definitely should have a place in your tackle box. During the low light periods of dawn and dusk and during overcast days trout and other gamefish like to zero in on the dark silhouette of dark green and frog pattern spoons.
Thomas Lures Speedy Shiner
In my mind the Speedy Shiner is the dean of all fast trolling lures aimed at trout and lake bound kings. They've been hooking fish for decades and I've literally caught hundreds of bigger then average trout on these minnow shaped pieces of metal.
"The "Speedy Shiner" style of lure appears to date back to the 1960's," says Peter Ridd of Thomas Lures, makers of the Speedy Shiner. "The lure probably originated in Maine. Back in those days a lot of companies were turning out spinning gear. It was customary then to offer a line of lures to go with your gear. The Speedy Shiner style lure was knocked off by a lot of different companies and there have been a lot of slightly different configurations of the spoon we market today."
These days Speedy Shiners are offered in a couple different sizes and a wide array of colors. I got with metallic baitfish like colors most of the time, but go dark with frog or black chrome models during periods of low light. As the name indicates Speedy Shiners work best when trolled quickly from 2.5 to 4 miles per hours. When I pull them slower then that, the number of strikes starts to slack off.
Ex-Cel Spoons
Ex-Cels are produced in the California Motherlode region and have a loyal following throughout the northern and central part of the state. Ex-Cels come in a large trout size and a smaller "kokanee" size. For me the larger models work best for trout and kings. Ex-Cels come in over 40 different colors and I've used most of them. As with other spoons I start with the baitfish colors and then move on to the bright stuff. I know, I sound like a broken record!
The action, shape and size of Ex-Cels makes them a great imitator of threadfin shad or Japanese pond smelt.
For me Ex-Cels work best when trolled around 2.5 miles per hour, but they take fish all the way up to 3 miles per hour and more.
Luhr Jensen Krocodile
I've been using Krocodile spoons for many years. I first started out using them while bank casting for planted in urban lakes. Now 25 years later I've used them from Alaska to Baja and many places in between for a variety of fresh and saltwater species.
Krocodiles are stamped out of solid brass and are heavy for their sizes without sacrificing action. There is no denying that these spoons cast like a rifle bullet and that's why most people view Krocs as casting lures exclusively.
Well I'm here to testify that Krocodiles are also very good trolling lures and work well at a range of speeds. I have the best success either No. 3 or No. 4 Krocs from 2.5 to 2.8 miles per hour. The No. 3 version is 2 1/8 inches long, while the No. 4 is 2 5/8.
I've caught trout at one time or another on just about every color of Krocodile available. The hammered finish versions are my favorites for a couple reasons. First I think those little dimples look just like the scales on baitfish. Second most spoons are smooth. Show the fish something just a bit different from the ordinary and your chances of a hook up often rise dramatically.
Johnson Slimfish
I became acquainted with Slimfish spoons when the folks at Johnson sent me a half dozen half-ounce samples to try. Being an outdoor writer is an awesome gig!
The spoons are fairly thick and dense with a narrow profile and two unique little fins on the rear end. Up front they come with a quality swivel affixed. All you need to do is tie them to your leader and you're fishing.
I'll admit that I didn't try using the spoons immediately, but when I did I loved what I saw and the fish loved them too! The spoon has a very erratic fluttering action, gliding and dipping through the water.
Slimfish are very well suited for fast trolling. My go to speed for these lures is 2.8 to 4 miles per hour make them the prefect co-collaborator for use with Speedy Shiners. I've caught a lot of big rainbows on Slimfish. The chrome and blue version is my hands down favorite!