The NorCal Trout Anglers Challenge Tour returned to Collins Lake on April 13 – and as usual, the parade of big fish at the weigh in didn't disappoint the 250 anglers participating in the event.
"What a way to go into the summer period," said Vince Harris, president of Angler's Press Outdoors the NTAC's hosting organization. "We saw a total field of 250 on a beautiful day, with a ton of beautiful rainbow trout caught."
"Anglers are looking forward to the break, but will be anxious to get back at it for the final event of the season in mid-October at Lake Pardee," he added.
Although anglers landed fish while tossing out PowerBait, nightcrawlers and other bait off the bank, boaters caught the most trout while trolling with nightcrawlers, Kastmasters, grubs and other offerings at the Sierra Nevada foothill reservoir located just over an hour northeast of Sacramento between Marysville and Grass Valley,
Ryan Thomchik won first place in the adult division of the event by catching an 8.07 lb. rainbow trout. He landed the fish while trolling a nightcrawler near the surface.
Dave Soucy placed second with his 6.93 lb. rainbow. The long time Collins Lake angler was trolling a Kastmaster near the surface in the lake's southeast corner when he hooked the giant. Soucy and his brother Jeremy Edson landed a total of five trout during the day.
Kim Sidbers placed third in the event with 6.7 lb. fish hooked on a plastic grub at 11 feet deep.
The fourth through tenth place winners were (4) Steve Leal, 6.24; (5) Larry Yerion, 5.77; (6) Thor Olson 5.6; (7) Tom Morgan, 5.16; (8) James Townley, 3.86; (9) Larry Valderrama; and (10) Mic Dina, 2.34.
Eighteen anglers weighed fish in the youth division. Derek Carlson won first place in the youth division with a scrappy 2.95 lb. rainbow trout.
Moises Blanco finished second with a 2.4 lb. trout, while Eva Edson finished third in the youth division with a 2.11 lb. rainbow.
The fourth through tenth place winners were (4) Lee Haskins, 2.09; (5) Jeremy Phillips, 2.06; (6) Jacob Carr, 1.94; (7) Natalia Smith, 1.64; (8) Maci Haskins, 1.55; (9) Wesley Conn, 1.55; and (10) Gus Grimmett, 1.4.
"Although the competition only weighed in trout, I saw a few large crappie as well, all caught trolling trout rigs less than 30 feet deep," commented Ed Palma of the Collins Lake Resort in his report on the event. "Ed Elefante caught a crappie from his kayak on a crankbait."

"If you have a kayak or canoe, now through mid-May and again in September & October are the perfect times to launch," added Palma. "For one thing- it's beautiful and most days are calm and for another fishing the top waters is productive all around."
"Crappie moving up from the winter deep are a harbinger of the lake's shift to spring ecology. It's not just a warming temperature, in spring the combination of recent inflows and more daylight with deeper light penetration mean dissolved oxygen in the top 30ft are at peak," he tipped.
Sponsors of the event included Gone Fishin' Marine of Dixon, Lasher Elk Grove Ram, the Fish Sniffer, Thomas Lures, Silver Horde, Yo-Zuri, Mack's Lure/Shasta Tackle, Hot Spot/Apex, Rapala, Luhr Jensen, Dick Nite Spoons, Yakima Bait, Berkley, Pro-Cure Bait Scents and Fisherman's Warehouse. Daiwa is sponsoring the 2019 NTAC Daiwa Angler of the Year Award.
For more information about Angler's Press, call Vince Harris, Angler's Press, (916)768-0938.
The lake was full at press time, spilling 1 inch over the spillway. The surface temperature was 59°F and the water clarity was mostly clear.
Located on Dry Creek, a tributary of the Yuba River, Collins is a 1600-acre lake and recreation area featuring 12 miles of shoreline.
More than 50,000 rainbow trout are planted in Collins every spring and fall, meaning that Collins Lake has the largest private planting program north of Sacramento. Thousands of these trout are trophy- sized, planted at 3 to 8 pounds and growing even larger.
The resort, in cooperation with the CDFW, Kokanee Power and CIFFI, has also sponsored a successful pen-rearing program to enhance the trophy trout fishery at the reservoir.
The CDFW puts the trout in the 12 floating pens at a size of 2/3 lbs. each November. When they are released in increments between mid-March and the end of April, they range from 2-1/4 to 3 pounds. This year the net pens will be filled on November 19 by the CDFW, assisted by lake staff and local volunteers.
"They're beautiful fish with full fins that look much more like native or holdover trout," said Lincoln Young, manager of Collins Lake Resort. "Since they're already acclimated to the lake's waters, they're brightly colored, their flesh is firmer and they fight harder than recently planted trout."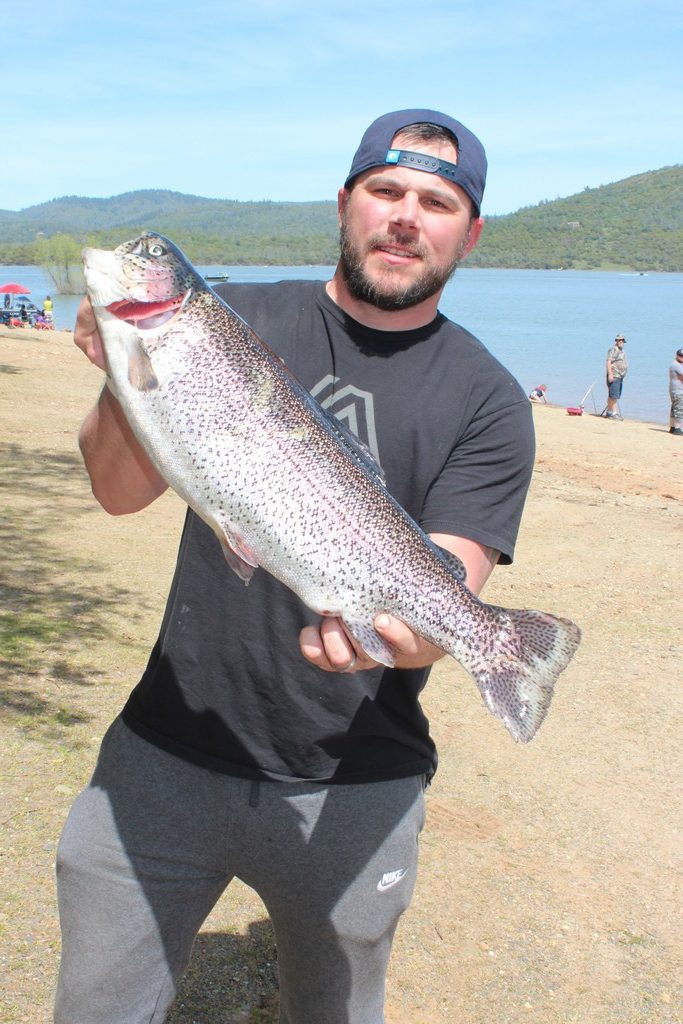 The CDFW planted brown trout in previous years, but they haven't stocked browns for over 8 years.
Trout grow big and fat in Collins, feeding heavily on the lake's abundant threadfin shad and other forage. Rich Moore set the lake rainbow record of 14 pounds, 3 ounces in May 2009. The lake brown record, set in 1991 by Bill Clutter, is 9 pounds.
Spotted and largemouth bass offer top-notch fishing at Collins also. Dan Raub captured the lake largemouth bass record of 13 pounds, 4 ounces in June 1998 while fishing a live crawdad. James Everhart employed a trout swimbait to nail the lake spotted bass record of 9 pounds, 8-1/2 ounces in 2008.
"Spotted bass are the most abundant bass in the reservoir," said Young. "We see good numbers of 4 to 5 pounders and fish up to 7 pounds every year. Over the years, we've weighed in a dozen spotted bass over 8 pounds."
Channel catfish also offer an excellent fishery at the lake throughout the year, with the best action generally available during the summer and early fall months. The lake catfish record, set in 2008, is 24 pounds.
To supplement the bass and panfish fishery, Young and the lake management in the past have stocked the lake with Alabama spotted bass, black crappie, bluegill and redear sunfish. "We plant the fish at the size that they can spawn that season," Young noted.
The lake crappie record of 3 pounds, 4 ounces was set by Probhat Palma in October 2012.
In addition to replanting the reservoir with warm water fish, they also have conducted their own habitat enhancement project every 6 to 8 years to rebuild the lake's food chain from the bottom up.
"A positive aspect of the recent drought is that it exposed the shoreline and allowed brush to grow around the lake," said Young. "When the lake filled over the past few springs with the rains, it inundated the brush, providing good habitat for juvenile bass and sunfish to feed and hide from predators."
For more information, contact the Collins Lake Recreation Area at 530-692-1600, www.collinslake.com.