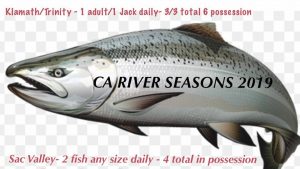 The California Fish and Game Commission voted to approve salmon seasons and bag and possession limits on the Central Valley and Klamath/Trinity river systems at its teleconference meeting meeting in Sacramento this morning,
On the American, Feather and Sacramento rivers in the Sacramento River Basin, the Commission unanimously approved a two bag, four possession limit, according to Harry Morse of the California Department of Fish and Wildlife (CDFW). Last year, due to lower salmon returns, anglers in the Sacramento River Basin were only allowed one bag limit with two fish in possession. the salmon season in these rivers begins on July 16.
The Commission also extended fishing in the Feather River an additional two weeks, closing on October 31, and opening 10 additional miles of the Mokelumne River to fishing. The salmon season on the Mokelumne opens July 16 also.
The Commission approved a fall run Chinook salmon season on the Klamath and Trinity rivers beginning beginning on August 15 with a daily bag limit of 1 adult and 1 jack salmon and 3 adults and 3 jacks in possession, as requested by the Nor-Cal Guides & Sportsmens Association.
In April, the Commission voted unanimously to open a short-term fishery on spring Chinook Salmon on the Klamath and Trinity rivers. Spring Chinook Salmon became a candidate for listing under CESA at the Commission's February meeting, when emergency regulations were adopted that closed salmon fishing on the Klamath and Trinity rivers until August 15.
Salmon fishing will reopen on July 1 in both the lower Klamath and upper Trinity rivers with a one fish bag limit and two fish possession limit until the fall run seasons kicks in on August 15.
As any additional information from the CDFW and the Commission becomes available, I will post it here.
Salmon image courtesy of the Nor-Cal Guides & Sportsmens Association.