By Paul J. Kneeland
The spring Shasta Lake Trout & Salmon Derby presented by Kokanee Power and the Shasta Lake Business Owners Association took place on May 4th and 5th. John Brassfield of Trucksmart Stores and I once again were partners and fished from the Fish Sniffer Rogue Jet 21 Coastal.
We stayed at the lovely Tsasdi Resort in Lakehead, with a group of 5 boats and 11 fishermen including 9-year-old Drew Bundy of Newcastle. We all arrived Thursday and were able to pre-fish Thursday afternoon and Friday.
As usual, all the big fish that our group caught were on Thursday or Friday, when it didn't count! Gary Caruso landed a 23 inch brown and Dave Barsi caught a nice 21 1\2 inch rainbow.
The weather was absolutely perfect all 3 days – warm in the afternoon and cool in the morning with a slight breeze in the afternoon. The lake was almost full, and had a lot of floating wood and debris in parts of the water. The Pit River arm was very muddy, and even the McCloud arm was fairly dirty. The Sacramento arm and the main body were nice and clear.
We searched all over the lake on Saturday and Sunday, but could never find a consistent bite. No one in our group placed in the top twenty, and we were all very frustrated. However, Drew Bundy did place 3rd in the Junior Division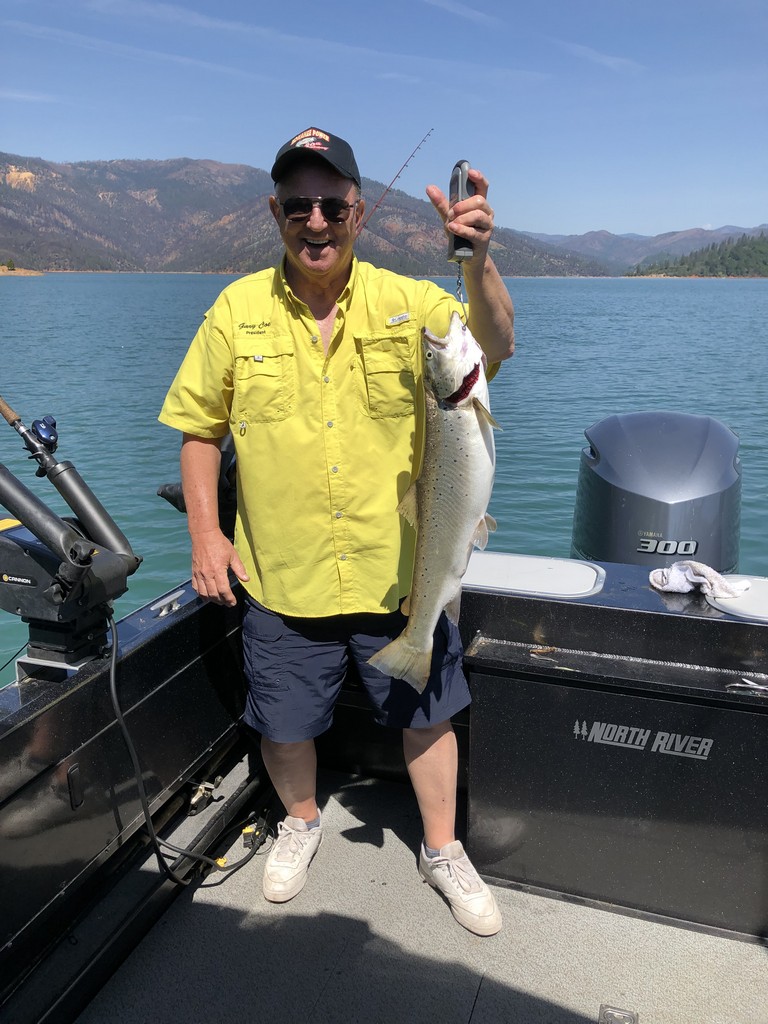 However, some folks found the fish! The winning weight of 27 pounds was the record for this tournament, and the big fish on Saturday was 8 1\2 -pounds. Caught by Bev Mierky and her husband Chuck of Nevada City on a Speedy Shiner. Gary Coe came in with a 7 1\2 pound brown on Sunday, caught on a chartreuse/gold Speedy Shiner, and both fish were personal bests for these fishermen.
The Shasta Lake Trout derbies are always a lot of fun for all of us. Shasta Lake is an amazing fishery, not only for trout, but for bass, crappie, and king salmon as well. The derbies always feature an included dinner at the Lions Club in Lakehead with excellent food and great camaraderie. The weigh ins are always produced at the newly remodeled Bass Hole and Brews bar and grill in Lakehead that features many craft beers, great cocktails and good food.
For more information on the Spring Trout & Salmon Derby held in May of each year, go to www.kokaneepower.org. The Shasta Lake Fall Trout Derby held in October of each year is presented by the Shasta Lake Business Owners Association. For information, go to www.shastalaketroutderby.com
Tsasdi Resort is located right on the Sacramento River arm of the lake between Sugarloaf Resort and the Basshole. The lovely cabins are located on the hill above the lake, with a very nice dock with nicely padded slips for the guest's boats. Their cabins include studios, one and 2-bedroom cabins, up to the large 3-bedroom modular home that we stayed in that will sleep 14!
All cabins have cozy interiors with full kitchens, linens, dishes, TV and private decks with barbeques. Tsasdi Resort also specializes in weddings, retreats and reunions. The large Lodge can accommodate up to 125 guests and features a floor to ceiling fireplace and all the amenities. In conjunction with their other facilities, the can handle groups up to 275 people. For more information, call them at (530) 238-2575 or see them at www.tsasdiresort.us.

Located in Shasta County, Shasta Lake began to store water in 1944, due to the impounding of the Sacramento River by Shasta Dam, the ninth tallest dam in the United States
Shasta Lake is a key facility of the Central Valley Project and provides flood control for the Sacramento Valley downstream of the dam. Water outflow generates power through the Shasta Powerplant and is subsequently used for irrigation and municipal purposes[. The reservoir lies within the Whiskeytown–Shasta–Trinity National Recreation Area, operated by the Shasta-Trinity National Forest.
With a capacity of 4,552,000 acre-feet when full, the lake has an elevation of 1,067 ft., a surface area of 30,000 acres, making it the state's largest reservoir and its third-largest body of water after Lake Tahoe and the Salton Sea.
Ten miles north of the city of Redding, with the town of Lakehead on its northern shore, Shasta Lake is popular for boating, water skiing, camping, house boating and fishing. The lake has 365 miles of mostly steep mountainous shoreline covered with tall evergreen trees and manzanita. The maximum depth is 517 feet (158 m).
The lake has four major arms, each created by an approaching river: the Sacramento River, the McCloud River, Squaw Creek, and the Pit River.
People from all over California and the West go to Shasta to fish, boat and camp. Located 170 miles north of Sacramento, Shasta Lake is easily reachable by car on Interstate 5. It hosts dozens of bass tournaments, especially in winter and spring.

The two-story impoundment hosts a variety of both coldwater and warmwater fish species, Rainbow trout, brown trout, largemouth bass, smallmouth and spotted bass, chinook salmon, black crappie, bluegill and carp, Sacramento sucker, riffle sculpin, Sacramento pike-minnows, Sacramento black fish, white sturgeon, hardhead minnow, channel squawfish, white catfish, threadfin shad, brown bullhead, green sunfish, and golden shiner are among the multitude of species found in the lake.
Despite the diverse array of fish species, rainbow trout, brown trout, and landlocked king salmon and largemouth, spotted and smallmouth bass draw the most anglers to the scenic reservoir.
"Guided trout and salmon fishing trips to Shasta Lake are most often successful, as the fish population is ensured both naturally and by stocking," said Jeff Goodwin of Jeff Goodwin's Guide Service. "The key to catching trout and salmon in the area is knowing where to find them and by using the right bait and presentations to get them to bite."
"In early spring, late fall, and winter, trout prefers to stay right under the surface, and most trolling methods will work. In late spring, throughout the summer, and in the beginning of autumn, both trout and king salmon dive deeper to the thermocline, so downriggers and other depth control devices work best for getting your gear down to where the fish are," said Goodwin.
"In terms of bait, these trout and landlocked king salmon respond exceptionally well to time tested lures and bait products we have utilized through our network of tackle and bait manufacturers. Having direct contact with industry leaders in the tackle and bait business gives us an edge on the water each and every day," concluded Goodwin.
Before or after you fish Lake Shasta, it's a great idea to visit the Lake Shasta Visitor Center. This is operated by the U.S. Forest Service and is located just off Interstate Highway 5 (i-5) in the small town of Mountain Gate, California. This is about 8 miles north of Redding, California.
For more information, contact: the Shasta Lake Visitor Center, U.S. Forest Service, 14225 Holiday Road, Redding, California 96003, (530) 275-1589.