By Stacy Barawed
After a long week in the office, the last thing I wanted to do was set a 2 a.m. alarm for Saturday. But when it comes to fishing, I do it happily…and I didn't even hit the snooze button that morning.
I hit the road an hour later with my usual essentials: Dramamine, bottled water, and a hoagie. My destination? The Berkeley Marina. My target? Halibut. BIG halibut!
I had the chance to speak briefly with Captain Chris Smith of Pacific Dream Sportfishing when I booked my trip. "It'll be the first boat you see at K Dock," he said. "It's new and it's BEAUTIFUL!"
He wasn't lying. It was big and shiny and clean and looked gorgeous in the rising sun. A dozen anglers had already beaten me to the punch by 5 a.m., but the vessel was so large and spacious that three times as many folks could fit comfortably. And they did – we had a full load with 30 anglers that morning.
I staked out a spot just outside the captain's quarters in hopes of getting some insider tips to increase my chances of catching, and by 6 o'clock we were off!
The morning got off to a shaky start; Chris was on the radio with several other captains who were also concerned with the outgoing tide and north wind. I quickly learned that these were not optimal fishing conditions, but our fearless leader was able to locate several good spots as we headed north from the marina.
I grabbed a squirmy live anchovy, hooked it on, and dropped my line. Captain Chris had lent me a special rod he built himself over 20 years ago, nicknamed the "Green Goblin". I was hoping it would bring me lots of luck that day.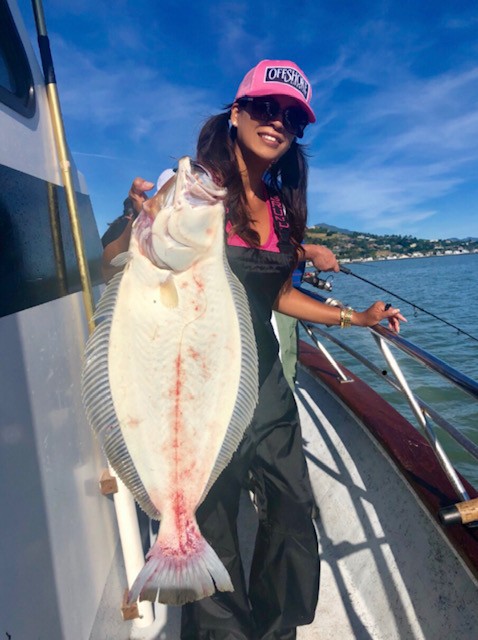 Just as the crew started cranking up the 80s rock over the loud speaker, I had my first fish on! I took the rod out of the holder and started reeling like crazy, as if it was a largemouth bass during one of my club tournaments – and that was my downfall. Within seconds, I had lost it.
"Easy there, Stacy!" chuckled Chris's son, and deckhand, Joey. "Forget everything you know about bass fishing and just reel in nice and steady."
I hadn't fished for halibut for nearly a year, so I had to reprogram myself.
My next halibut was undersized, but number three was a keeper! Landing it was easy because deckhands Joey and Steve work together like a well-oiled machine. Anglers were hooking up one after the other. But once you heard "Fish on!", it was only a matter of seconds before that fish was netted, tagged, and your line was back in the water.
Captain Chris has decades of experience under his belt, and it shows. We made several stops as we cruised north towards Richmond, and at each stop he told us exactly when to drop our lines and when to reel them back up. No time was wasted. This strategy resulted in dozens of landed halibut and stripers.
"I learned from my father," Chris explained, "and I'm hoping Joey takes over after me."
This type of work seems to run in the family; Chris's son, Jonathon, and his younger brother, James, operate two other sportfishing vessels out of the Berkeley Marina. "It's healthy competition," he laughed.
Running 6 to 7 days a week is exhausting work. "This is the best part about it, though," Chris explained. "Chatting it up with passengers, meeting people from all over…in the end, it's worth it."
And boy, did we have a cast of characters on this trip, from a couple of charter veterans who had been on this boat more times than they could count, to a Sacramento man who fished the entire trip with his personal trout rod. To be more accurate, a man who OUTFISHED a few people with that lightweight rod.

The passenger I rooted for the most, however, was affectionately named "Banana Boy" (by me) because he couldn't understand why he was getting skunked. He was later spotted chowing down on a banana and quickly learned the old wives tale from several of us. Coincidentally (or not), his only keeper was caught once he finished that banana.
By 2 p.m., the sun was blazing and the entire boat had reached its full limits of stripers. "Got one!" had been shouted nearly 100 times, keeping the deckhands occupied. The last 90 minutes were spent targeting halibut and rock cod in a last attempt at securing some Taco Tuesday meat.
I went home with over 10 pounds of halibut, striper, and rock cod filets, but that wasn't the highlight of my trip. In between catches, I had the chance to hang out with crew, learn about the family business, and laugh – a LOT. This is their of labor of love, and it shows. I made a bunch of new friends that day, and I'll definitely be back!