Frenchman Lake, located in Plumas County in the northeastern portion of the Plumas National Forest, features top-notch fishing for rainbow trout year round and for brown bullhead catfish in the spring, summer and fall.
The lake's fishery is similar to that of Spicer Reservoir, located in the North Fork of the Stanislaus River watershed, in that both reservoirs feature beautiful, square-tailed rainbow trout grown out from fingerlings planted by the California Department of Fish and Wildlife.
Bank anglers bag the rainbows and brown bullheads by bait fishing around the reservoir, while boaters land rainbows by trolling spinners, spoons, flies and nightcrawlers behind dodgers and flashers.
A 1,580 surface acre reservoir created in 1961 that sits at an elevation of 5,588 feet above sea level, Frenchman, is situated on the Middle Fork Feather River watershed. The California Department of Water Resources (DWR) owns and operates the dams.
The reservoir is operated by the State Water Project (SWP) to regulate Little Last Chance Creek for irrigation purposes in the Sierra Valley and to enhance recreation opportunities .
""The recreational fishery established at Frenchman Lake is primarily comprised of rainbow trout (RT) (Oncorhynchus mykiss) and brown bullhead (BB) (Ameiurus nebulosus)," said reported Amber Mouser, CDFW Environmental Scientist, in General Fish Survey 2016 conducted on April 14, 2017.
In addition to the trout and catfish fishery at Frenchman, Last Chance Creek below the dam, a tailwater fishery with cold water flows year round, provides good fishing for wild brown and rainbow trout. Fly fishermen and spinning gear enthusiasts nail the fish on an array of flies, spinners and bait.
Frenchman Lake become the focus of much local, state and national media coverage when it became infested with no-native Northern pike (Esox Lucius).in the late 1980's. The fish, a popular fish in the Midwest, Eastern Seaboard and Canada, is a non-native, invasive, predatory fish species that was illegally introduced to California by unknown persons.
"This highly invasive fish has the potential to seriously impact California's aquatic ecosystems," wrote Mouser. "Northern pike were first discovered in California at Frenchman Lake, Plumas County, in 1989. Due to the potential harmful impacts to statewide water management, aquatic ecosystems, and recreational fisheries both in Frenchman Reservoir and throughout the waters of the state, California Department of Fish and Game (DFG) determined it was necessary to eradicate northern pike from Frenchman Lake."
In June 1991, DFG successfully eradicated northern pike from Frenchman Lake using a commercial formulation of the piscicide rotenone (DFG 2007). Unfortunately, the pike soon appeared in Lake Davis, a nearby SWP reservoir, and it took two eradication sessions to finally eliminate the fish from that reservoir in 2008.
In an effort to evaluate the current fishery at Frenchman Lake, two general fish surveys were conducted during daytime hours on April 28, 2016 and July 28, 2016 by the California Department of Fish and Wildlife (CDFW). Prior to this, the lake was last surveyed in 2008 as part of the effort to monitor other waters nearby Lake Davis for northern pike, according to Mouser.
Results of this effort can be found in the 2008 monitoring of other waters of Plumas County (LaCoss and Rossi 2011b) paper. A boat electrofisher was used to complete the 2016 surveys. The three fish species identified during these surveys were rainbow trout, brown bullhead, and Lahontan redside (LRS) (Richardsonius egregius).
"The lake was divided into two sections (north and south) separated by a narrow channel," wrote Moser. "Each section was sampled individually and included as much of the shoreline as possible in the designated survey area. The reservoir was electrofished a total of 3.97 hours in 2016. "
"Frenchman Lake was sampled by boat electrofisher with a total of two sampling events in 2016. Surface water temperature was 54°F during the first sampling event in April and an average of 69.2°F during the second sampling event in July. A total of 3.97 hours of electrofishing occurred during these sampling events, resulting in the capture of a total of 230 fish, of which 137 were measured. The effort resulted in a CPUE of 57.93 fish per hour," she said.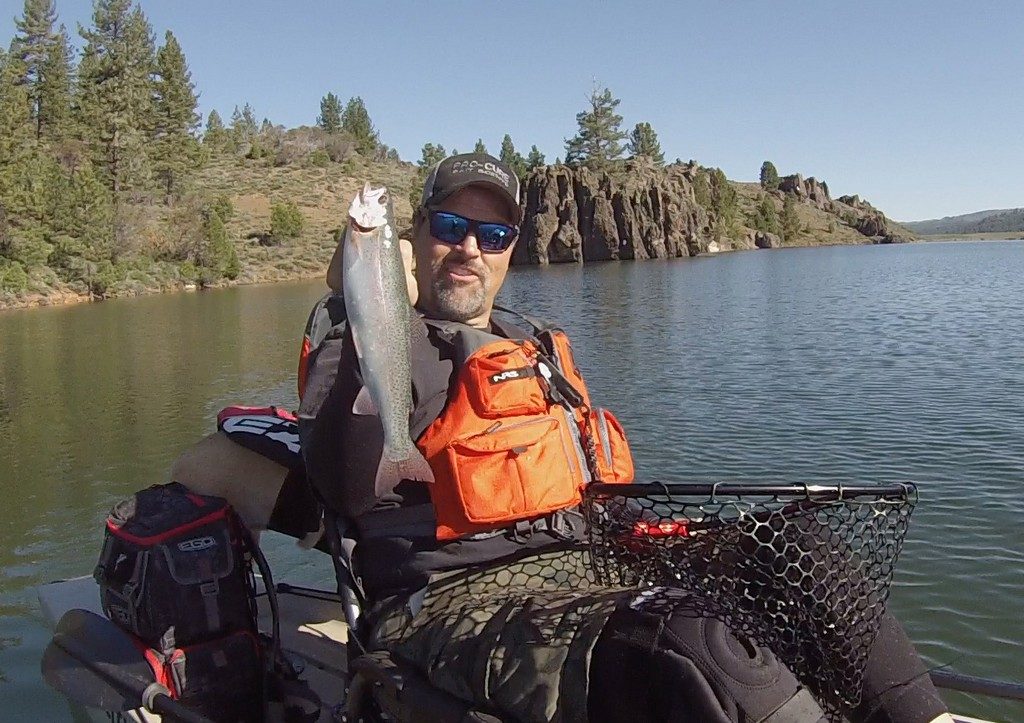 The survey caught 73 rainbow trout, 31.7 percent of the catch, 153 Lahontan redside, 66.5 percent of the capture, and 4 brown bullhead, 1.7 percent of the capture."
"Boat electrofishing surveys indicate that Lahontan redsides are the predominate species at Frenchman Lake," she said. "However, this result is not representative of the entire lake since electrofishing boats are better suited for sampling the littoral zone where warmwater species and species such as Lahontan redsides ("a shoaling littoral zone species" (Moyle 2002)) are generally more prevalent.
That's not the only survey done at Frenchman. A recreational use survey conducted by DWR revealed that the angler catch rate was 0.31 fish per hour in 2010. Since 1988, catch rates have fluctuated between a high of 0.40 fish per hour in 1992 to a low of 0.17 fish per hour in 2000.
The average length of rainbow trout caught in Frenchman Lake has progressively increased from 299 mm mean fork length in 1988 to 376 mm mean FL in 2010, according to their creel data. However, the CDFW electrofished rainbow trout measurements decreased from 370 mm mean total length (TL) in 2008 to 341 mm mean TL in 2016.
Frenchman Lake was also surveyed in early June and late July during the 2008 sampling and in late April and late July during the 2016 sampling. The July sampling periods provided some consistency for the two sampling years, in regard to time of year.
"The overall CPUE was greater in 2016 (3.97 hours of electrofishing at 57.93 fish per hour) than the previous sampling effort in 2008 (9.4 hours of electrofishing at 46.5 fish per hour). The most noticeable fish capture result was the decrease in brown bullhead. CPUE from 39.3 fish per hour in 2008 to 1.01 fish per hour in 2016," she said.
She also stated, "It is possible that the result is a natural population swing, an impact from the past couple years of drought conditions, or the result of variances in electrofishing conditions. There were also significant CPUE increases of rainbow trout and Lahontan redsides from 2008 to 2016. This may have been a result of the different times of the year when sampling occurred. More fish were congregated in the shallow water due to cooler temperatures in April as well as the general breeding season."
"Monitoring will be continued in subsequent years. A repeat springtime sampling may prove to find more consistency in the capture results across the years. Angling surveys, creel surveys, angler survey boxes, or gill netting may help to obtain more information on the salmonid populations inhabiting the lake. A cooperative effort with DWR during future Recreational Use Surveys may prove beneficial in collecting valuable creel data. These sampling timeframes and methods will be applied to future evaluations of the Frenchman Lake fishery.," Mouser concluded.
Unlike nearby Davis Lake, most trout caught at Frenchman by anglers range from 12 to 18 inches, with fish measuring 18 to 22 inches topping the catches most years. But as many anglers, including Cal Kellogg and I can attest, these fish are among the hardest-fighting and most acrobatic rainbows that one may ever hook in Northern California.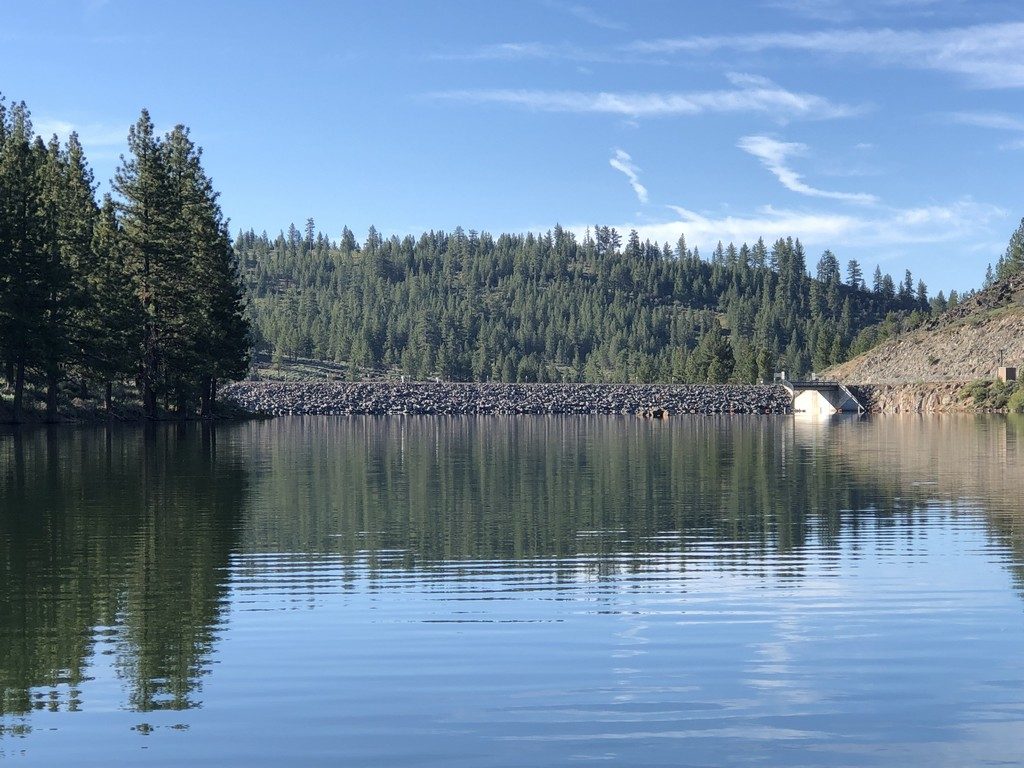 Frenchman Lake Facts
Location and history: Located in the headwaters of the Feather River, Frenchman Lake is only 38 miles northwest of Reno, NV, and 26 miles northeast of Portola, CA. The California Department of Water resources created the lake in 1962 by damming Little Last Chance Creek. A shoreline 21 miles long ends at the 129-foot tall earthen dam, which rises to an elevation of 5,607 feet.
Overview: Frenchman Campground (5,700 feet) sites along the shores of its namesake lake, which boasts 21 miles of shoreline. The campground is situated at the southeastern peninsula of the lake. Situated on a pine covered hillside overlooking the lake, this is the place for campers to get in tune with their surroundings. The lake is at the interface between the mountains of the Sierra Nevada and high desert. Frenchman Lake and the surrounding Plumas National Forest together provide ample opportunity for recreation, relaxation and adventure.
Facilities: The campground offers single-family campsites for tent and RV camping. Twelve of the campgrounds 38 campsites can be reserved during peak camping season. All other campsites may be taken on a 'First Come' basis. The campground remains open throughout the years. However, most winters include enough snow to keep the road closed. Each site is equipped with tables and campfire rings with grills. Vault toilets and drinking water are also provided.
Natural Features: As part of California's Plumas National Forest, the campground is located in northern California, between the rugged Sierra Nevada and the fringes of the Cascade ranges. The forest is home to hundreds of high alpine lakes and thousands of miles of clear-running streams.
Pine trees provide moderate to good shade in most sites. A variety of wildlife make its home in the area
Recreation: During peak camping season, the campground offers a variety of outdoor experiences including hiking, biking, picnicking and hunting. The nearby lake provides ample opportunities for swimming, boating, waterskiing, jet skiing and fishing. Frenchman Lake Boat Launching Facility and a day use area are near the campground. Winter activities range from ice fishing to snowmobiling.
Information Center: Beckwourth Ranger District Office P.O. Box 7, 23 Mohawk Rd., Blairsden, CA 96103 Open 8 am to 4:30 pm Monday through Friday (530) 836-2575