I have known my friend Mike Rheuby for many years having fished against him in black bass tournaments back in the day. More recently I have fished with him quite a bit and I always enjoy the time on the water. It's funny because it seems even though we are chasing the "little green fish", much of our conversation is centered around our shared interest in rockfishing. Mike would say to me, "Once you start rockfishing, you're gonna be hooked." Well, he was right on target with that prediction.
Recently Mike invited me to join him and his 14 year old son Ryan for a day of shallow water rockfishing with Fish on Charters aboard the Samantha Irene located in Bodega Bay. I have fished with Captain Jeff Caramella on a number of occasions so it did not take much to convince me.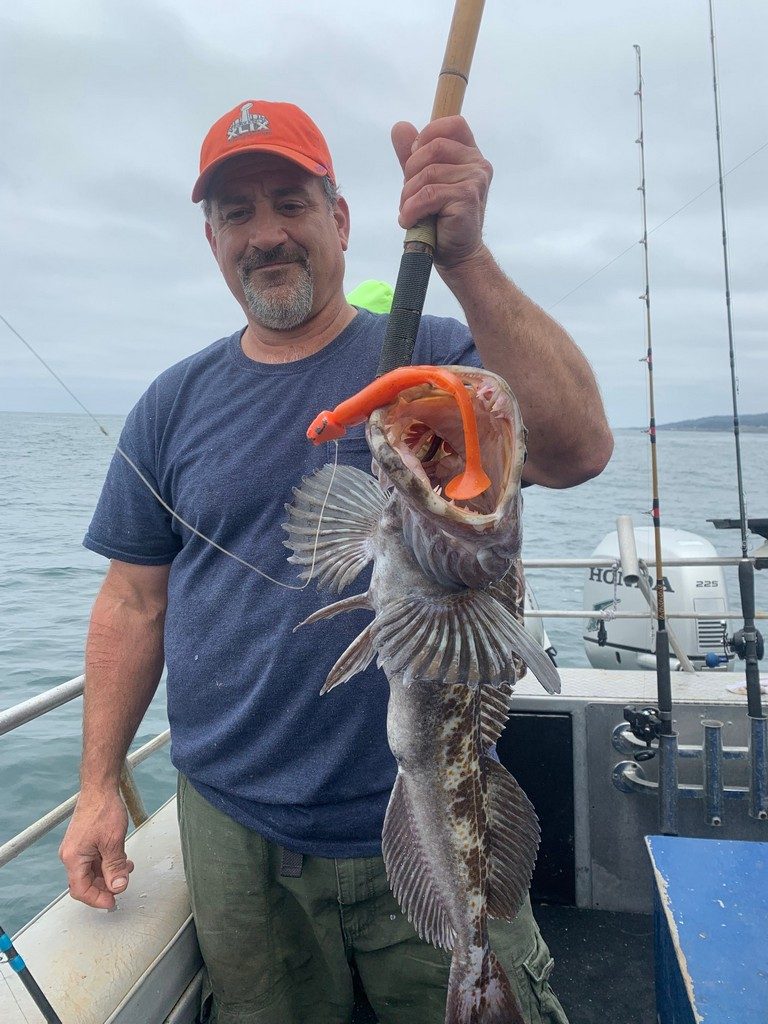 We met up with Captain Jeff and the rest of our party at the harbor. A quick stop for gas at the fuel dock and we were soon on our way. This was my first rockfish trip of the year and I was excited to get fishing. As a bonus, Captain Jeff told me that we would be pulling crab pots as well.
Once we cleared the break water outside the harbor, Captain Jeff made a path north along the beautiful Sonoma Coast. The weather was good and the ocean was flat, allowing us to make our destination in short order.
Captain Jeff started the drift out in shallow water. Mike and Ryan chose to fish a mixture of swimbaits and bars, hoping to catch a lingcod or big rock fish. Like true bass fishermen, the two kept changing up baits until they found what the fish wanted. Once they made the switch to smaller bars, they started to connect with rockfish on a consistent basis.
I opted to fish a freshwater bass action spinning rod with a small 3.5" AA Shad Tail Swimbait on a ¼ oz jighead for schooling black and blue rockfish. The fish were suspended in the water column from the surface down to 20 feet. Catching them is reminiscent of fishing for suspended freshwater spotted bass with a small swimbait or a dart head worm.
Just as the tide began to turn, Captain Jeff made the decision to move out to deeper water in search of lingcod and a larger grade of rockfish. It did not take long to realize that Captain Jeff had made the right move as Ryan's swimbait got hammered by a big fish. After a spirited battle, Ryan brought a giant vermillion to the side of the boat where Captain Jeff was waiting to gaff the fish and swing it over the rail.
Like a light switch the bite kicked into high gear as the lingcod and big rock fish went on the chew.

Mike is an excellent bass fisherman and an equally skilled rockfish angler. Before long Mike was on a good swimbait bite. First a nice ling then big vermillions and olives came over the rail.
Captain Jeff handed me his favorite swimbait rod, a C4 Custom built on a Rainshadow blank by Chris Saiz. I tied on a 7" AA Pearl colored Bad Bubba Shad and started casting. In short time I felt the rod load up as I reeled hard and leaned into the fish. I could tell by the way it was fighting that the fish was a nice lingcod. I fought the fish to the side of the boat and Captain Jeff did the rest. I was on the board with my first lingcod of the season. I continued to fish the swimbait and I was able to connect with a nice China Rockfish and a few vermillions before it was time to head home.
On the way back to the harbor we stopped to pull crab pots, ending the day with full limits of dungeness crab to go along with our limits of lingcod and rockfish.
In addition to rock and lingcod fishing, Fish On Charters offers in season salmon and dungeness crab trips. For a great fishing adventure, check out Fish On Charters at www.fishoncharter.net, follow them on Facebook or call 707-490-4067.