SACRAMENTO – The kokanee salmon, a landlocked sockeye salmon that was introduced to select lakes in northern California many decades ago, is one of the most popular fish pursued by trollers during the spring and summer.
Though small compared to the much larger Chinook salmon that anglers target in the ocean and northern California rivers, the fish is pursued by a passionate group of fishing enthusiasts, due to its willingness to bite, the scrappy battles it offers on light tackle and the fine tablefare it provides.
Stampede Reservoir, located on the Little Truckee River on the eastern slope of the Sierra Nevada 15 miles northeast of Truckee, is producing some of the most exciting and consistent kokanee fishing in the state this year. Craig Holley and Chris Dyke of Fair Oaks, Stan Wong of Concord and I experienced a solid day of kokanee fishing at Stampede Reservoir with James Netzel of Tight Lines Guide Service on Sunday, July 21.
We got out on the lake around 5:30 a.m. Netzel set out the Lamiglas kokanee rods and Lexa LC100 reels with pink lemonade and clown colored Paulina Peak hoochies, tipped with white corn, and dodgers, at a variety of depths from 50 to 80 feet deep. We also used Paulina Peak Flutter Bugs in purple.
We started fishing near the dam, moved to Davies Creek and then finished up at the mouth of the Little Truckee. Netzel trolled at a speed of .8 to 1 mph. We caught our five fish limits of kokanee and one bonus cutthroat trout, keeping the larger fish and releasing the smaller ones.

"The kokanee fishing is excellent this year at Stampede," said Netzel. "We have limited out on kokanee every day we've fished at the lake so far this season."
In addition, his customers have caught a total of 6 wild rainbows to 4 pounds and around 20 Lahontan cutthroat trout while targeting kokanee.
We caught four different classes of fish: two-year-old kokanee 14 inches and above, two-year-old fish 12 to 13 inches long, one-year-olds measuring 10 to 12 inches, and one-year-olds around 8 inches.
Based on the numbers of kokanee planted by the California Department of Fish and Wildlife, Netzel believes the larger two-year and one-year-old fish are naturally spawned salmon and the smaller fish are CDFW planters
CDFW plants at Stampede vary by years. The CDFW stocked 127,710 kokanee fingerlings in Stampede in 2017, 39,706 in 2018 and 75,260 in 2019. The kokanee planted at Stampede were part of the 792,942 fingerling kokanee released into 16 waters in California in 2019.
The CDFW urges anglers to help out with a study the kokanee population at Stampede.
"Monitoring and evaluations of these fisheries are vital to providing a balance between numbers of fish and their average size," according to Kyle Murphy, CDFW Fisheries Branch. "Stocking too many fish may provide an abundance of fish, but not produce fish of a desirable size To evaluate stocking efforts, CDFW has begun marking stocked Kokanee Salmon prior to their release."
In 2018, CDFW marked kokanee were released into Stampede. All fish were marked with an adipose fin clip for easy identification and to distinguish from naturally spawned fish.
"To assist in these evaluations, CDFW has partnered with the California Inland Fisheries Foundation, Inc. (CIFFI) and Kokanee Power (KP) to develop an online angler survey. The Kokanee & Inland Chinook Anglers Survey allows anglers to provide catch and effort data from any device with internet connectivity. Anglers are asked to report their effort and catch, both the number kept and released by size class, for each angling day. This data will assist fisheries managers in evaluating management goals for these fisheries," said Murphy.

The kokanee that Netzel fishes for are the fish most avidly pursued by anglers at Stampede, but the lake also hosts an array of other fish species, including Lahontan cutthroat, mackinaw trout, brown trout, rainbow trout and smallmouth bass.
The CDFW is no longer planting rainbow trout in Stampede, having replaced the rainbow plants with Lahontan Cutthroat trout plants.
"While conducting angler surveys up at Stampede in 2009-2010 we found that over 80% of the anglers surveyed were in favor of changing management strategies from rainbow trout to Lahontan Cutthroat trout, as well as keeping Kokanee," said Rowan. "Following along with that desire to go to the native fish for that basin we've started moving to stocking both Independence LCT (LCT-I) from our Heenan Lake Broodstock as well as Pilot Peak LCT (LCT-PP) we get as eggs from the Lahontan National Fish Hatchery into Stampede. Both are hatched, reared and stocked out of the American River Hatchery in Rancho Cordova.'
In 2017 and 2018, the CDFW had issues with an unknown and untreatable bacteria that only seemed to affect the LCT, according to Rowan. Particularly hard hit were the LCT-I and they had really heavy losses right at hatch.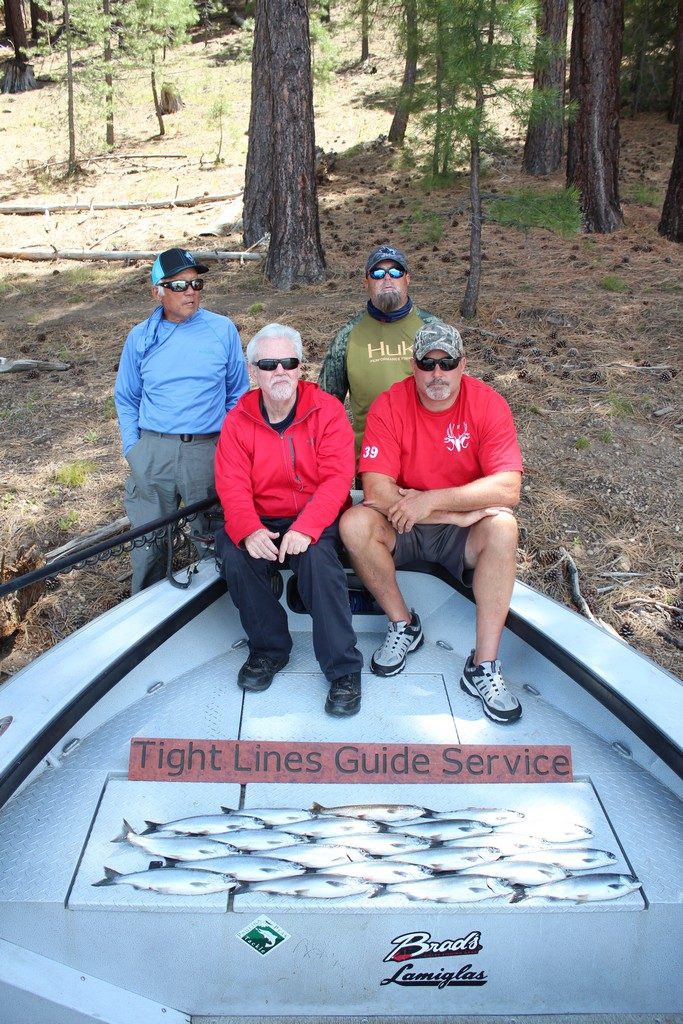 "As such the number of fish we've had to plant of both strains have been fairly low the last 2 years, so we've had to prioritize the ones we felt would have the most successful return to anglers as well as work within hatchery space logistics and the big snow years we've had," he added.
The Department hasn't stocked LCT-I in Stampede the last 2 years, but they did stock 7,022 s PP-LCT-sub catchables at Stampede in 2017 and 4,710 in 2018.
Mackinaw trout have apparently replaced the brown trout as the apex predator in Stampede in recent years. In the 1990s, anglers would catch German browns in the 2 to 6 lb. range, along with an occasional fish 10 pounds or bigger.
CDFW is no longer planting mackinaw in Stampede or anywhere in the state, so all of the fish found in the lake are naturally spawned.
"Six to seven years ago the CDFW Fish Health Laboratory pathologists found a disease in the source fish that we don't have in the wild here in our California waters so we are unable to import the eggs," said CDFW Senior Environmental Scientist Supervisor Jay Rowan. "We haven't been able to find another pathogen free egg source."
Stampede and nearby Donner Lake have similar forage – kokanee, tui chubs and crawfish – so anglers should use lure color patterns that approximate those species.
Trollers can target mackinaw with blue/chartreuse Flatfish, Kwikfish , Brad's Killer Fish and other plugs. Large Koke-A-Nuts behind Sling Blades or nightcrawlers behind flashers are also very effective. In the spring, anglers hook many mackinaws while trolling F18 Rapalas.
Stampede, with its abundant forage, features some of the healthiest and prettiest wild rainbows in the Sierra Nevada. Two days after our trip, one of Netzel's customers landed a gorgeous 5 lb. wild rainbow at Stampede.
Chris Hammond of King's Beach has caught beautiful wild and holdover rainbows up to 5 pounds while tossing spoons from shore at the lake in the late fall and early winter.
Netzel will be fishing for kokanee through mid-September and then begin fishing for salmon on the Sacramento River in the Sacramento area
For more information, contact James Netzel of Tight Lines Guide Service, (888) 975-0990, www.fishtightlines.com.
Stampede Reservoir Facts
Location: Stampede Reservoir is located in the northeastern region of the Truckee Ranger District in the Tahoe National Forest. This reservoir is approximately 10 miles north of Truckee. Stampede Dam and Reservoir are situated on the Little Truckee River immediately below the mouth of Davies Creek and approximately 8 miles above the confluence of the Little Truckee and Truckee Rivers.
Size: The surface area is approximately 3,340 acres at full reservoir storage with 25 miles of shoreline.
Season: Fishing season is year-round, with ice fishing available during the winter. Gamefish species found in the reservoir include kokanee salmon, rainbow trout, brown trout, mackinaw trout and smallmouth bass.
Boating: A three-lane boat launch is available at Captain Robert's Boat Ramp, located on the south shore of Stampede Reservoir, 2 miles west of the Stampede Dam. Boat ramps are located in Logger Campground and the Emigrant Group Site. Kayaks and small car top boats can be launched from shore.
Picnicking: Available is provided at the Stampede Vista Picnic Ground.
Truckee River Operating Agreement (TROA): This agreement between the federal government, the states of Nevada and California and the Paiute Indian Tribe modifies reservoir operations at Stampede, Boca, Prosser and Martis Creek reservoirs. The TROA will enhance conditions for the threatened Lahontan cutthroat trout and endangered cui-ui; increase municipal and industrial drought protection for Truckee Meadows (Reno-Sparks metropolitan area); improve Truckee River water quality downstream fro Sparks, NV; and enhance stream flows and recreational opportunities in the Truckee River Basin.
Facility Information: Stampede Reservoir, c/o Truckee Ranger District, 10811 Stockrest Springs Road, Truckee, CA, 96161, Phone: 530-587-3558
Guide Service and Fishing Information: James Netzel of Tight Lines Guide Service, (888) 975-0990, www.fishtightlines.com, Mountain Hardware, Truckee, (530) 587-4844.