By Paul J. Kneeland
The Sacramento River salmon season is underway, and the fish are starting to fill the river and fish boxes up and down the system. I fished the upper river with guide Dan Ponciano and my friends Dave Barsi of Oak Run and Brian Garcia of Colfax.
Brian and I hit the road in Colfax at 3:30 am and were at the Ball's Ferry Boat ramp about 10 after 6. Dave drove in at the same time, and Dan was ready to launch his 25 foot North River sled as we arrived. It was a gorgeous morning on the river, with no wind and a cool temperature of about 54 degrees. The river looked beautiful, fairly high but very clear with a water temperature of 52 degrees.

We boarded the North River and ran downstream for about 20 minutes and set up to backtroll just above the famous Barge Hole. There were several boats in the area, even on a Thursday morning, which told me that fish were here to be caught. Dan set us up with 8' 2" G. Loomis graphite rods with Shimano Curado reels loaded with red Tuf Line braid. Terminal tackle was T55 and T60 Flatfish in chartruese/silver and ht pink/silver, with a sardine wrap and 40 lb P Line leader.
We started in about 12 feet of water, with 2 rods having 6 ounce weights and 2 with 5 ounce weights on the dropper. Dan set us up to backtroll above a couple other boats. I dropped my Flatfish down, felt it bounce the bottom once, and then felt a good hit from a salmon! I wasn't in the water 10 seconds when I had the first fish of the day on and fighting!
The heavy salmon took line immediately, and then jumped behind the boat 3 times as he sought to throw the hook. After a strong fight, Dan netted our first fish of the day, a muscular 12 pound king. What a way to start the day!

A short time later, Dan hooked a fish on his rod and handed it to Dave. He played it for a couple minutes before the rod just went slack! Sometimes they just throw the hook, even 2 sets of big trebles like on the Flatfish. Of course, we gave Dave a hard time about "farming" our second fish!
We had only seen a couple other salmon landed by other boats, and Dan said we should move. We secured the rods, and ran downstream a mile or so to a "secret" spot. He said he never liked to fish with a bunch of boats around, and was always looking for a spot with fish that others didn't know about.
There was a big gravel bar that reached about halfway across the river, and Dan set us up on anchor on the inside of the riffle where it was about 12 feet deep. He set the anchor and we put out the Flatfish, with only 2 ½ ounces of weight in the slower, shallower water. A few minutes later, Dave made up for his "farming" job by hooking and landing our biggest fish of the day, a 16 pound male king. The bite slowed down until the right rear rod went off, and Brian grabbed a fought another nice salmon to the boat.
The wind came up from the north, cooling us off as the temperature reached about 80 degrees. We called it a day about 12:30 when we hadn't had a smell for an hour and a half. Dan filleted the salmon for us, and we all took home a bag of pink fillets for the barbeque or smoker.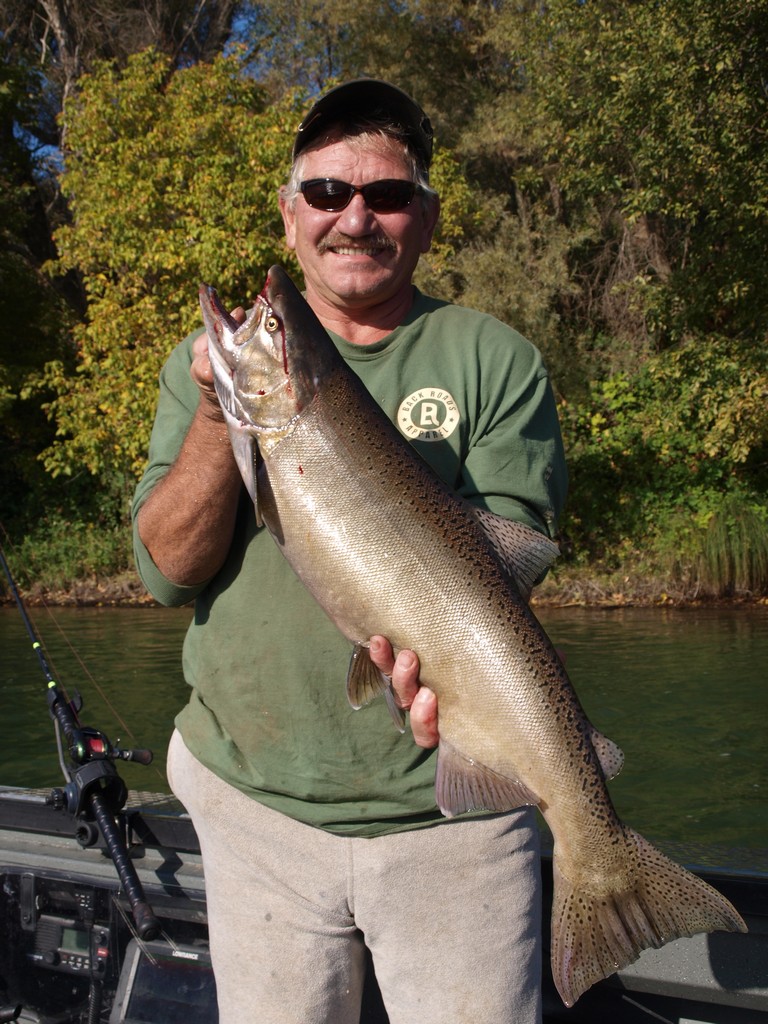 Dan Ponciano has been fishing for over 40 years, and his specialty is the tremendous sturgeon fishing in the Columbia Rriver. Dan grew up in Northern California, and the Sacramento River is one of his favorite fisheries. It was very obvious to us that he knew the river extremely well, and knows how to find salmon!
We had a great time sharing stories, and Dan is an ardent hunter as well as a fisherman – just like the three of us! I heartily recommend Dan to anyone who wants to fish the Sacramento River and catch some salmon. You will have a good time with a guide who is patient, very knowledgeable and a lot of fun to spend the day with. You can reach Dan by calling (360) 607-8511, or see his website at www.columbiariverfishing.com.