SOUTH LAKE TAHOE – Legendary Lake Tahoe, straddling the state line between California and Nevada at an elevation of 6,225 feet, is a lake of superlatives and California state gamefish records.
It is the largest alpine lake in North America, holding 122,160,280 acre-feet of water when full. Its depth is 1,645 feet, making it the second deepest in the United States after Crater Lake in Oregon (1,949 feet). And even though it reached its lowest average clarity of 59.7 feet in 2017, the Big Lake is still the clearest lake in the world for its size.
But in addition to these statistics, Tahoe features some of the best mountain lake fishing in California, with mackinaw trout, kokanee salmon, brown trout and rainbow trout all available for anglers. It is the home of the state mackinaw trout record, a 37-pound, 6-ounce trophy caught by Robert Aronsen on June 21, 1974.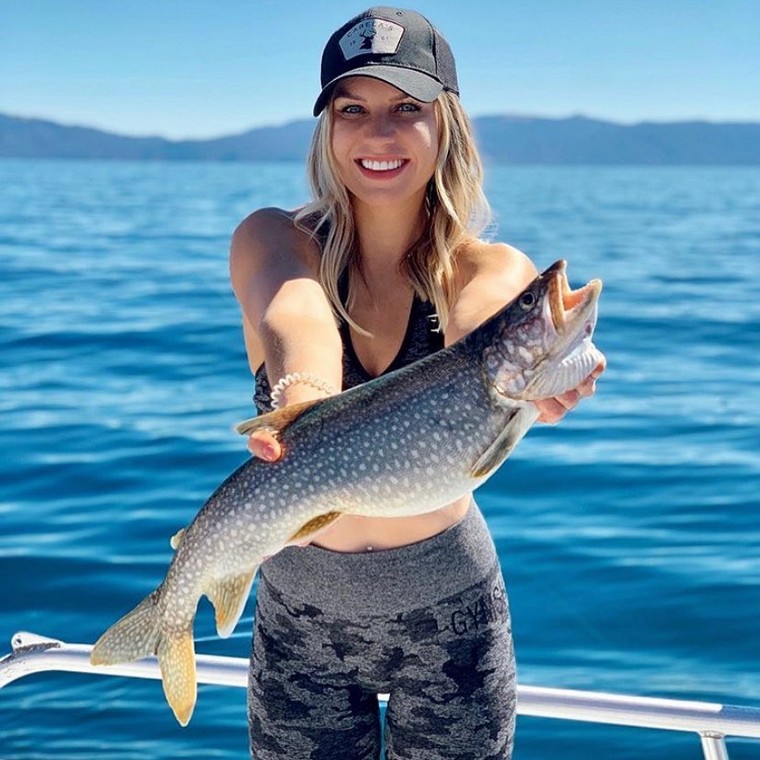 Not only is Tahoe the home of the state record mackinaw trout, but it's also the home of the state record kokanee. On July 20, 2013, William Brush landed a new state record weighing 5 pounds, 2 ounces, and measuring 24.75 inches in length and 15.75 inches in girth while fishing with Scott Carey of Tahoe Sportfishing.
In addition to being recognized as the new California state record, the fish was also recognized as a new Nevada state record. It was caught on a Wedding Ring spinner, tipped with white corn, behind Al Wilson blades.
This year has featured one of the best kokanee salmon seasons in recent years, and the great fishing continued into early October. Normally, the kokanee fishing is done by the end of September
On October 6, I made an afternoon trip aboard the Hopper I with Captain Donny Readinger of Tahoe Sportfishing that shows the top-notch fishing angling opportunities that Tahoe offers. Fishing with me were Michael Romero and Dixie Romero of Monterey and another angler.
As we left the docks at Ski Run Marina in Lake Tahoe, Captain Readinger said we would be fishing iconic Emerald Bay for kokanee, since the wind was starting to blow on the rest of the lake.
He showed everybody how to work the rods and reel the fish in. "You're doing well if you lose only 50 percent of the kokanee we hook," he said.
He started letting the set ups go into the water – Wedding Rings, tipped with white corn, behind Al Wilson blades – on line counter reels on rods both with and without downriggers. "We'll be fishing at 50 to 60 feet deep," Readinger said.
"In addition to the kokanee, we've caught a number of browns and rainbows on the kokanee gear this summer and fall," he stated
In the first few minutes, we put the first two kokanee in the boat. We had constant action, releasing some smaller fish and keeping those in the 12 to 14 inch range. The fish were a mixture of fish that were developing their fall spawning colors and those that were still bright and shiny.
For 2-1/2 hours, with the exception of a couple lulls, we had constant action, ending up with full limits of kokanee by 4:30 a.m. – 20 fish total – along with releasing just as many smaller fish. After limiting out, Readinger pulled behind the bay's island and cleaned the fish before we went back to the docks.
It was a great day out on the water and a lot of fun.
Every time that Readinger and other skippers from Tahoe Sportfishing and other operations on the lake go out fishing, they wonder if they will surpass the state record okanee that was caught on one of their boats.
While nothing close to record-size has been caught since 2013, Readinger noted that one angler landed a 22 inch kokanee aboard one of their boats this year.
On the same weekend that we went kokanee fishing, the U.S. Fish and Wildlife Service introduced introduced 3,000 tagged Pilot Peak strain Lahontan cutthroat trout into Lake Tahoe for the first time as part of the festivities surrounding the annual Fall Fish Fest at the Taylor Creek Visitor Center on Highway 89. The service has made a number of plants of other Lahontan cutthroat strains into the lake before, but they have not been successful.
I thought about going to the fish plant on noon on Sunday before I went fishing, but a nightmarish line of cars in horrible traffic on Emerald Bay Boulevard prodded me to turn back around and go directly to the marina.
"The fast-growing, prehistoric strain of Lahontan cutthroat trout are native to Lake Tahoe but disappeared long ago as a result of overfishing and land use changes. Their reintroduction to nearby Pyramid Lake in Nevada has turned Pyramid into a worldwide fishing destination with hook-ups of 10- to 20-pound-plus trout almost routine," according to the California Department of Fish and Wildlife.
The hatchery also released 2,000 Floy tagged Lahontan Cutthroat Trout at Sand Harbor on Oct. 7th in support of the Nevada Department of Wildlife's research on lake movement and use of tributaries, according to Lisa Hecki, project leader for the hatchery.
In respect to the plant, Zach Gordon, the manager of Tahoe Sportfishing, said, "I don't think the reintroduction will be successful with this effort alone."
"On the other hand, the kokanee have been very successful in Tahoe. There can definitely be coexisting fish, even if all of the fish are being predated upon by the lake trout. Lake trout will eat anything, including a rainbow, brown or kokanee, but numbers of kokanee are higher this year than in long time," he said.
Reflecting on this year kokanee season, Gordon said he found the bite that we enjoyed that day in Emerald Bay over 2-1/2 weeks ago.
"I think they just got trapped there, they got lost. The rest are in Taylor Creek getting ready to spawn or spawning. I've seen this happen one other time – five years ago.    Catching 50-plus fish per day that late in season unheard of," he noted.
Now that they are finished kokanee fishing this year, the boats will continue targeting mackinaw. Fishing is productive year-round, but the mackinaw action is best in the winter when angling pressure is the lightest and the fish are the most active.
While huge mackinaw roam the clear waters of Lake Tahoe, the average fish weighs 2 to 3 pounds.
"The biggest mackinaw caught while I've been out fishing was 26 pounds, while the largest I've caught personally weighed 12 pounds," Readinger stated. "A couple of my buddies caught macks weighing 14 and 16 lbs."
Whether the original strain of Tahoe cutthroat will again thrive or not in Tahoe is a big question.
"Is Lake Tahoe poised to become Pyramid Lake South? Will Lake Tahoe turn into a destination trout fishery with anglers and their ladders lining the shoreline in the hopes of catching monster-sized trout?" the CDFW asked.
I guess we are going to find out.
Lake Tahoe Facts
Fishing Regulations
Licenses: Any person, 16 years of age or older, must have a valid California or Nevada sport fishing license to fish in Lake Tahoe. Surrounding lakes and streams require a license for the state in which the person is fishing.
Seasons: Fishing on Lake Tahoe is open year round for mackinaw, brown, rainbow and Lahontan cutthroat trout and kokanee salmon.
Hours: Fishing in Lake Tahoe is legal one hour before sunrise to two hours after sunset. In all other bodies of water in the Tahoe area (Sierra District) fishing is legal one hour before sunrise to one hour after sunset.
Limits: The daily limit for Lake Tahoe is 5 trout, but no more that 2 mackinaw. Most other lakes and streams in the Lake Tahoe Basin have a limit of 5 trout.
Live Bait: No fish may be used for bait or possessed for use as bait in Lake Tahoe, Fallen Leaf Lake or Donner Lake unless taken from that lake. Live bait in these lakes are limited to the following: Lahontan redside shiner, Tui chub, Tahoe sucker, Lahontan mountain sucker, Piute sculpin and Lahontan speckled dace. Chumming is illegal.
Information: Direct specific fishing regulation questions to: California Department of Fish and Game(916) 355-7040, 2019/2020 Freshwater Sport Fishing Regulations Handbook
Nevada Division of Wildlife, (775) 688-1500, 2019/2020 Fishing Regulations
Charter Boat and Guide Services:
Tahoe Sportfishing, South Lake Tahoe, 900 Ski Run Blvd #101, South Lake Tahoe, CA 96150,, (530) 541-5448, (530) 541-5448,
Mickey's Big Mack Charters, Captain Mickey Daniels, 5146 N Lake Blvd, Carnelian Bay, CA 96140, (530) 546-4444, mickeysbigmack.com
Blue Ribbon Fishing Charters, 1398 US-50, Glenbrook, NV 89413, (530) 544-6552,
www.blueribbonfishing.com