Nick Ingram of San Jose holds up a brightly colored vermilion rockfish caught on a swimbait on light tackle off the Big Sur coast aboard the Kahuna out of Moss Landing. Photo by DAN BACHER, Fish Sniffer Staff.
MOSS LANDING –   The Big Sur Coast has served as the inspiration for poets such as Robinson Jeffers and novelists including Jack Kerouac and John Steinbeck.
It is one of the most dramatic shorelines in the world, with hillsides and high cliffs topped by the winding Highway 1, in turn silhouetted by the dark, looming Santa Lucia Mountains. It is also a great place to fish for rockfish and lingcod.
We are fishing the Big Sur Coast near Ventura Rocks aboard the Kahuna sportfishing boat in shallow water with light black bass and trout rods in flat calm seas on a gorgeous October morning.
"There's a school of blue rockfish just below the surface," says Brian Cutting, Captain of the Kahuna, over the radio. Anglers are throwing an array of lures, ranging from the 2 ounce Point Wilson Darts that I'm using, to swimbaits to plastic worms.
I have a great time hooking one blue rockfish after another on my trout rod. I can see the fish swarming just below the surface – and watch several of them hit my lure. When we get our lures deeper, we are catching olive, yellowtail, copper, gopher, vermilion and other rockfish.
It's like being a kid again. Everybody around me is having a fantastic time hooking fish after fish with gear that you would normally target trout, steelhead or black bass on. Whenever somebody has a larger fish that they may not be able to lift over the side of the boat, the deckhand is there to gaff the fish and get it safely into the boat.
The Big Sur coastline is a great place to catch beautiful vermilion rockfish like this one caught on light tackle in shallow water aboard the Kahuna out of Moss Landing.  Photo by DAN BACHER, Fish Sniffer Staff.   
We fished a variety of spots until around noon, when we got ready for the 2 hour trip back to Moss Landing. At the end of the day we ended up with limits of rockfish, including 25 vermilion rockfish and 10 copper rockfish, as well as releasing a lot of fish. We fished most of the day off Ventura Rocks.
As Cutting drove the boat back to Moss Landing Harbor, we passed renowned spots like the Bixby Creek Bridge, the mouth of the Little Sur River and Twin Rocks.
Successful anglers included Kathy Wilson and her father, Don Hartsock, who caught a couple of big bags of quality rockfish.
Bob Ford of Lodi landed a pretty yellowish colored lingcod and a gopher rockfish. Ken Yuen of San Jose caught his limit, including two vermilions to over 4 pounds.
Tom Selbo of San Jose had a blast throwing out swimbaits, catching big vermilions and bunch of other rockfish.
Marlon Veal shows off a hefty olive rockfish that he landed while fishing light tackle off Big Sir aboard the Kahuna Sportfishing boat on October 12. Photo by Dan Bacher
Carol Jones of Kahuna Sportfishing explained the reason behind doing the light tackle shallow water trips.
"We tried to do something different," she said. "We were already booking long range trips to Lopez Point, a 65 mile trip one way. We decided to do one shallow water trip last year."
"After doing that trip, we decided book three light tackle trips this year and we plan to do more next year. People who normally don't go on these trips tell me that they had a blast when they come back from these trips," she noted
"You can release fish back fish into the water with no problem. When you get into deeper water, you have a problem of releasing the fish back unharmed. You can fish to heart's content, catching and releasing fish throughout the trip."
"We target water around 60 feet or less," she noted. "Anglers use all kinds of stuff. Bass anglers use top water lures and use swimbaits with 1-1/2 ounce heads. Point Wilson darts are also good. You don't want anything too heavy. "
No bait is allowed on these trips, just artificials to keep it fun and interesting.
On our trip, we fished off Ventura Rocks. Captain Cutting said other areas they fish with light tackle include the Little Sur River area and south of Twin Rocks in the shallows.
One thing that is different this year is the relative lack of abundance of lingcod in the catches, compared to the previous three years where sometimes the captain had to move the boat so they could get away from the lingcod and hook up on the abundant rockfish.
"Our thinking is that the lingcod are staying in the deep water, maybe because of change in currents or something else," said Jones. "They are beyond the 50 fathom (300 feet) depth waypoint lines where we are prohibited from fishing."
When she fishes the shallow water, she has used plastic swimbaits, top water lures, Tady jigs and to get down to bottom, a small 4 ounce bar. "The key is to keep changing stuff up," she advised.
December 1 is the next shallow water trip – and the last of the year.
I'm really glad that the Kahuna is booking these shallow water, light tackle trips for rockfish off the majestic Big Sur Coast. I've been fishing light tackle rockfish for 40 years – and I'm elated to see these trips becoming popular again.
My first experience light tackle rockfishing was not by design. My friend and longtime fishing buddy Felix Alvarez invited me to go fishing with him on his leaky 12 foot boat off Santa Cruz one August afternoon. All I had was a trout spinning rod with me.
We first began fishing over sand mixed rocks not far from the harbor, but then Alvarez said we would be going over to fish the kelp beds. We began pulling up small rockfish from the shallow water. He put one of them on a trap rig set up and quickly sent it down to the bottom. Up came a tooth denizen of the deep, a lingcod, and Alvarez gaffed it. It was the first time I had ever seen a lingcod and I was impressed.
I later bought a heavier rod so I could target big lingcod and big rockfish, but I still brought my light spinning rod along when Felix and I went out fishing in his boat or on a skiff from Santa Cruz Boat Rentals after his boat began leaking too much.
We caught many lingcod, rockfish and greenling – and I always had a great time catching the rockfish on my light spinning rod. Interestingly enough, in all my time using the light gear on skiffs and party boats, I never hooked a "hitch hiker" lingcod on the rockfish that I brought up on light spinning gear, although I hooked plenty of lingcod on heavier rods.
The Kahuna also books regular trips to Point Sur, where bait and heavier gear is also used to entice rockfish and lingcod, and the special "long-range" trips to Lopez Point, where huge lingcod and vermilion rockfish are landed – and sheepshead are also occasionally caught. During the salmon season, the Kahuna also books mooching trips for salmon.
From December 31 to April, when groundfish or salmon cannot be pursued from a boat, the Kahuna is also available for sanddab and halibut trips inside the bay. For more information, contact Kahuna Sportfishing, (831) 633-2564, www.kahunasportfishing.com.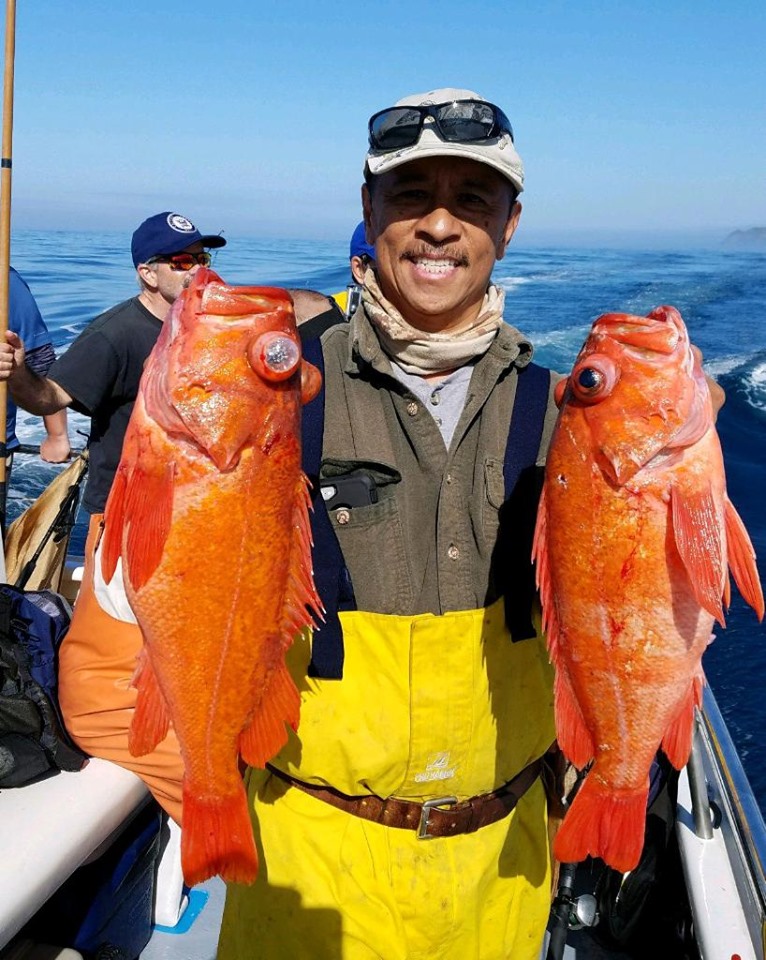 Big vermilion rockfish like these are the reward for anglers fishing off the Monterey County coastline aboard the Kahuna. Photo courtesy of KAHUNA SPORTFISHING, Moss Landing.