Josh Parris of San Andreas caught and released this 3.47-pound crappie, a new lake record, at New Melones Lake on November 15. Photo courtesy of JOSH PARRIS GUIDE SERVICE, San Andreas. 
ANGELS CAMP – Crappie may be far and few between at New Melones this time of year, but when you find them, "expect the unexpected," observed Gene Hildebrand of Glory Hole Sports.
While bass fishing at New Melones on November 15, Josh Parris, San Andreas fishing guide, definitely caught the "unexpected" – a new lake record crappie weighing 3.47 pounds. Eric Ochos held the previous lake record crappie of 3 pounds, 4 ounces that he caught off shore while fishing a minnow at Tuttletown in April 2018.
"I was looking for bass for a guide trip the following day – fishing 40 to 50 feet deep in the main body off long points and underwater drop offs," explained Parris. "I was using a P-Line Laser Minnow ¾ oz. spoon when the big crappie hit."
"The crappie was the first fish I hooked out of the school. I dropped the spoon down just a few feet from the bottom and it stopped when the fish grabbed it," said Parris. "I battled the fish to the boat and put it in the live well."
He released the 16-1/2-inch fish back into the water after weighing it at Glory Hole Sports. He also hooked and released two other crappie in the 2-1/2-pound range as well as three spotted bass in the 2-1/2-pound range out of that school.
He reported catching another big crappie weighing 2.73 pounds on a trip to New Melones later in November
"The bass fishing is fair, but you have to go deep into the 40 to 80 feet range," he emphasized. "Besides using spoons, we're also hooking fish on drop shot rigs, spybaits, and Ned rigs."
"There are gigantic schools of bass with big crappie mixed in," he revealed. "Once you get the fish going on a bait, fishing can be awesome. The fish are feeding exclusively on shad in the 2 to 2-1/2-inch shad, so shad imitation lures are the best ones to use."
New Melones hosts a variety of species that it holds that grow big and fat in the lake's forage rich waters. The lake features rainbow and brown trout, kokanee salmon, spotted, largemouth and spotted bass, bluegill and crappie and channel catfish.
The lake spotted bass record of 10.48 pounds was caught by Keith Bryan, the CEO of Powell Rods on February 22, 2014. This fish was hooked during a CTT Pro/Am tournament on a wacky-rigged Yamamoto Senko.
The lake largemouth record of 18.11-pounds was caught and released by Kyle Gentry of Oakdale on February 6, 2010. He hooked the fish during an Anglers Choice Western Rookie League tournament. Kyle used a brown/purple jig with a Yamamoto 5" Twin-Tail Grub in cinnamon/purple for a trailer.
The lake is known for the big holdover rainbows that have been caught from shore and boat over four decades. I have caught big rainbows while fishing from both shore and boat at New Melones since I first fished the lake in 1988.
The lake record rainbow of 14 pounds, 4 ounces was caught by Chris Peterson of Folsom on January 25, 2018. Chris used a bladed chartreuse patterned Voo Doo bait.
The rainbows that anglers are catching in the lake at this time are quality holdovers. For example, Micah Smith of Folsom landed a 4-1/2-pound rainbow while trolling with a rainbow Cripplure at the spillway at 35 feet deep on November 24 according to Kelley Lewellen of Glory Hole Sports. Marvin Wells of Twain Harte also landed a 5-1/2-pound rainbow while using a yellow Excel spoon at 45 feet deep.
The California Department of Fish and Wildlife has planted New Melones with catchable rainbows for decades, but the reservoir hasn't been stocked with catchable rainbows since 2018 after the Moccasin Creek Dam burst and the Moccasin Creek Fish Hatchery was flooded, with thousands of pounds of trout going into the creek and then the water below the dam.
However, the CDFW was able to stock the lake with 70,200 brown trout fingerlings in 2018 and 20,160 brown trout fingerlings in 2019, according to Kyle Murphy, Senior Environmental Scientist Supervisor at the CDFW.
"We lost the subcatchable brown trout that were allotted for New Melones and other lakes in the flood of March 2018, but the San Joaquin River Fish Hatchery below Friant Dam had extra brown trout and we put some of those into New Melones," said Justin Kroeze, manager of the Moccasin Creek Fish Hatchery.
The hatchery is just getting back in operation. "We took 1.2 million eyed rainbow trout eggs from brood stock at Mt. Shasta Hatchery. Six hundred thousand of these were Shasta-strain and the other 600,000 were Eagle Lake strain. In addition, we purchased 200,000 eggs from out of state when he finally got the water back in the hatchery this March. These fish won't be up to catchable size until July 2020," he explained.
"We didn't have water from March 2018 to March 2019 as repairs were being conducted on the Moccasin Reservoir dam," he noted.
"We haven't done allotments for the lakes in our region for next year and we won't have them until June 30, 2020. We should be getting back into producing fish. If we choose to allot fish for New Melones next year, catchable rainbows would be planted in October or November 2020," said Kroeze.
Over the past couple of years, the only rainbows stocked in New Melones have been those raised in the pen-rearing program at the lake.
"Kokanee Power once again has come through this year with another plant of trout for the 2020 fishing season of 350 pounds of 12-inch rainbows," said Gene Hildebrand of Glory Hole Sports. "They will be kept in the trout pen until May, where Kokanee Power and the marina staff will feed them."
These healthy trout were transported from the Moccasin Fish Hatchery on November 16 and placed in a holding pen to be raised for the next 6 months.
The net pen also received 480 pounds of rainbow trout in 2017 and another 360 pounds in 2018, according to Murphy.
The CDFW plants the lake most years with kokanee fingerlings. The agency stocked 50,020 kokanee at New Melones in 2017, no kokanee in 2018 and 50,000 in 2019.
This was a great year for kokanee fishing at New Melones, with many fish exceeding the 2-pound mark. Rick Hansen of Wilton caught a 3.8 lb. kokanee, the largest ever reported at the reservoir, while using a pink JPex lure behind Paulina Peak dodger while fishing with Kyle Wise of HeadHunter SportFishing.
New Melones Lake is located on the Stanislaus River in the central Sierra Nevada foothillswithin Calaveras County and Tuolumne County. The New Melones Dam and reservoir are a water collection and transfer unit of the federal Central Valley project.
For more information, call Glory Hole Sports in Angels Camp, (209) 736-4333.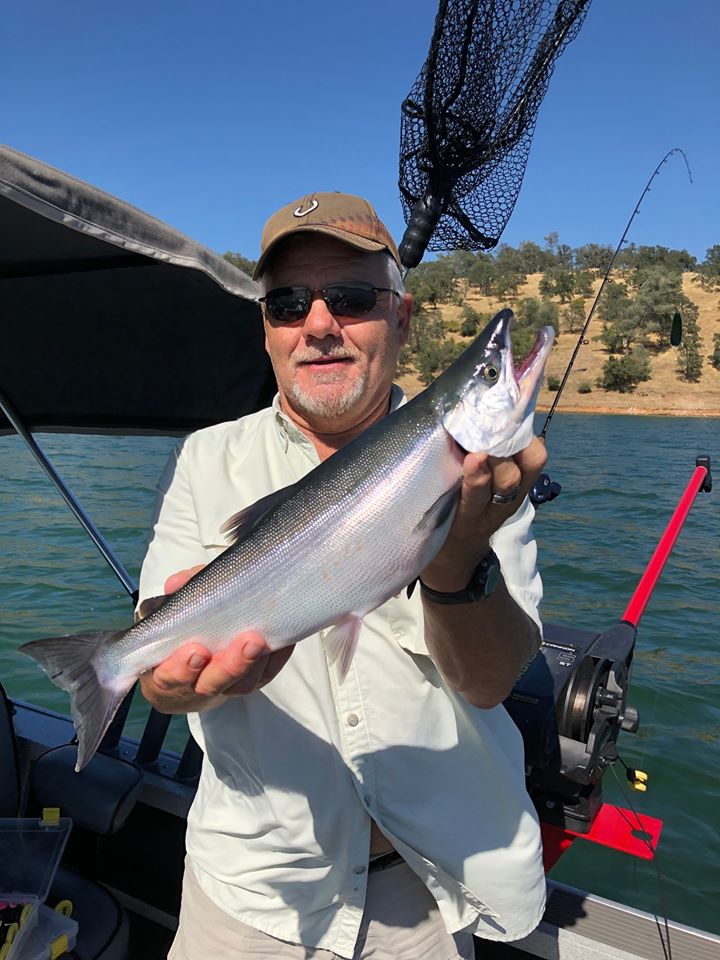 New Melones Facts
Location and size:New Melones is part of the Bureau of Reclamation's Central Valley Project. It is located off of Highway 49, some 8 miles north of Sonora and 6 miles south of Angels Camp, in the Mother Lode.
The reservoir is impounded by the New Melones Dam, and has a 2,400,000 acre feet capacity with a surface area of 12,500 acres. When full, the shoreline is more than 100 miles long.
The reservoir and dam are located west of Jamestown and Sonora, and south of Angels Camp. The Archie Stevenot Bridge, completed in 1976, carries Hwy 49 across the lake and border between Calaveras and Tuolumne Counties.
Each year, approximately 600,000 visitors enjoy New Melones' numerous recreational opportunities. Facilities include day use areas; boat launch ramps; more than 300 campsites; hiking, biking and equestrian trails; a visitor center and museum; and abundant water-based recreation.  
Fish Species:Rainbow trout, brown trout, kokanee salmon, spotted bass, largemouth bass, smallmouth bass, black crappie, bluegill, channel catfish and other species offer fishing year round.
Lake conditions vary seasonally at New Melones Lake depending on weather and annual rainfall. Please see the following link for the most up-to-date lake condition information: http://cdec.water.ca.gov/cgi-progs/staMeta?station_id=NMS
History:The original Melones Dam was completed in 1926, forming a smaller Melones Lake reservoir.  The New Melones Project was authorized in 1944 to create a much larger reservoir and to establish a new hydroelectric plant. It would also be specifically designed to prevent floods.
It was a controversial project. The dam's opponents argued that its presence would inundate the river valley, eliminate the natural whitewater rapids, flood many of the massive unique limestone cave formations characteristic of the area, and destroy archaeological resources found along the river. The environmental organization Friends of the River was formed to fight the dam, according to Wikipedia.
Initial archaeological surveys were made by the Smithsonian River Basin Surveys in 1948 (Fredrickson 1949). Further surveys were done by regional universities. The consensus after the surveys was that the dam would be built. Upon the dam's completion, the valley filled with water, covering the old mining town of Melones and the original Melones Dam.  The lake was constructed by the U.S. Army Corps of Engineers and transferred to the U.S. Bureau of Reclamation shortly after its completion in 1980.
Fishing Information:Glory Hole Sports, Angels Camp, phone (209) 736-4333,  web: gloryholesports.com
The Glory Hole area is one of the best places on New Melones Reservoir to launch a boat and fish from shore. Photo courtesy of U.S. BUREAU OF RECLAMATION.