Michael Allen shows off a couple of scrappy spotted bass typical of those that dominate the black bass fishery at Rollins now. Photo by DAN BACHER, Fish Sniffer Staff.
Like many reservoirs in California, Rollins Lake's fishery has undergone a big transition from one fishery to another over the years.
When I first fished Rollins 48 years ago, Collins was known for abundant but small and mostly undersized smallmouth and largemouth bass, along with rainbow trout bluegill, crappie and a sleeper quality wild brown trout fishery.
My first ever trip to Rollins with a friend in June of 1971 produced a "potluck "catch of smallmouth bass, largemouth bass, bluegill and rainbow trout. We caught most of the fish while drifting nightcrawlers in the coves from his rowboat.
Since then I have made many trips to Rollins Lake, most of them while bank fishing for trout. Fishing can be great here if you hit the lake just right.
My most memorable trip to the lake was several years ago during the winter when I found top-notch fishing in wonderful solitude on a trip to Rollins. I hooked over 30 rainbow trout, keeping my limit of five fish in the 12 to 16-inch class and releasing the others, while casting out orange/gold Cripplures and Berkley PowerBait from shore. I was one of on two anglers fishing on the lake that day.
Cal Kellogg, Fish Sniffer Editor, had a fantastic trip on his kayak to Rollins this September.
"I caught over 50 fish, a mixture of bass and crappie," said Kellogg. "I hooked 24 bass, all spotted bass. About half were 12 inches long or over and the other half were undersized."
"I caught bass up to 2-1/2 pounds while throwing the smallest Pop-Rs in the North Fork. I caught a number of fish on the edge of the shore line and others out in the middle of the lake where they were breaking on the surface of the water. I also landed over 20 bluegill, mostly hand sized, during the trip."
Cal Kellogg, Fish Sniffer Editor, got into a great bluegill bite at Rollins Lake in September while fishing from his kayak. Photo by CAL KELLOGG, Fish Sniffer Staff.  
The rainbow trout fishery, provided by once frequent plants by the California. Department of Fish and Wildlife, provided an excellent opportunity for shore anglers and boaters to battle trout in a scenic Sierra Nevada setting.
Unfortunately, the trout plants have become less frequent by the CDFW in recent years.  The CDFW has planted the reservoir only once this year to date; hopefully, the Department will plant more regularly in 2020.
"The cold water fishery at Rollins is suffering from the lake of CDFW plants," emphasized Kellogg. "Fortunately, the bass fishery is coming on really strong after the introduction of Alabama spotted bass in the lake and the panfish, including crappie and bluegill, are really thriving also."
Situated amidst a conifer forest on the Bear River in Nevada County near Colfax, Rollins Reservoir is like two different bodies of water, depending on whether you fish it during the summer or fall, winter and spring.
In the summer, the lake is a maelstrom of personal watercraft, water skiers and recreational boaters. Fishing for the lake's rainbow trout, German brown trout, spotted, largemouth and smallmouth bass, bluegill and channel catfish is best during the early morning and late afternoon hours due to the heavy boating traffic during the day. Concentrating on the more peaceful 5 mph coves is also highly advisable.
In contrast, during the fall, winter and spring, the lake is known as a place to find decent fishing for rainbow and brown trout, as well as black bass and panfish, amidst solitude. Bank fishing and trolling are both effective methods for pulling out trout at this time of year.
On a sunny afternoon over a year ago, Richard McGuire of Lincoln and Ron McGuire of Weimar had a great time fishing when they landed 10 rainbows in less than an hour while tossing out crankbaits, along with one spotted bass, in the Greenhorn arm of the lake. They found their trout success right after a trout plant.
"This is my home lake," said Richard. "I like to fish it year around from my kayak for trout, bass and crappie."
Kellogg and I like to use the lake as a place to test new baits and lures for trout – when the lake is being planted in the winter and spring.
The bass fishing has changed a lot at the lake over the past decade. The lake used to be known as one where you can hook lots of small smallmouths and a few largemouths. Smallmouth bass in the 8 to 12 inch range were the predominate catch. But as is the case on many foothill lakes, spotted bass now dominate the fishing at Rollins.
The predominance of the spotted bass in the lake was demonstrated by the results of Kellogg's most recent trip to Rollins, as well as a Folsom Bass Club tournament out of the Long Ravine Resort last November that I reported on.
Seventeen teams of two people each, a total of 34 anglers, fished the lake that day. All of the fish weighed in the event were spotted bass with the exception of two largemouths and one smallmouth bass.
The results of the event also demonstrate another aspect of the Rollins bass fishery: the lake continues to be known for the quantity of its spotted bass rather than its size
Michael Allen caught the big fish, a 1.88 lb. spotted bass, while drop shotting with a ¼ oz. dark grape Robo Worm. The two bass that he landed weighed a total of 3.80 pounds.
Ryan Petersen and Ryan McGinnis won first place in the event with 5 fish weighing 7.07 pounds.
Rainbows have been the most abundant trout at Rollins. The Department of Fish and Wildlife historically stocked the reservoir with an average of 6,000 pounds of catchable rainbows per year, although the number of fish stocked has been slashed in recent years.
A sleeper population of German browns also makes the lake their home. There is no official lake record, but browns up to 7 pounds have been documented and fish in the 2- to 4-pound range are relatively common.
The browns are known for being long and slender, with Cal Kellogg's largest ever brown measuring 27 inches long and weighing 5-1⁄2 pounds.
With water cooling down, now is a good time to target browns at the reservoir. "For browns, troll with stickbaits like Rapalas in the Bear River arm 200 to 300 feet behind the boat from now through spring," tipped Craig Newton at Willfish Bait and Tackle in Auburn.
While rainbows can be taken at the reservoir year-round, the months of April and May when the water has cleared up from winter storms that often muddy the water, are some of the best to target trout here.
The lake also features a sleeper population of crappie measuring 12 to 14 inches long and sometimes bigger. Anglers fishing with small jigs off the points and structure pick up the slabsides year round.
Trophy crappie are always a possibility here. Just ask Richard McGuire, who landed an 18 inch crappie at Rollins last year. Another angler also caught a 20 inch crappie at the lake.
Channel catfish offer a solid summer and fall fishery for shore anglers and boaters, particularly at night when the whiskered leviathans go into the shallows to feed.
For more information about Rollins Lake, call Long Ravine Marina, 346-6166, or visit www.longravineresorts.com.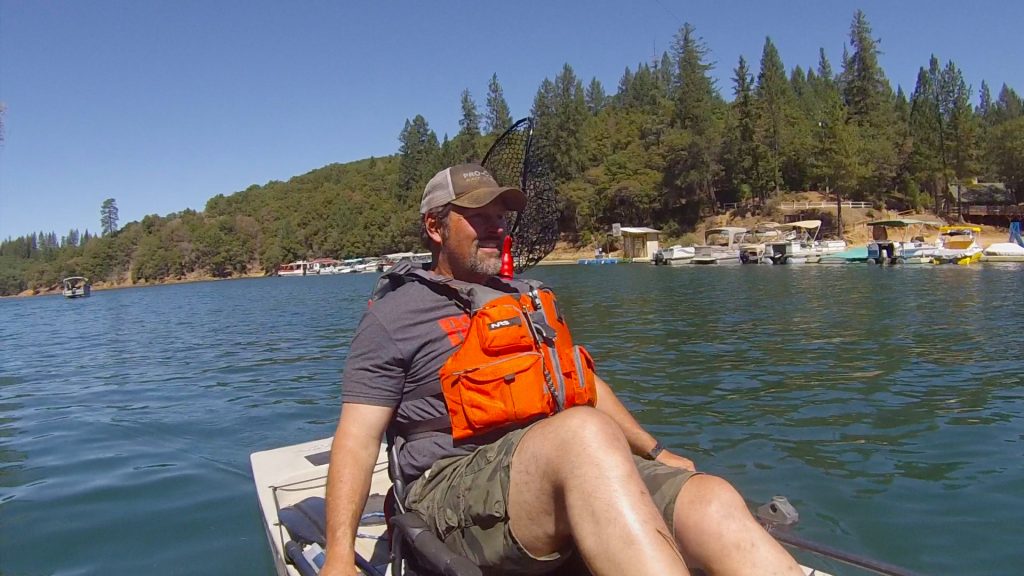 Rollins Lake offers spotted, largemouth and spotted bass, rainbow and brown trout, crappie, bluegill and channel catfish for kayakers, other boaters and bank anglers to catch. Photo by CAL KELLOGG, Fish Sniffer Staff.
Rollins Lake Facts
History and size::The earthen dam that creates Rollins Reservoir was constructed in 1965 by the Nevada Irrigation District, with a height of 228 feet and a length of 1,840 feet at its crest. It impounds the Bear River, a tributary of the Feather River, for hydropower, flood control, irrigation water storage, and municipal water use. The dam is one of the ten facilities owned and operated by the Nevada Irrigation District. It is part of the Yuba-Bear Hydroelectric Project. Rollins Reservoir features a surface area of 1.3 square miles and a maximum capacity of 66,000 acre-feet.
Rollins Lake Campgrounds:The campgrounds are privately operated but open to the public. At an elevation of 2,300 feet, the lake enjoys a long season. The lake is popular for fishing, water skiing, boating, fishing, swimming, and camping.
Long Ravine Campground:is located on a peninsula on the eastern side of the lake. Location: 26909 Rollins Lake Road, Colfax. CA 95713
Campground Amenities:
RV and tent campsites, full hook-ups available, large group site
Store, flush toilets, hot showers, dump station (fee)
Picnic tables, BBQs, fire pits
Marina, boat ramp, Rollins Lake Boat Rentals, boating, water skiing, fishing
Swim platform and slide, beach
Reservations: (530) 346-6166
Orchard Springs Campground: is located on the west shore of Rollins Lake, off Highway 174 via Orchard Springs Road. Location:: 19085 Larsen Rd, Grass Valley, CA 95945
Campground Amenities:
91 RV and tent sites, some RV hook-ups available
Restrooms with flush toilets, hot showers
Cabins, marina, store, beach
Reservations: summer (530) 346-2212, winter (530) 265-5302
Peninsula Family Camping: is on a peninsula on the northeast side of Rollins Lake. The campground is open during the spring and summer seasons. The resort has over 300 acres. Location: 21597 You Bet Rd., Grass Valley, CA 95945
Campground Amenities
70 tent and RV sites along 1.5 miles of lakefront
Group sites for up to 24 or 40
Campfire pit or ring, picnic table
Hot showers, restrooms with flush toilets, dump station (fee)
Cabins for rent, boating, boat rentals, launch ramp, fishing, swimming, kids' crafts, volleyball, horseshoes, other sports
Reservations: (866) 4MY-CAMP or California and Nevada residents call (530) 477-9413     
Greenhorn Campground:is located on the northwest side of the lake. To reach the campground take Greenhorn Access Road off Highway 174 and follow the road to the campground. Location: 15000 Greenhorn Access Road, Grass Valley, CA 95945
Campground Amenities:
40 gravel or dirt campsites, some sites with hook-ups
Restrooms, showers, store, dump station, WiFi (fee, limited range), game room, horseshoes
Marina, boat rentals, launch ramp, fishing, boating, swimming
Reservations: (530) 272-6100