By Cal Kellogg
Duckworth boats can be hard to purchase and that fact is doubly true when it comes to the new Advantage Sport line of aluminum fishing machines. Why?
Well that's simple, Duckworth's reputation for top notch performance and attention to detail is well known, yet only so many Duckworth boats come out of the factory annually. That's why most Duckworth dealers are perpetually sold out. In many cases, there are customer waiting lists and when new boats become available they are quickly snapped up.
If you want to live the Duckworth dream and would like to do it while enjoying significant savings on one of the hottest aluminum boats in the country bar none, I've got a great opportunity for you.
It's time for me to pick up a new Duckworth for the 2020 season and as a result I'm selling the fully equipped Duckworth Advantage Sport I've run for the last 10 months.
Being a full-time editor at the Fish Sniffer and full time video producer means that when I hit the water I need results, not excuses so I started with the rock solid and nimble Duckworth Advantage Sport platform and equipped it the best gear available.

The results have spoken for themselves. We've subjected the boat to long runs and rough water while exploring many of California's most iconic fishing destinations and the Duckworth has performed without a hiccup.
And the boat has been proven to be a fish producer. Indeed, king salmon, trophy rainbows, browns, macks, kokanee and stripers have all been given tours of my Advantage and some of them have even taken a trip home with me for dinner!
Let's take a closer look…
The 18' Duckworth Advantage Sport
Rigged to the hilt by Gone Fishin' Marine, the 2020 Duckworth 18 Advantage Sport has all the bells and whistles. This boat is AWESOME!
Built on the long-proven Advantage platform, the New Sport model is a lighter, nimbler version of its big brother without compromising stability or performance. At 18'3" long and 86" wide, the Advantage Sport is a well-designed, fishing playground with plenty of room for a full crew and gear. The hull has 12 degrees of deadrise at the stern that steps to 24 degrees forward allowing the boat to remain extremely stable even when cutting thru the worst conditions on the water.
Powered by a Yamaha 90HP outboard, there's plenty of power to steam across any body of water. The motor barely whispers at low RPMs without a hint of vibration. Fuel economy is superb, even by modern 4-Stroke standards.
Humminbird Helix 9 Sonar & GPS
Whether you want to catch trophy trout at lakes like Shasta and Almanor, big kings at Oroville, kokanee at Bullards Bar or stripers and sturgeon in the California Delta a quality sonar unit and GPS is an absolute must. There are a lot of good units on the market, but after much research I went with the Humminbird Helix 9.
This Helix 9 features MEGA Down Imaging+ sonar for incredible underwater clarity and fish/structure detail. In addition, this versatile device has Dual Spectrum CHIRP sonar with two search modes for coverage and detail, as well as SwitchFire Sonar with two display modes to adjust your sonar return appearance. Meanwhile, the built-in GPS, Humminbird Basemap and AutoChart Live real-time mapping ensure effortless navigation. To get even more out of your device, the Humminbird Helix 9 Fish Finder features multiple networking and compatibility options, meaning that the unit works in conjunction both the boats downriggers and the trolling motor.

In terms of sonar, the Helix 9 features, MEGA Down Imaging+ for incredible underwater clarity and greater fish/structure detail. Dual Spectrum CHIRP Sonar with two search modes, a wide mode for maximum coverage and a narrow mode for maximum detail. SwitchFire Sonar changes sonar return appearance with two display modes that let you add/remove detail, account for water depth, temperature and turbulence, and even watch lure presentations. Sonar recording and screen snap shot. 360 Imaging compatible for a more complete view around your boat.
On the navigation side the Helix 9 features a built-in GPS and built in Humminbird Basemap featuring more than 10,000 lakes (plus coastal coverage for the U.S.) gives you a clear view of underwater terrain and surrounding points of interest. LakeMaster Maps compatible for easy-to-read contours, highlighted depth ranges and adjustable water levels. AIS compatible to track other vessels for safer navigation.
Minn Kota Ultrex 80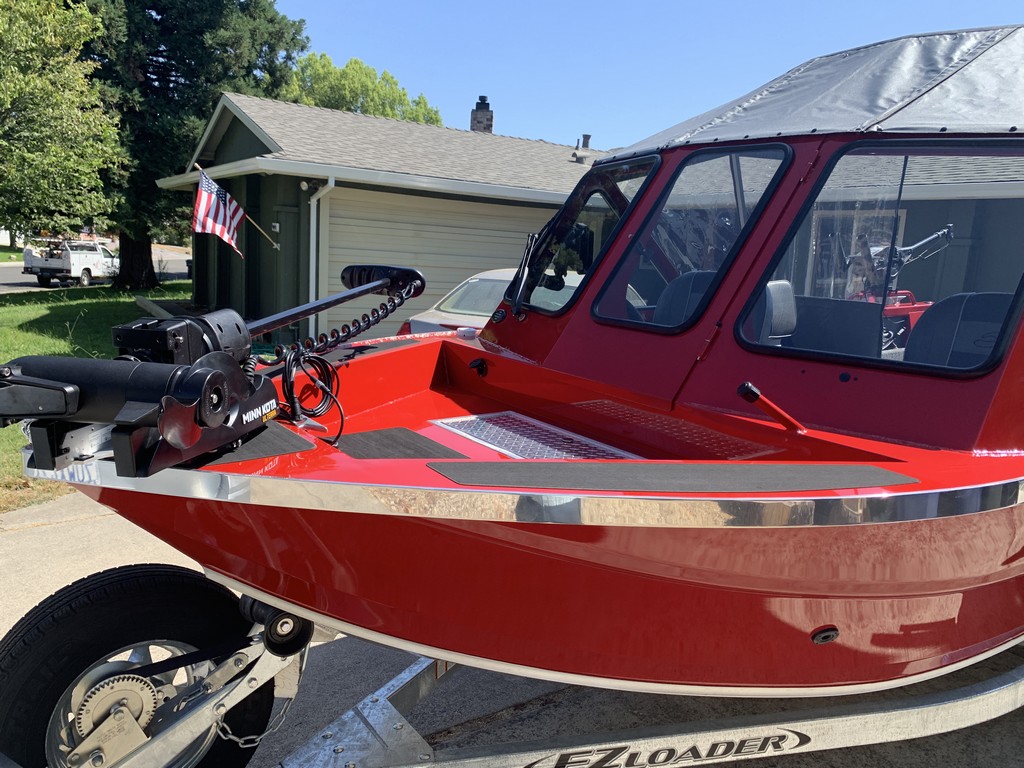 The Minn Kota Ultrex 80# electric trolling motor rests on the bow. The Ultrex features a self-deploy mechanism allowing the motor to be raised or lowered at the touch of a button as well as Minn Kota's i-Pilot GPS system. A touch screen remote controls the motor from anywhere aboard the boat.
The Ultrex features all the control of a Minn Kota Fortrex plus the capabilities of i-Pilot and now Bluetooth connectivity, the Minn Kota Ultrex Bow Mount Trolling Motor with i-Pilot stands above imitators' trolling motors and creates a class all its own.
Cannon Digi-Troll 10 Downriggers
The Digi-Troll 10 features a backlit LCD screen which displays readings from IntelliTroll, lets you raise and lower the weight, adjust Positive Ion Control, or program the amount of line you're using. Cycle the weight up and down at preset intervals and depths, or use Bottom Track to automatically keep your bait at a preset distance from the bottom.
The unit has the fastest retrieval rate on the market (250 feet per minute) and a Short-Stop feature that protects the boat from swinging weight.
The downriggers feature telescopic booms that extend from 24″ to 53″. Digi-Troll is built tougher and smarter to make you a better angler.
Are You Ready To Live The Dream?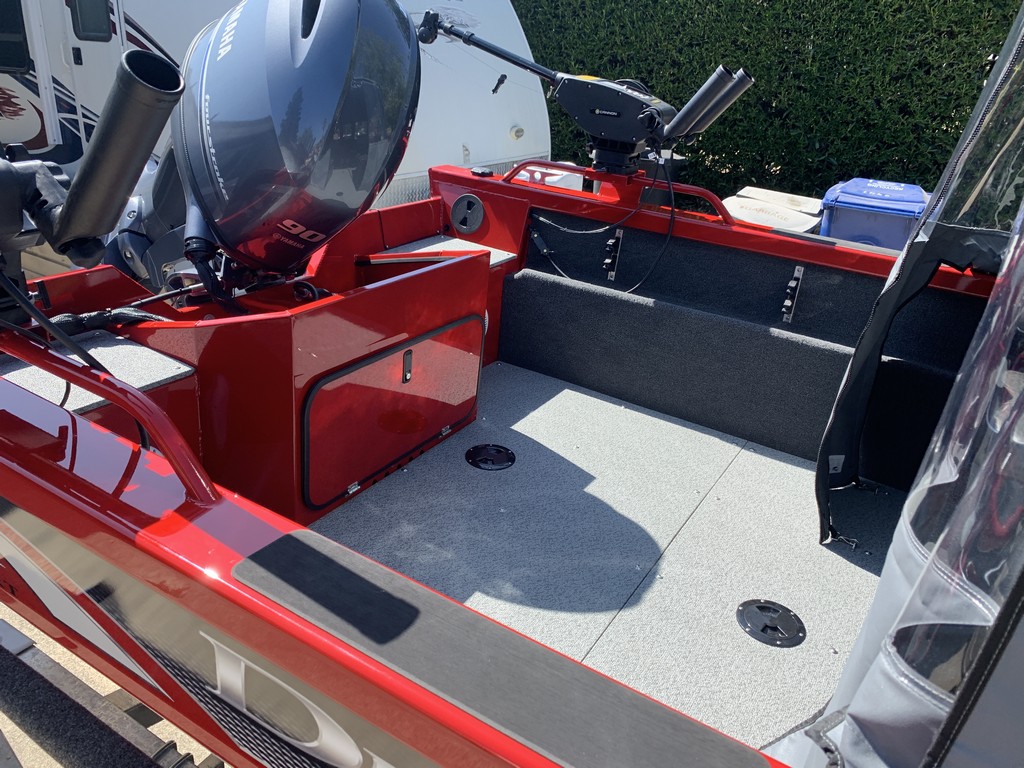 Set up as it is, my 18' Duckworth Advantage Sport has an MSRP of $55,000. I'm selling the boat for $45,000 a full $10k below MSRP. If you're serious and ready to live the Duckworth dream, don't hesitate because this boat is going to move quickly. For more information or to set up a viewing, call (916) 342-1217. We may be on the water, so if there is no answer leave a message and your call will be returned!