A total of 180 adults and 40 youth entered in the NorCal Trout Angler's Challenge (NTAC) event season opener at EBMUD's San Pablo Reservoir on Saturday, February 8, the day after the lake opened to fishing this season. The weather and fishing were both superb.
"This eighth annual season opener for the NTAC was perhaps the best we've ever had," noted Vince Harris, president of Angler's Press Outdoors, the organization that created the NorCal Trout Angler's Challenge series. "So many quality fish were caught by so many anglers that we almost lost count."
"We are making some significant changes to the NTAC series this year, including a more efficient check-in system, upgraded custom trophies for both the youth and adult divisions, as well a more contingency prizes for participants to win….stay tuned," he concluded.
The line for the weigh-ins was the longest that I've seen in any NTAC event, since so many anglers caught fish that day.
Kim Sidvers of Jackson won first place in the adult division with an 8.22-pound rainbow, She landed the hefty fish while trolling spoons and grubs with Tom Wolfenberger.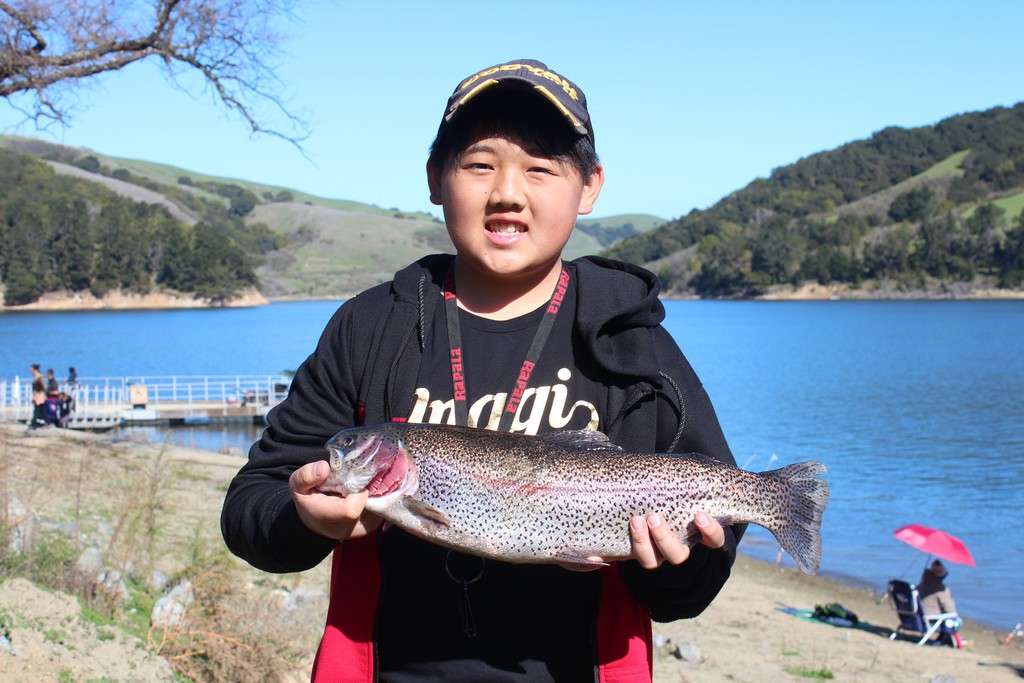 "I've fished the Trout Anglers Challenge events for four years," said Sidvers. "I won third place in one of the April tournaments at Collins Lake, but this is the first time I've ever placed first."
Luke Tyman placed second with a 7.18-pound rainbow that he hooked on PowerBait fished on a drop shot rig on the west bank of the lake.
"This was the first time I've ever been trout fishing, the first time I've ever been to San Pablo Reservoir and the first derby or tournament I've ever entered," said Tyman. "I was fishing with five buddies and my father. I used a bass rod with a bass set-u;.
Jessie Pardilla of Daly City placed third with a 5.43-pound rainbow that he fooled with a Trout Magnet lure – a plastic grub on a 1/64th ounce jighead.
The fourth through tenth place winners were: (4) Mike Urbani, 4.93; (5) Jeff Turpin, 4.88; (6) Gregory Romer, 4.7; (7) Todd Keels, 4.65; (8) Jon Zielinksi, 4.63; (9) Robert Dzambik, 4.27; and (10) John Saechao, 4.05.
Fourteen-year-old Arkantos Ly of Sacramento won first place in the youth division with a 4.24-pound rainbow. He landed the big fish while fishing yellow PowerBait from shore with his 13-year-old brother, Jubei, his mom, Pang, and his dad, Furuseth. His brother also landed a 1.23 trout, finishing in 18th place in the youth division.
Angel Blanco placed second in the youth division with a 3.99-pound. trout, while Joey Hill Jr. placed third with a 2.64 lb. rainbow.
The fourth through tenth place youth winners were (4) Lana Manaoat, 2.61; (5) Jon Zerinski, 2.48; (6) Adrian Diaz, 2.05; (7) Aniya Tinsley, 2.04; (8) Ryder Peterson, 1.88; (9) Dominic Compaglia, 1.83; and (10) Damian Fuentes, 1.82.
David Sauceda captured the smallest fish category with his .85 pound trout.

Finally, Tisha Tinley won $100 and a tackle box full of Rooster Tail spinners for using their spinners at the event.
A total of 8,000 pounds of Mt. Lassen trout were planted prior to the opener, including 6,000 pounds of rainbows at the boat launch on February 3 and 2,000 pounds of rainbows at the Marina on February 4, according to Marcella Shoemaker at the Rocky Mountain Recreation Company.
In addition to the great fishing on Saturday, anglers also landed large numbers of trout on Friday and Sunday of opening weekend.
"This year's opening weekend was awesome – lots of fish were caught. PowerBait, Mice Tails and a variety of lures in bright colors are your best bets," Shoemaker said.
The lake level was 303.4 feet in elevation and the surface water temperature was 53 degrees.
The NTAC is presented by Angler's Press Outdoors and hosted by Gone Fishin' Marine, Lasher Elk Grove, the Fish Sniffer magazine and Daiwa. Sponsors include Silver Horde, Mack's Lures and Yakima Baits. For more information, contact: NTAC: (916) 768-0938.
San Pablo Reservoir is stocked regularly with rainbow trout in the fall, winter and spring and channel catfish during the summer. Largemouth and spotted bass, crappie, redear sunfish, bluegill and even a sleeper population of white sturgeon are available also.
The lake is best known for the trophy trout it has produced over the years. Stephen D. caught the lake record rainbow trout of 21 pounds, 12.8 ounces on April 18, 2001 while soaking chartreuse Power Bait off Oak Point.
While trout are the most popular species at San Pablo Reservoir, the lake also has good populations of channel catfish, spotted bass, largemouth bass and sunfish.

Most of the cats taken at San Pablo are in the 1-1/2 to 5 lb. range, but monster cats roam the lake's waters. Mario Nova set the lake record with a 40 lb. 4 oz. catfish caught on June 18, 2016. He caught the fish on 6 lb. test and released it back into the lake.
In recent years, the hard-fighting spotted bass has become more common in the catches at San Pablo, making the reservoir the only one in the Bay Area with a population of "spots." The spotted bass lake record is 5 pounds, 9.36 ounces.
The reservoir's big Florida-strain largemouths also make it a popular target of a hard-core group of big bass devotees. Anglers fish an array of methods, such as tossing spinnerbaits, split shotting with plastic worms, drop shotting with plastics and tossing out rainbow trout pattern swimbaits.
However, it was a trout angler, Victor Barfield, who caught the lake record 18 lb. 11.2 oz., largemouth on March 22, 2001 while fishing a nightcrawler and Power Bait in Scow Canyon.
Crappie, redear sunfish, and bluegill offer good fishing in the spring and summer for anglers using an array of small baits and lures. The redear sunfish record is 3 pounds, 6.4 ounces, while the lake crappie record stands at 3 pounds, 3.2 ounces
The lake also hosts a sleeper population of white sturgeon that are occasionally caught by anglers bait fishing for trout and catfish.
For example, Greg Peterson caught and released a 62-inch sturgeon on Power Bait and 4 lb. test line at the Pines on July 11, 2013. Carl Moyer and Dick Thomson also caught and released a 5-foot sturgeon while fishing by the boat ramp on September 2, 2016.
Nai Saephan of San Pablo landed the lake record diamondback of 105 pounds while soaking frozen shrimp on June 13, 2003.
San Pablo features 866 surface acres and 14 miles of shoreline that offers anglers their choice of fishing from boats, both private and rentals, or from shore. Since San Pablo is a drinking water reservoir, swimming, wading, and other body-contact activities are prohibited.
The San Pablo Reservoir Recreation Area offers many exciting outdoor activities including fishing, boating, picnicking, kayaking and hiking. The reservoir is located off San Pablo Dam Road between Orinda and El Sobrante.
For more information, contact: Rocky Mountain Recreation Company, San Pablo Reservoir, 7301 San Pablo Dam Road, El Sobrante, Ca. 94803, 510-223-1661, http://www.rockymountainrec.com/lakes/san-pablo-reservoir.html
San Pablo Lake Facts
General Information: San Pablo Dam has 866 surface acres and 14 miles of shoreline that offers anglers their choice of fishing from boats, both private or rentals, or from shore. This EBMUD reservoir is a drinking water supply and therefore no swimming or wading is allowed.
Recreation Area Facilities: Amenities at San Pablo include a well-stocked bait and tackle shop, fish cleaning stations, a handicap fishing dock, a variety of boat rentals, picnic grounds, a children's play area and the San Pablo Grill, serving cooked to order breakfast and lunch with a lake view.
Boating Regulations: There is an $8.00 daily boat launch fee for use of the six-lane ramp, a $4.00 daily float tube launch fee and a $4.00 car top/kayak launch fee. No 2-cycle engines, dry stack jet boats, water skies, personal watercraft (jet skis) or windsurfers are allowed. A 25 MPH speed limit is enforced. Electric motors only are allowed in the preserve area. All motor boats must be registered. The minimum width is 23-1/2 inches on all types of boats.
Vessel Inspections: The San Pablo Recreation Area boat launch is open seven days a week throughout the season. EBMUD's boat inspection program includes two parts: a history survey, followed by a physical inspection. Boats that fail either the survey or the inspection cannot be legally launched in EBMUD reservoirs.
Hours: Open this year from February 7 through November 9. The main recreation building and marina open from sunrise to one half-hour before sunset.
2020 Fees and Permits: The vehicle entry fee all day is $7.00, the daily fishing access permit is $5.00 and the dog fee is $2.00.
Picnicking: Many first-come first-serve picnic sites are available with tables and barbecues. There is a children's play area. One reservable group picnic site called The Oaks accommodates 50 to 200 people. For reservations, call (510) 223-1661.
Information: Rocky Mountain Recreation, San Pablo Reservoir Recreation Area, 7301 San Pablo Dam Road, El Sobrante, CA 94803, Phone: (510) 223-1661, http://www.rockymountainrec.com/lakes/san-pablo-reservoir.htm