By Kevin Hofer
Want to catch a trophy trout out of your yak that wasn't just dumped out of a stocking truck?
Hooking a cutthroat is a great option. A bit of traveling is required for most to chase these beauties, but the journey is part of the fun. There are three bodies of water that come to mind when I think of trophy cutts: Pyramid, Heenan and Independence Lakes.
Each of these lakes has special regulations and many different approaches to fishing them from the kayak. I will try and give you a basic idea of what to expect from each lake and a starting point for fishing them.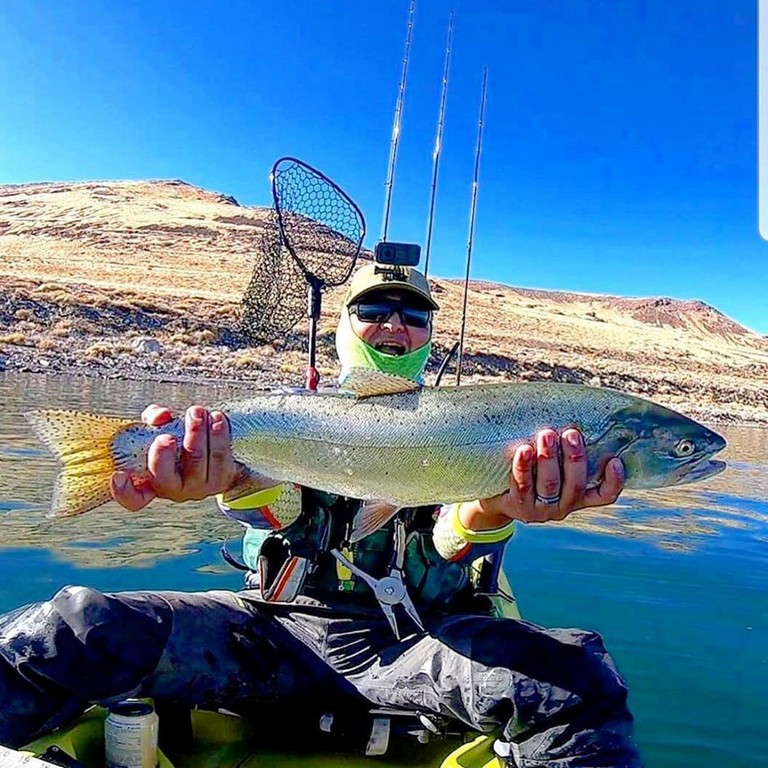 Starting with my favorite, Pyramid Lake located north of Reno, gives anglers the best chance of catching a true monster. A special permit is required to fish and boat here, these can be obtained online or at the Crosby Lodge.
One bonus is that you don't need a Nevada fishing license because the lake is on tribal land. Crosby's is a great place to check out even if you have permits, they have good food, photos of lunker fish, all sorts of tackle. If you are like me on my first trip you will need to buy much bigger lures!
Like Heenan and Independence, Pyramid is an artificial barbless water. Large spoons in green and white, Apexs in rainbow patterns and various Lymans are all good choices if you're in the mood for trolling. If not that's o.k. there are times when the fly fisherman throwing buggers or beetles dominate the catches. Locating a school of trout on the fish finder and jigging for them is also another good option.

One of the benefits Pyramid offers other than huge fish is great camping opportunities. Finding a spot next to the water is not a problem, a large portion of the west shore is "open camping" so easy kayak launching is the norm.
Pyramid Lake is quite intimidating and if you're an inexperienced kayaker stay close to shore and don't go alone. It is a huge lake and can go from flat to whitewater in a blink of an eye, so be cautious.
There are a lot of fish in the lake but it may take many miles of paddling to find them, just stay in your comfort zone and pay close attention to the weather. Make sure to give shore anglers plenty of space but remember some of the biggest fish are caught right near the shoreline.
If you want to catch a trophy 'cutt but are not ready to brave the big "P" then Heenan Lake is a great alternative. Located part way up Monitor Pass the small impoundment is home to DFW's Lahontan Cutthroat broodstock. Being so small the wind waves will not get that big here unlike the other two lakes.
The last time I was at Independence a kayak cart or a short carry was needed if you did not have a high clearance vehicle.
Once on the water you will be surprised at how shallow the average depth is, but don't let that fool you there are 28 inch plus fish swimming in there. For such a small lake with so many fish it can be quite difficult to hook into them at times.
I do best trolling different spoons and lures behind a dodger but also hook up just top-lining Speedy Shiners in the morning. Flipping flies can result in high numbers at times as well as produce some big fish.
If you're going to make the drive to Heenan be sure and check to make sure that it is open! The lake has a closed season that varies year to year.

The gates open at sunrise and close at sunset so be off the water if you don't want to get harassed by the law.
If you don't own a kayak and still want a shot at catching a trophy cutt, then Independence Lake is for you. Purchased a decade ago by the nature conservancy, rules and regulations do not allow outside boats on the lake. The awesome thing that they've done is provide a fleet of kayaks for people to use at no charge. Just show up fill out a waiver and hit the water, it is on first come first serve basis so show up early.
The first time I went it was too windy and they were not letting boats out. The second time I was able to get a yak and troll around the lake. It did not take long for the wind to pick up something fierce but not before I hooked a feisty little cutt. I've heard that there are some monsters in the lake and with such little fishing pressure I'm sure it's true. Next time I will troll my Pyramid gear. Big plugs and big spoons, hopefully will equal big fish!