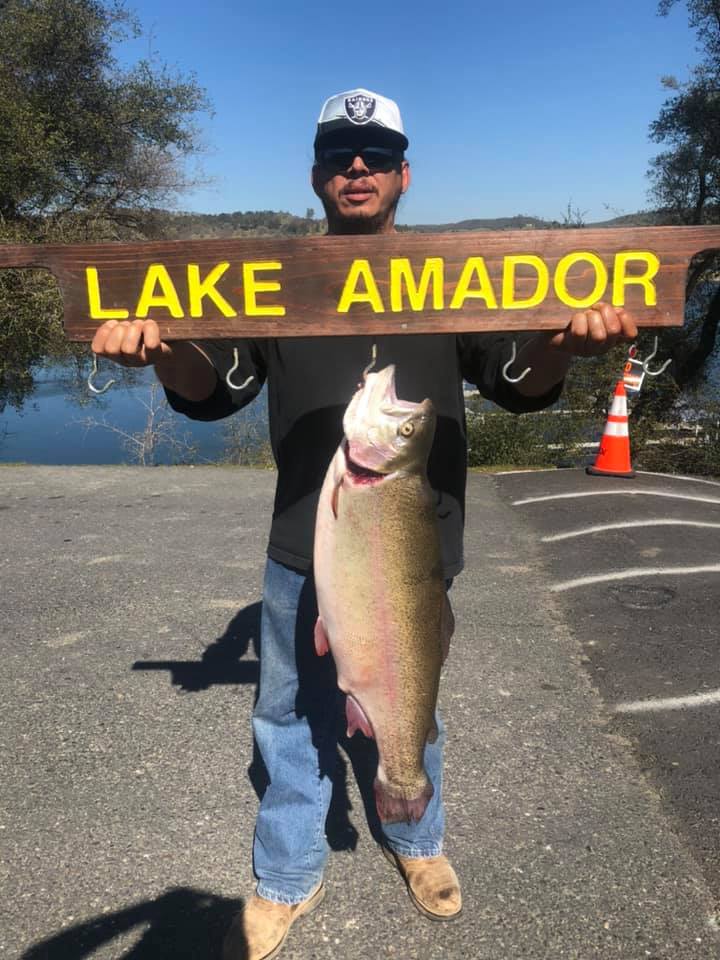 If you want to catch huge trout, it's hard to beat Lake Amador right now. Both bank anglers and boaters are hauling in monster Amador cutbows and rainbows while using an array of fishing methods at this popular Mother Lode fishery located on Jackson Creek.
My friend Tom Stienstra, outdoors writer for the Francisco Chronicle, calls Amador "Northern California's Fish Factory." I agree, judging from the recent catches weighed in at the resort.
Just ask Rene Ramirez , who was just 6 ounces shy of having the new lake record for trout when he weighed in 15.75 pound trout on February 27. He landed the fish while soaking Power Bait from shore in the Carson Creek Arm.
The lake trout record still stands at 16.4 pounds, but it could potentially be broken this season, based on the numbers of huge fish show.
Mike Groulx from Vacaville bagged a 14.74-pound rainbow while trolling green Power Grubs on Tuesday, February 25.
That's not the only trophy trout landed lately. Boyd Rosenthal landed a 13.8-pound trout from a kayak while trolling with a Speedy Shiner, reported Elizabeth Lockhart of the Lake Amador Café.
Travis Marshall successfully battled a 12.94-pound trout while soaking Power Bait from shore. Robert Freitas of Fair Oaks also caught a 12.24-pound trout off the dam on rainbow Power Bait.
Terese Carter of Sacramento had a great day at the lake with her husband, Daryl, when she fooled a 6.65-pound rainbow with PowerBait.
In addition to recent plants from the lake's on-site trout hatchery, Mt. Lassen Fish Hatchery stocked 4,000 pounds of rainbows into Lake Amador on February 19. "We wanted to put in a big load of fish into the lake," said Lockhart. "A total of 14,000 pounds of trout have been planted since October at the reservoir."
The resort also stocked a total of 700 pounds of Amador Golden Rainbows– a special breed of trout – on February 26. The lake management has planted a mixture of Amador cutbows, golds and rainbows from the on-site hatchery since October, 2019.
There are still approximately 8,000 to 10,000 pounds of trout in the hatchery. The resort ill plant at least another 8,000 pounds from the hatchery this year.
"We have planted 14,000 pounds total this year to date. We will probably plant around 25,000 pounds this year," he noted.
"Trolling for trout is really good with Rapalas and Speedy Shiners now," said Lockhart. "Shore fishing with PowerBait and Kastmasters is also excellent."
Amador's annual trout derby ends on March 8, so you still have time to enter it. Information: (209) 274-4739. There are a number of fish derbies coming up on Lake Amador.
The NorCal Trout Anglers Challenge event, presented by Angler's Press Outdoors, will be held at the lake on May 2. Information: (916) 768-0938.
The Hook'D Bait and Tackle in Ione will hold a bass tournament at Lake Amador on March 22. Information: (209) 790-5100.
Amador produced one of the most memorable trout adventures that I have ever experienced. On a morning in June 1991, I went to the lake to catch some bluegill, since the tasty sunfish were on the bite the day before during a shore fishing trip I made to the lake in the afternoon. Fishing under a bobber off the docks below the lake clubhouse, I didn't hook any bluegill, even though fishing buddy Doug MacPherson and I had experienced topnotch bluegill fishing the day before.
However, I did get into an epic trout bite. I caught one 3-1/2 to 4 lb. rainbow after another on light spinning gear, releasing some and keeping my limit of five fish. The limit weighed just shy of 18 pounds, a great weight for five fish anywhere in northern of Central California.
The resort is the only facility that I know of that has its own fish hatchery operation, an operation begun by Bob Lockhart over 25 years ago.
However, the lake management was forced to shut down the hatchery during the drought starting, the result of lack of water to keep the facility going. With better water conditions, the resort reopened the hatchery in 2017.
The hard fight that Amador's own hatchery raised trout have historically provided anglers, along with their beautiful fins and colors, are due to the unique strains of fish grown here and the conditions they are raised in.
First, the hatchery raises the fish in tanks 5 to 6 feet deep, rather than 18 inches deep like other hatcheries, making for better growing conditions.
Second, when the fish reach the age of 8 months and are taken out of the raceways, they are raised in 7 octagonal tanks with a constant current running through them. Swimming in the current forces the fish to become strong and healthy.
Third, the resort uses top quality "EWOS" food to raise their fish. Since it includes krill and sardines, it helped give the fish's flesh their unique pinkish orange color.
Fourth, the lake management keeps the amount of fish in the hatchery at a lower density than the state and other hatcheries, so the fish display squared, rather than rounded, tails.
Fifth, the quality of the fish they raised also has to do the unique strains of fish they raise. While they first spawned fish from brood stock, they began buying eggs because it was less expensive.
"We raised kick-ass fish that fought like hell," said Lockhart. "However, because costs to raise fish have tripled, we aren't going to be able to raise 100,000 fish per year like we used to."
Trout provide the most popular fishery at Amador from October through May, but the lake also features excellent populations of Florida-strain largemouth bass, channel and blue catfish, black crappie, redear sunfish and bluegill.
The largemouth found in Amador are Florida strain/northern hybrids. Northern strain bass were planted in the lake after it was filled in 1968, followed by the introduction of Florida-strain largemouth by the CDFW in 1973.
The lake management also plans to plant channel catfish this spring and summer, like they did over the past two years, to supplement the lake's catfish population.
Over the years, Amador has produced some huge fish. The lake record bass, caught in 1986 by Tim Kamura, weighed 17.1 lbs. The record catfish, caught by Joel Issac, weighed 39.6 lbs. The record crappie weighed 4.1 lbs.
Amador is located only one hour from Sacramento and Stockton, and only two hours from anywhere in the Bay Area. The 1300 acre facility offers a heavily–stocked 400 acre lake, with an updated dual lane boat launch and a large fishing dock for shore anglers. The surface temperature was around 53 degrees and the lake level was 26 feet from full at press time.
For more information, contact: Lake Amador Resort at 209-274-4739, www.lakeamador.com.
Lake Amador Facts
Location: Lake Amador, located on Jackson Creek in the Mother Lode foothills near Ione, features 400 surface acres and 13-1/2 miles of shoreline when full. The reservoir is managed as a fishing lake – no water skiing or jet skis are allowed.
Fishing Season: Fishing is open year round. The lake management and California Department of Fish and Wildlife plant the lake from mid October through mid June, depending upon the surface water temperatures.
Resort Facilities: Amador is a full service resort complete with a marina, fishing dock, café and store. The Tackle Box Cafe, located in the Lodge, serves breakfast and lunch on Fridays, Saturdays and Sundays. Also located in the lodge is a large general store and beer bar with a large screen TV. A well-stocked bait and tackle store with rental boats is also located in the lodge. Unlike many other lakes, Amador encourages fishing from its docks. The resort also features two 18-hole disc golf courses and a DG pro shop.
Launch Ramps: The lake has an expanded launching ramp with new docks and a paved parking area lighted at night for nocturnal fishing adventures.
Camping: Full hook-up RV sites and a 150 site campground, with showers and flush toilets, are nestled along the shoreline of Lake Amador. The sites are available year round with reservations or just show up. They always have room except maybe on some holidays.
Day Use and Other Fees: The parking fee (1 vehicle up to 4 people) is $10.00; each additional person is $2.00. The fishing permit costs $9.00 per day. The boat launch fee is $7.00 per day; kayaks, canoes and float tubes are $4.00 per day.
Fishing information: Lake Amador Resort at (209) 274-4739, www.lakeamador.com.
–