By Stacy Barawed
Now that guides are able to get back on the water, this may be the perfect time to book your trip and take advantage of lighter loads.
I played hooky from work recently to spend a day on the Delta with Captain Jeffrey Soo Hoo of Soo Hoo Sportfishing. To my delight, we had his boat all to ourselves which allowed me to pick his brain about fishing, cooking fish, and travelling the world to catch fish.
I boarded his Rouge Jet Coastal 23 around 7:00am and we blasted off from Lauritzen Yacht Harbor in Oakley, ready to hunt down some big stripers on the San Joaquin River since my freezer was running low on taco fixings.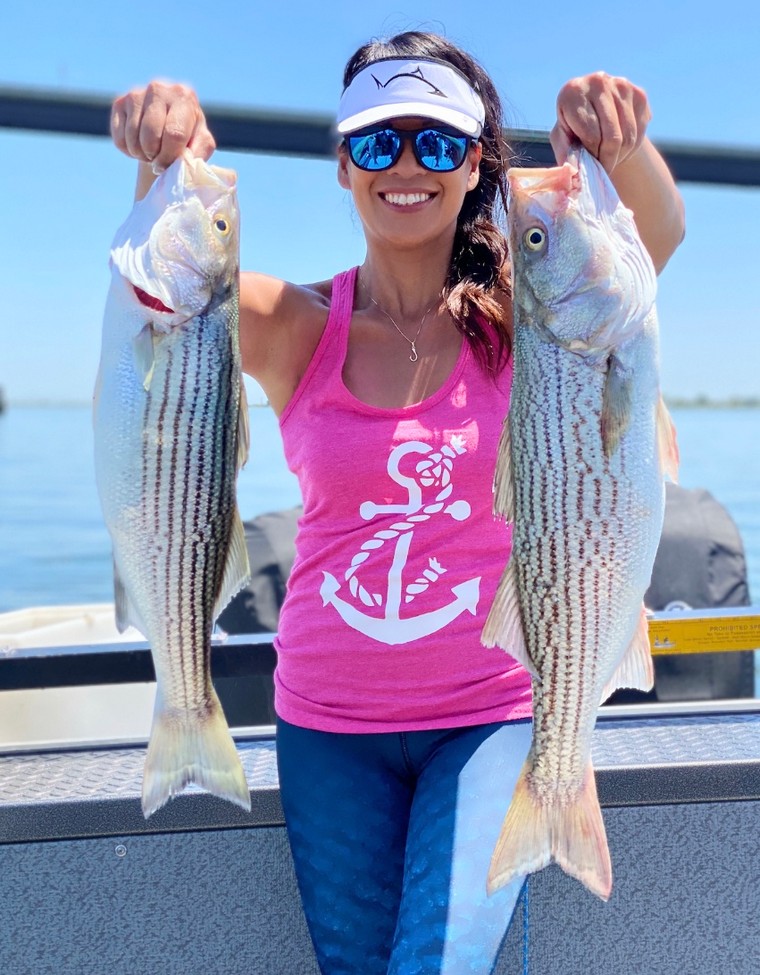 Our first stop wasn't far from the harbor. We began east of the Antioch bridge and would work our way westward throughout the morning. We rigged up two Cousins 7104PT HVY rods with live minnows, dropped our bait, and the fun began almost instantly.
To say that Captain Jeff knows where to find them would be an understatement. On several occasions, I was running (and giggling) from one side of the boat to the other because both rods were doubled over. Striper fishing is his passion; even when he's not guiding, he's out on the Delta searching for them. He seemed almost befuddled if we went a few minutes without a bite. Now that's work ethic!
Soon we would add 1.5- to 2-ounce spoons on Cousins 83M-T MED rods to the mix. "If they bite minnows, they'll bite spoons…the minnows just show us how big the school is down there," Jeff explained.
Although I always want to find the big fish (who doesn't), I certainly don't discriminate against shakers. Feisty stripers of almost any size are still fun to battle, and when you're hooking fish after fish, occasionally dropping one into the livewell, you can't be disappointed. The fish that drag me from one side of the boat to the other are usually my favorites, and on this trip those ranged anywhere from two pounds to near double-digits. At times it was hard to gauge the size until they broke the surface.
We started finding schools of bigger fish once we headed west of the Antioch bridge towards Sherman Lake. I was able to experiment with different jigging techniques, varying my speeds and depths to see what worked best at each location.
"Make sure you control the drop. If you drop it too fast, the line may get tangled with the hook…you also risk missing a bite on the descent," Jeff advised. And of course, he was right. A slow, controlled descent with a single-hooked spoon started producing good results. By mid-morning, our livewell was full and our goal was to start upgrading.
At one point, we located a small school of significantly larger fish. A couple of bites were missed before we saw one rod bent nearly in half, the line heading straight for the motor.
The pull was so strong, I couldn't even get the rod out of the holder without the risk of it being yanked out of my hands and plunged into the depths of the Delta for eternity. Captain Jeff took control; but as soon as he got it free, whatever was on the other end of the line made a quick run and snapped the line.
"That was a double-digit fish," Jeff remarked, shaking his head. That fish would haunt us for the next half hour.
Luckily, we kept finding schools for the rest of the morning. Every now and then, we'd open up the livewell to replace fish – always a good problem to have. Between catches, we would chat about family, travels to Hawaii, and food; an accomplished chef and former restaurant owner, Captain Jeff texted me one of his secret recipes to complement the fish I would be taking home.
"It's all about the Baja sauce," he grinned.
We slowly headed back to the harbor around noon. I kicked back, enjoying what seemed to be perfect Spring weather: sun high in the sky, a few scattered clouds, and a light, constant breeze.
The boat suddenly came to a halt. Jeff looked at me and said, "Take a look at the graph."
There were so many fish on the graph I couldn't discern how many were actually down there. Jeff quickly rose to his feet, I scrambled to replace my GoPro battery, and we got down to business.
This was easily the best spot of the day. We spent about 25 minutes there, with only two or three casts without hits. These were the biggest and most aggressive stripers by far, allowing us to upgrade with ease. Drag was constantly being peeled and I was pulled from left to right.
The action was almost comical. "We might be setting unrealistic expectations for people," I chuckled.
He laughed. "Your arms are going to hurt tomorrow!"
But as the saying goes, all good things must come to an end. Later at the dock, Captain Jeff fileted my fish with surgical precision, and I departed with enough meat to last at least a few Taco Tuesdays.
Watch the video on my YouTube channel, Stacy Goes Outside.