By Paul J. Kneeland
This has been a very trying spring and summer, with Covid 19 shutting down most of the economy, and now extreme heat and forest fires turning the sky smoky gray. My brother Ken of Merino, Colorado and Mary Mihm of Nebraska, joined Bridget Looney and me on an escape to Eagle Charters in southeast Alaska! After weeks of 90 to 105-degree days, it was wonderful to soak up the rain, clouds and beautiful scenery of the Inland Passage.
We flew into Juneau on Alaska Airlines, were cleared negative for Covid from the tests we had done within 72 hours, and then embarked on float planes from Ward Air right next to the international airport – our destination Elfin Cove 70 miles west. As we flew over the myriad bays, points and estuaries of the Inland passage, I was once again awed by the sheer magnificence of rugged, tree covered and snowcapped mountains dropping steeply into the deep emerald waters of the Inland Passage. Where you can literally see deer and brown bears on the shoreline, trading stares with whales and sea lions only yards away!
Elfin Cove is on the outer edge of the Inland Passage, and is a narrow bay that is about ¾ mile deep and very protected from the elements of the ocean. Eagle Charters lodge is at the very end of the cove, and features a large great room/dining room area and 20 guest rooms in the main lodge.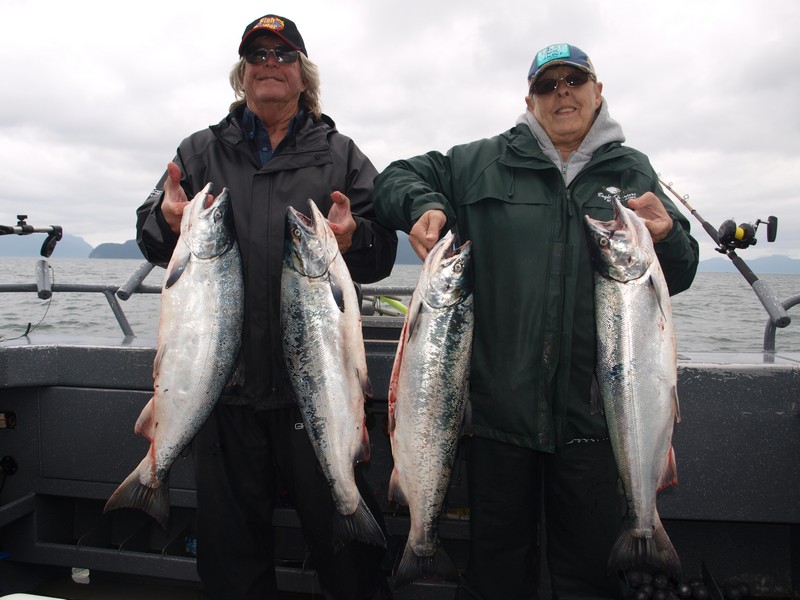 We pleased to see we were scheduled to use the 2 special guest rooms built on the water next to the boat docks. These 2 floating rooms both feature a queen bed plus a single bed, a nice modern bathroom with shower, and a small covered outside deck with an on the water view of the cove!
We settled into our rooms and then walked up to the large dining area for a wonderful feast of prime rib, grilled vegies, baked potatoes and dessert. Mike Leboki, owner and lodge manager, greeted us all and assigned boats for the next day. He also told us about the weather outlook – 15-foot seas, 45 mph winds with gusts to 70 mph the following day. In 30 years at Elfin Cove, he had never seen a storm like this one in August – November maybe, but not August!
That night, safely and securely ensconced in our warm floating room, we heard the wind and rain pound the roof and felt a gentle roll that was like a lullaby to put us to sleep!
The next morning, after getting fully outfitted in Grundens rain gear and rubber boots, we boarded our boat for the day. It was a 34-foot Bahia Cruiser catamaran, powered by twin 300 hp Mercury outboards. It had a full cabin with heater, enclosed head, and lots of fishing room in the stern. The fishing gear was all extreme quality, with both large and small Avet Reels for salmon and halibut, mounted on custom and Shimano composite rods.
Captain Warren Howe was excited to be taking us out on the first day, in spite of the weather. He is a former San Francisco bay skipper, and knew all about The Fish Sniffer. He said they had been killing the silver and king salmon on the outside all week, but because of the weather, we wouldn't be fishing out there today. We headed east and set up for halibut in a nice secluded bay. The weather was raging outside, but where we were it was raining with a breeze, but nothing bad.
We put out 4 rods – 2 with strips of salmon, and 2 with whole salmon heads on size 20/0 hooks!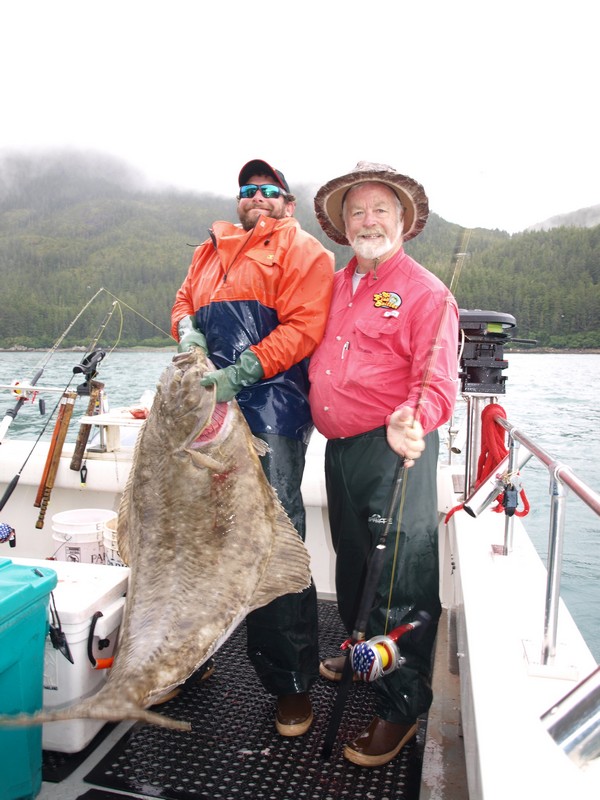 We took turns and Bridget lost the first one we had in just a few minutes of waiting. Then Mary and Ken each hooked and landed beautiful Halibut of about 50 pounds. Then it was my turn. A rod on the port side dipped, and Mike grabbed it, set the hook and handed it to me. It felt heavy for a moment, then started ripping line off the tight drag and 100 lb. test braided line!
I just held on for what seemed and eternity, and the large fish finally slowed down. I started working him up — lift the rod, and reel down to gain line. He took 2 more runs near the bottom, then just became a heavy weight as I slowly winched him to the surface. As he came in sight, Warren and the mate Jonathan both exclaimed "that's a beauty!"
They gaffed and harpooned the big fish, and it was all they could do to heave him over the side into the boat – a monster (to me) 125-pound halibut!
The weather finally improved on our third day and we were able to go outside to fish for salmon with Captain Donny and first mate Dylan. We were using the smaller Avet reels with 60 lb. braid with 25 feet of 30 lb. mono leader, with green and red 10-inch flashers followed by green and white hootchies and Ace Hi Flies.

Several boats were around us, and we all limited out with 6 salmon each by about 11 am. The silvers were beautiful, feisty fish from 6 to 12 pounds, with a couple pushing 15. We headed back inshore to fish for halibut and rockfish. We stopped at a rockfish "hole" about 75 feet deep, and with jigs and shrimp fly rigs on the salmon rods, we had our combined limit of 20 rockfish in about 30 minutes!
Our last day we went back outside to try for some kings. We put out 4 rods and caught several pink salmon and silvers in the first few minutes. Then the rod with a naked gold spoon went off and Warren grabbed the rod as the drag was screaming and handed it to Mary – she grabbed the rod and held on for dear life! She gamely fought the big salmon for several minutes. Jonathan grabbed the net and his eyes bulged when he saw the size of the fish! He netted a fat 41-inch, 37-pound king! I don't know who was more excited, Mary or the crew! Later at the lodge when it was weighed, we learned it was the second biggest king of the season!
We had a tremendous time at Eagle Charters Lodge. All the crew and staff were very friendly and extremely helpful. And you could tell they were having a wonderful time living in the beauty of Elfin Cove for the summer. And the fishing was tremendous. The mark of a quality lodge and quality fishery, is when you can't fish where the guides want to go because of weather, and you still catch lots of fish!
I heartily recommend Eagle Charters for anyone who wants to experience the splendor of the Inland Passage, catch fish until your arms get sore, and relax in a beautiful, comfortable lodge in the wilderness. Contact them at (360)606-5600 and see them at www.eaglecharters.com.