2020, the year of the COVID 19 pandemic, has been one of the top years for big, bold landlocked Chinook salmon at Lake Oroville since the kings were stocked by the CDFW in 2013.
While the fishing has been up and down lately, the  quality of the fish has been excellent, with an unusual number of salmon in the 5 to 6 pound range showing in the catches this year.
Daryl Carter of Sacramento and his wife, Terese, regular participants in the NorCal Trout Anglers Challenge events, sampled the salmon action at Oroville at the end of July. The bite was better in May and June, but it was in July that they decided to finally give the lake a try in their boat for the first time.
Although they didn't hook into big numbers of salmon that day, they were impressed by the average size of the fish after they found a school of landlocked kings.
Their morning started off with slow fishing after the Carters launched their boat and headed towards the dam. Accompanying them in another boat were their friends T.J. and Kristin.
Daryl hooked and landed the first fish of the day, a 14 inch salmon, while trolling with hoochies, tipped with anchovy strips, at 49 feet deep near the dam.
"After we didn't catch anything more there, we went to the Highway 162 Bridge and trolled at 50 to 100 feet deep," said Daryl. It was getting hot and so they decided to change their strategy around 3 p.m.
"We decided to try mooching with anchovies and nightcrawlers in 117 feet of water outside of the houseboats at Bidwell Canyon Marina," he said. "We dropped our baits down and then reeled them up so they were 10 to 17 feet off the bottom."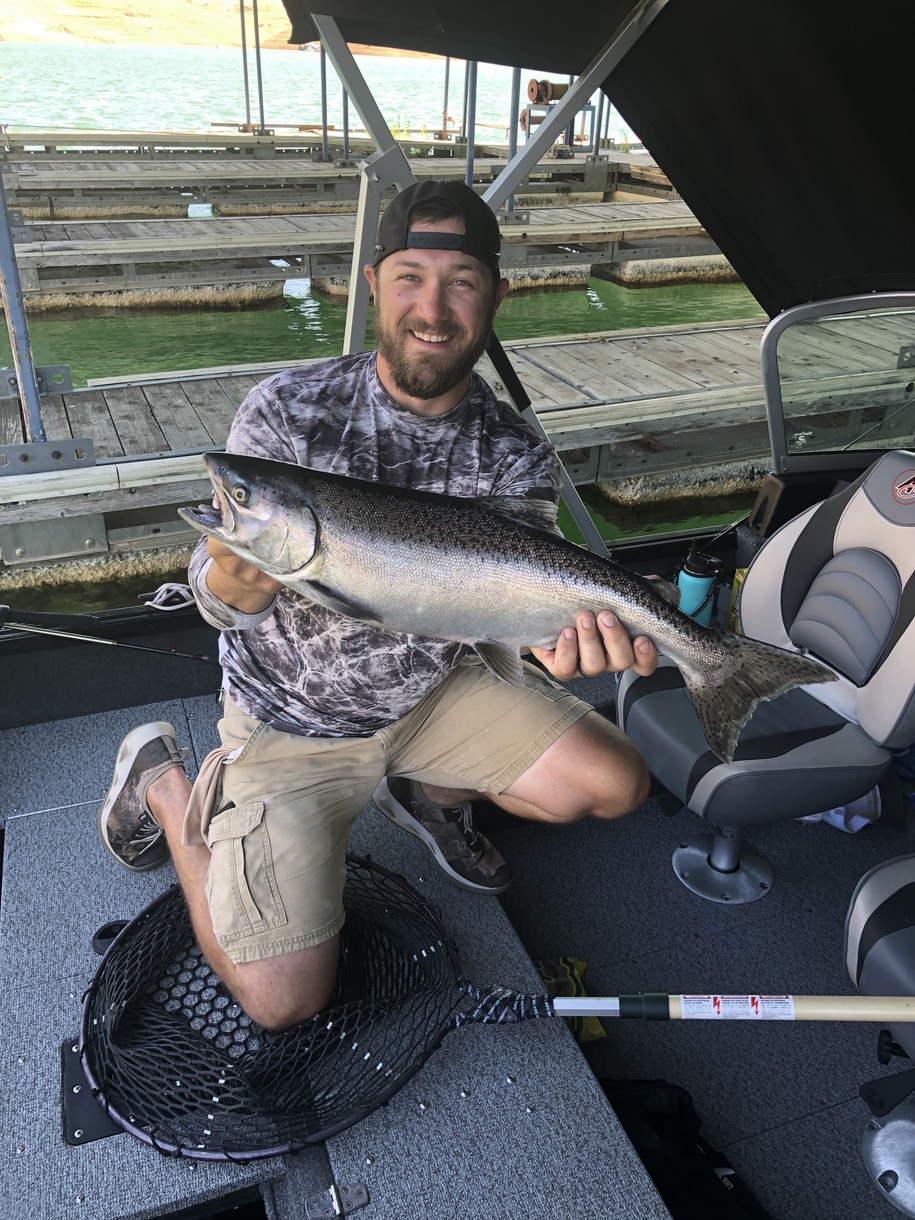 T.J. hooked up the first fish, a big king around. 6 pounds, while mooching an anchovy. Ten minutes later, Daryl hooked and landed a 5-1/2 lb. king, also while using a whole anchovy.
Over the next 1-1/2 hours they caught three more fish. Terese landed one, Daryl picked up another and Kristin caught a salmon also.
"Four of the fish weighed around 5-1/2 pounds, with the largest one going 6 pounds. Our total score was six fish for the day when you also include the 14 incher. We also missed some bites while mooching. We experienced a phenomenal bite for an hour," said Daryl.
However, as soon as the school moved through, the bite stopped and they called it  a day. In their boat alone, Daryl and Teresa had racked up three fish totaling 16-1/2 pounds.
Rob Reimers of Rustic Rob's Guide Service, Bret Brady of Bare Bones Guide Service and other guides have reported a great spring and summer of fishing at Lake Oroville while trolling with Kokanee Series Cut Plugs. Not only have they taken big chinooks, but they have caught limits a number of times.
The landlocked king salmon fishery at Oroville has been a popular and exciting fishery at Lake Oroville since 2013, but the fishing took a back seat in 2017 to the unfolding of events at Oroville Dam that resulted in the evacuation of nearly 200,000 residents of Butte, Yuba and Sutter counties on a one hour notice when Department of Water Resources and local law enforcement officials announced that a failure of the auxiliary spillway was imminent after the spillway began eroding.
The giant hole caused by erosion in the primary spillway and then the erosion and damage to the emergency spillway that spurred the evacuation, followed by the release of 100,000 cfs down the primary spillway, also created the need for two rescue operations of salmon and steelhead by the California Department of Fish and Wildlife (CDFW) and the California Department of Water Resources (DWR).
The shabby construction of the spillways that resulted in the evacuation, the failure of state and federal officials to heed the advice of environmental groups regarding safety concerns at the dam, and the ensuing investigations and construction activities at the dam was a front-page topic of local, state, nation and international media.
The good news is that the Chinook salmon fishery has rebounded over the past couple of years, with the lake vying for the state's top landlocked salmon fishery for both numbers and average size this season.
The California Department of Fish and Wildlife normally plants fingerling Chinooks in the fall. Releases vary by year, with Feather River Fish Hatchery stocking 130,984 yearlings in the lake in 2019.
The Oroville trout and salmon stocking began in 1968 after the lake was filled and opened to the public – and has gone through many twists and turns over the years.
From 1986 to 1992, the CDFW with additional private stocking, planted rainbow trout, brown trout, Chinook salmon, Coho salmon, brook trout and lake trout at various times over the years, according to a report from the California Department of Water Resources published in 2009.
From the 1980s until the early 1990s, there were fish disease and supply problems, so from 1993 to 2000 the CDFW and DWR oversaw the planting of Chinook salmon and brown trout in the lake.
The brown trout fishery in particular was prized by anglers, since the shore fishing with night crawlers and minnows under bobbers, as well as the trolling, was very good.
In 2000, the agencies made a recommendation for planting 170,000 Chinook salmon and 60,000 brown trout. However, a virus problem arose at the Feather River Hatchery, traced to Lake Oroville chinook stocking, and a stocking moratorium placed on Lake Oroville.
In addition, in 2001 CDFW/UCD IHN studies showed IHN disease resistance of 8 salmonid species: brown trout, kokanee salmon, lake trout, Coho salmon, Pit River strain rainbow trout, brook trout, Lahontan cutthroat and coastal cutthroat. There was significant mortality in all but Coho, so DFG decided that only Coho should be planted in the lake.
In 2002, eggs arrived from a commercial hatchery in Washington state (Aquaseed). Coho salmon were stocked in 2002 and 2003 – and they became very popular with anglers.
However, in 2004-05, there was a disease problem with Aquaseed broodstock (BKD) and CDFW fish pathologists provide guidance to Aquaseed on their broodstock management.
From 2006-09 to 2012, the stocking of Aquaseed Coho resumed, but it was discontinued after Department scientific staff shared their concern that continued use of Coho salmon would jeopardize future efforts to recovery the species in California.
"There were two primary concerns," said Jay Rowan, environmental program manager for CDFW's Hatchery Production and Fish Health Laboratory.
"First, that non-native stock in Oroville would escape the reservoir and pose a genetic contamination threat to native populations in California. Because the Sacramento River flows to San Francisco Bay, part of the range of the Endangered Central Coast ESU, this concern was significant. Though the recovery staff believed Coho salmon would escape, others in the Department were confident this would not occur," he stated.
"Second, continued support for allowing the species occurrence outside its native range would prolong arguments and proposals to allow recovery to include planting of native Coho salmon as a strategic element of the State's recovery," said Rowan.
After the Coho plants ended, the CDFW stocked 91,788 kings in 2013, 139,709 in 2014, 139,388 in 2015, 133.120 in 2016 and 135,000 in 2017.
Besides the salmon fishery at the lake, Lake Oroville also hosts spotted bass, largemouth bass, redeye bass, black crappie, bluegill, redear sunfish, channel catfish and other species in its clear waters.
For more information about Lake Oroville fishing, call Willfish Bait and Tackle, (530) 887-0839.
Lake Oroville Facts
Location and Size: Near the City of Oroville this man-made lake was formed by the tallest earth-filled dam in the country at 900 feet at max capacity, 770 feet above the stream bed of the Feather River. When the Lake is at its maximum elevation, it includes some 15,500 surface acres for recreation and 167 miles of shoreline. Recreation areas are spotted around the Lake and boaters can land at any point to explore the surrounding country.
History: Lake Oroville was created by Oroville Dam, which the State Department of Water Resources completed in 1967 after 5 years of construction. Lake Oroville conserves water for distribution by the State Water Project to homes, farms, and industries in the San Francisco Bay area, the San Joaquin Valley and Southern California. The Oroville facilities of the project also serve to provide flood control and smog free generation of electric power in addition to recreation.
Activities: The lake offers a wide variety of outdoor activities including camping, picnicking, horseback riding, hiking, sail and power boating, water-skiing, fishing, swimming, boat-in camping, floating campsites and horse camping. Fishing is available year-round.
Lake Oroville Visitor Center: (closed at this time due to COVID pandemic): has a museum, exhibits, videos and a store. The view from the 47-foot tower, with two high-powered telescopes, is a spectacular panoramic view of the lake, Sierra Nevada, valley, foothills, and the Sutter Buttes mountain range (smallest in the world).
As California State Parks begins working with locals on a phased and regionally-driven approach to increase access to state park units where compliance with state and local public health ordinances can be achieved, it is important for visitors to continue to practice physical distancing and avoid congregating with people outside their immediate household. Everyone has the responsibility to mitigate the spread of COVID-19.
Boat Ramps and Campgrounds
Bidwell Canyon – Campground Ph. #: (530) 538-2218
Lime Saddle – Campground Ph. #: (530) 876-8516
Loafer Creek – Campground Ph. #: (530) 538-2217
The Spillway Ramp
Lake Oroville Visitor Center: Ph. #: (530) 538-2219
Fishing Guides:
Bret Brady, Bare Bones Guide Service, 530-263-4451
Rob Reimers, Rustic Rob's Guide Service, 530-632-0051