BURSON – While known best for its bass fishing, the Mother Lode's Lake Camanche, is a quality rainbow trout fishery targeted by shore and boat anglers throughout the year.
The early summer and late fall, especially at a time of record fires and record heat, is generally not the top time to target trout at Camanche, but Robbie Dunham of Koke Machine Guide Service decided to try the lake anyway.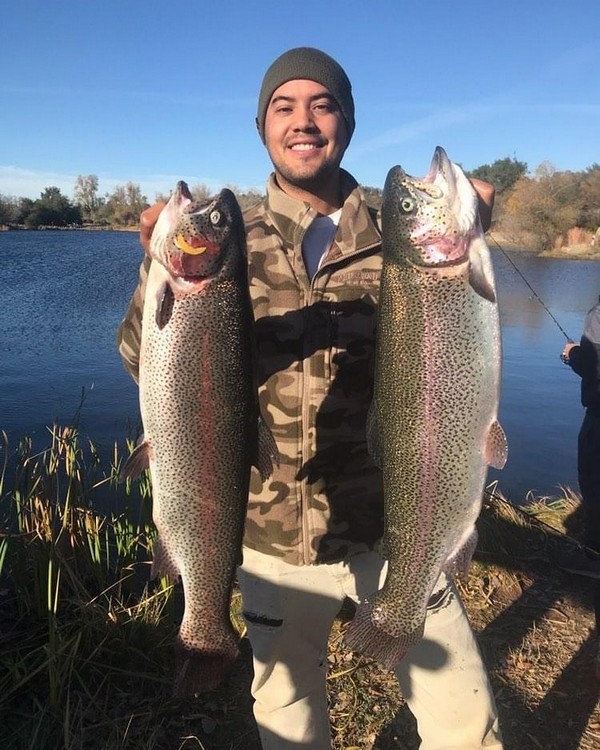 On Friday, Sept. 4, Dunham and Dianne Stockton found surprisingly good trout fishing on a scout trip to Lake Camanche, s popular EBMUD reservoir.
"We launched out of the North Shore Marina as I always do," he said. "I told her it might be a boat ride or we might catch some fish. I had no expectations that we would do as well as we did."
The two anglers caught a total of 10 rainbows, each taking home their five fish limit, by noon. The largest fish weighed 4 lbs., while the majority were in the 2 lb. range.
"We caught the fish all over the lake from the North Shore Marine to the dam — we covered a lot of ground. We used Speedy Shiners around 40 feet deep to catch the fish," Dunham said.
Lake Camanche, located on the Mokelumne River in the low, rolling Sierra Nevada foothills northeast of Lodi, features good shore and bank fishing for trout during the fall, winter and spring months, but it can be fickle at times.
"You can go fishing all morning on the lake and leave at noon without a bite," said Bob Simms, host of the KFBK Outdoor Show. "Then the anglers in the boat that arrives at the ramp at noon will catch their limits by 2:30 pm."
As the weather cools and fall trout plants begin, trout fishing should shift into high gear at Camanche.
Since regular rainbow trout plants began in 1989, the East Bay Municipal Utility District water supply reservoir, has become known throughout the north state as an outstanding trout fishery.
Each year, over 60,000 pounds of trout are stocked between October and June. The fish weigh at least a pound and go up to trophy sized 8 pounders, according to the Lake Camanche Recreation Company.
Ten percent of the fish stocked in the lake and pond are trophy fish three pounds and over, including some real lunkers. The concessionaire plants only "triploid" fish — infertile fish incapable of spawning — since EBMUD biologists don't want the rainbows mixing with the native run of steelhead in the Mokelumne River below Camanche dam.
The largest trout I have every personally caught at Camanche was a 7-1/2 pounder that I landed while trolling in April over a decade ago, but many huge fish have been caught on this lake.
You could catch the trout of a lifetime when you fish at Lake Camanche. Just ask Mark and Mike Seaters of Lodi, who teamed up to catch the lake record rainbow of 19.42 pounds while fishing a brown plastic worm near the dam on May 5, 1998. Ray Miles of Woodbridge set the record for the South Trout Pond when he bagged a 19.37 lb. largemouth while fishing a jig on March 28, 1998.
While many anglers come to the lake to fish from shore or boat, very few are aware of the lake's history. After the dam was completed and the reservoir filled in 1964, the remains of several Gold Rush towns were flooded.
The most notable of these was Lancha Plana – "flat boat" in Spanish – a settlement in Amador County formed as a result of a flatboat ferry crossing across the Mokelumne River. Founded by Mexican settlers in 1848, it was situated on the north bank of the Mokelumne River, 9 miles south-southeast of Ione at an elevation of 220 feet. Lancha Plana Bridge crosses the lake now about where the town once stood.
Other towns inundated by the lake rising waters include Arkansas Ferry, China Gulch, and of course, Camanche, the town that the reservoir is named after. The town, formerly called Limerick, became Camanche, named after Camanche, Iowa, in 1849.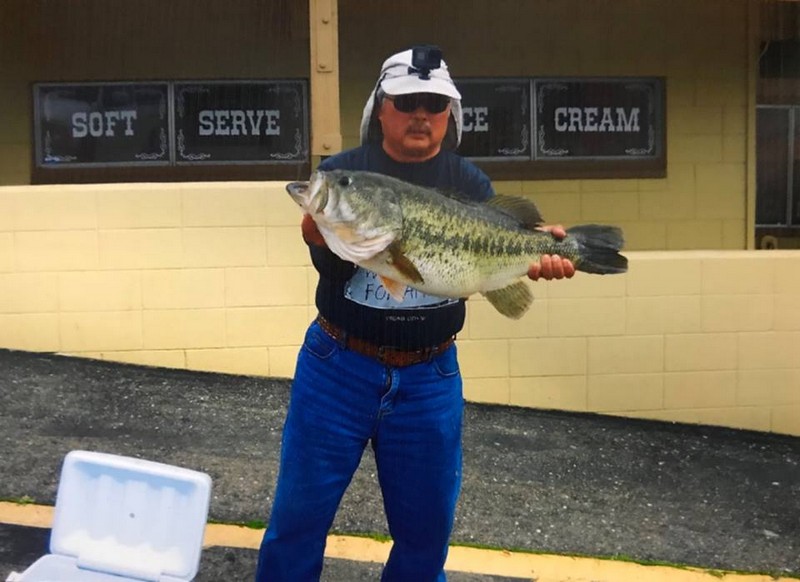 Since the lake is relatively shallow, with a maximum depth of about 150 feet when full, Camanche offers huge expanses of reefs and rock piles punctuated by standing timber and brush. The low areas between the rock piles act as channels and travel corridors that the lake's trout, bass and other gamefish use for travel and security.
Besides the lake itself, the South Shore also features the South Shore Trout Pond, regularly planted with trout in the fall, winter and spring.
With abundant structure, Camanche features a trophy bass fishery dominated by largemouth and spotted bass.
Kevin Miranda of Sacramento caught the lake record largemouth weighing 18.17 lbs. on June 26, 2015 when he was fishing with a crankbait by Little Hat Island. That fish measured 31" long and had a 24" girth. That record shattered the previous record of 15.2 lbs. caught by Lonnie Owens back in January of 2013.
The second biggest bass ever caught at the reservoir was caught in January 2018 by Dennis Choi of Rocklin while he was fishing for trout off the north shore day use area at Camanche .While he didn't hook any trout, he managed to catch and release a monster 15.46-pound largemouth bass while using Berkley Power Eggs.
"It was my 73rd birthday," said Choi. "I feel very lucky to catch such a huge fish, especially since it was the second bass that I have ever caught."
He hooked the fish around noon while fishing with an Okuma 8.6-foot ultralight spinning rod teamed up with a Shimano reel.
"The fish hit so hard that it bent the rod completely over in the holder. I grabbed the rod and as soon as I set the hook, I thought, 'Holy Toledo, this is a big fish,' " he said.
The reason for the big bass at Camanche is the presence of Florida-strain largemouths that grow bigger than the northern-strain largemouths, plus a healthy forage base. The lake management most years stocks Florida-strain largemouth in the lake to bolster the lake's natural spawning population.

On July 10, 2019, Bass Unlimited from Willow Creek Fisheries planted 4,700 lbs. of fingerling bass in Camanche. Each pound equals to roughly 170 fingerlings; the math is about 800,000 baby bass fish. They planted ithe bass in multiple locations throughout the entire shoreline of the lake.
Beside rainbow trout and black bass, abundant populations of channel catfish, black crappie, bluegill and sunfish are found in abundance in the lake.
Steve Anderson set the lake crappie record on March 1, 2016 when he landed a 3.16 lb. crappie while fishing a jig.
Jeff Howard set the lake catfish record on December 3, 2016 when he landed a 27.6 lb. channel cat while soaking chicken liver in the Narrows.
While fishing for any of these species, you may see the iconic bald eagles that migrate south to Camanche every year.
For more information, contact: Lake Camanche—North Shore, 209-763-5121, or Lake Camanche—South Shore, 209-763-5912. For more information on guided trout adventures on Camanche, call Robbie Dunham, (209) 712-6611.
Lake Camanche Facts
History and Size: Lake Camanche sits in the rolling Mother Lode foothills of the Sierra Nevada t the juncture of Amador, Calaveras and San Joaquin counties. The EBMUD reservoir covers 12 square miles, is 150 feet deep, and has 53 miles of shoreline when full. The lake is only a two-hour drive from most of the San Francisco Bay Area. Construction of the dam and reservoir on the Mokelumne River was finished in 1963.
Fishing Season: Fishing for rainbow trout, black bass, channel catfish, bluegill, crappie and other fish is open year round at Lake Camanche. A $6.50 fishing access fee is required.
Vehicle Entry/Parking: the daily fee for cars, motorcycles and small vans is $12.00 during the regular season and $9.00 daily during the off-season from October to April.
Boating Facilities: Marinas on the North and South shores offer boat rentals, slips, fuel, bait, tackle and supplies. Boat ramps are located on both shores. The boat launching fee is $12.00 except for during the off-season from October to April when it is $9.00.
Camping and Lodging: Full RV hookups, shoreline camping and lots of campsites with barbecues, tables, hot showers, restrooms and laundry facilities make Camanche one of the best recreational destinations in California. Fully furnished cottages at both shores and motel units at the North shore are also available.
Vessel Inspections Required: The East Bay Municipal Utility District has taken several steps to manage the Quagga and Zebra mussel issue at Camanche. Vessels from Southern California and outside of California will not be allowed on Lake Camanche. All vessels from approved counties will be inspected prior to launch. These inspections should take no more than five minutes per vessel. You can help with the inspection process by ensuring all your water reservoirs are dry and that your boat is clean. For more information, visit: https://www.ebmud.com/recreation/invasive-mussel-prevention-program
Facilities information: www.camancherecreation.com
Lake Camanche – North Shore, 2000 Camanche Rd., Ione, Ca. 95640, 209-763-5121
Lake Camanche – South Shore, 11700 Wade Ln., Wallace, Ca. 95225, 209-763-5912
COVD Update: Working together with their agency partners and public health officials, the Camanche Recreation Company has developed a sustainable operating plan to allow outdoor recreation to continue at Lake Camanche. Starting Thursday July 2n, Lake Camanche day use visitation numbers have been reduced to provide enhanced social distancing. The new daily limits are as follows:
• 100 day use vehicles at the North Shore
• 100 day use vehicles at the South Shore
• 150 daily boat launches at North Shore
• 100 daily boat launches at South Shore