Lake Almanor
Midge Hatch and Flying Ants Make Fishing Tough
Chester – The bite on Almanor remains tough; insects remain the diet of choice with prolific hatches going off daily. Add a couple of ant hatches and these fish have no reason to chase a meal. The fish we are catching are fat, healthy and red hot.  On calm days you can see fish (lots of fish) grabbing insects on the surface as the insect hatches subside the bite will improve. 
I was on the water five days this past week, there was no rhyme or reason to baits/speeds, we mixed up gear based upon weather conditions. When the winds are mild I go slow, 1-1.3mph with crawlers, when the wind picks up I change to hardware and speed up, 2.5-3 mph and like most boats on Almanor at least one of the rods will have red/gold speedy shiner on it. Arctic Fox or Jay Fair trolling flies at 1.5-2 mph also caught a few fish with Olive my top choice. We caught a couple of fish top lining a fly on our fifth rod right off the back of the boat. My set back's are running between 80-150' depending on winds and baits and I have been altering depths attempting to find some type of pattern. Most boats are targeting fish on the north/west section of the lake. 
The bass are bedding up, I have heard of a number of four plus pound smallies caught. Bank fishing remains tough with Hamilton Branch your best shot. The USFS opened the Almanor West boat ramp on Friday. Lake level is still on the rise yet remains at near record lows for this time of year. There is no precipitation forecast for the next seven days, it looks like we could see 80 for the first time this year, afternoon winds can make for difficult conditions. – Quail Lodge Lake Almanor Lodging & Guide Service
Lake Amador
Deep Trolling Produces Trout Limits
IONE – "Is the trout bite on fire? I'd say catching 10 fish in 2 hours means, yes it is," said Elizabeth Lockhart at the Lake Amador Resort, referring to a recent trip to the lake by Robbie Dunham of Koke Machine Guide Service. 
Dunham had no problem getting 2 limits boated by 8:30 am on Sunday May 2 while trolling Speedy Shiners on the Main Lake between 20-40' deep.
On his next trip two days later, Dunham and two anglers returned by 10 a.m. with two limits of rainbows. The fish hit Speedy Shiners at 15 to 20 feet on the Main Lake.  
The resort stocked 1200 pounds of trout during their last plant of the spring. The won't resume planting trout until water temperatures cool down below 70 degrees near the end of October. 
"Most everyone is leaving with limits of trout while fishing 30' deep with PowerBait or trolling Speedy Shiners.," she said. "Bass are on the beds, catfish are biting heavy, crappie are everywhere…there couldn't be a better time to go fishing." 
"The swim pond opened on May 1. The Disc Golf courses are getting close to full manicure and the second week of May we are paving nearly a mile of campground," Lockhart stated.
The lake level is 23' from full, the water clarity is 12' and the oxygen content is 10 mg/L. 
American River/Sacramento
Bank Anglers Battle American Shad
SACRAMENTO – The shad have arrived on the American River and are spread out on the popular urban river from Sailor Bar to the mouth at Discovery Park.
"A lot of anglers are fishing the Harrington Access area now," reported Craig Newton of Willfish Bait and Tackle. "Most are using small 1/16 to 1/32 oz. jigheads and 1 to 1-1/2 inch chartreuse and pink grub tails for the fish in the low and clear water conditions."
While some anglers are fishing their lures under bobbers, others are drift fishing the lures with small split shot. You can expect to hook mostly fish in the 1 to 4 pound range, with an occasional larger shad.
Striped bass fishing throughout the lower river should improve as the weather and water temperatures heat up in this drought year. Drift live minnows from a kayak or other boat or toss out top water lures and swimbaits in the early morning and late evening hours on deep holes throughout the river.
The Bureau of Reclamation decreased Nimbus Dam releases to the American River from 1750 cfs to 1000 cfs on April 24-25. The reason for ramping down flows  was to "conserve storage," according to T. Washburn of Reclamation.     
The shad fishing has been "off and on" for anglers throwing darts and small jigheads with grub tails on the Sacramento River in the metropolitan area. Some of the top spots for shad include Freeport, the Interstate 80 Bridge and the Mouth of the American, said Uncle Larry Barnes of Sacramento Pro Tackle.
– Dan Bacher
Clear Lake
Savvy Anglers Boat Lots of Crappie
CLEARLAKE  –  Crappie fishing remains outstanding for those in the know with Ed Legan of Clear Lake Crappie Guide Service catching and releasing over 100 slabs on a recent trip while using small Keitech swimbaits.
 The activity at the lake has slowed since its apex with heavy tournament action in March/April. Low water conditions are hampering access, but largemouth bass are taken on a variety of techniques including frogs, Senkos, Keitech swimbaits or Lucky Craft's LV500's. 
There are bass in the shallows and also suspended out into deeper water as the heavy boat pressure last week pushed them off of the banks.
Several launch ramps are closed, and boaters need to get on the lake early to find a parking spot at the available ramps at Lakeport, Red Bud, and the Oaks. There is a possibility that the boat will be inaccessible by June with the launch ramps out of the water.
– Dave Hurley
Collins Lake
Large Trout Take Over Lake
 It was a notable end of April at Collins Lake. We responded to quickly rising surface temperatures by increasing the cadence of our trout plants. 
Where we had mostly scheduled 1000 pound trout plants in March, our schedule is now filled with 2000 pound plants including lots of trophy fish. This in addition to accelerated net pen releases has lead to a late spring dominated by rainbow trout and besieged by giants! 
Apologies to those who limited on good sized fish – this report will be dedicated to 5 pounds and up. To start things off Bob Chappell and his buddy from Penn Valley   caught 8 fish, including a 6 pounder.. While many folks are trolling,, these guys caught their fish mostly on yellow PowerBait from the shore. 
Brandon Redburn from Las Vegas was feeling lucky dropping PowerBait on 4 lb test monofilament, and managed to walk away with a nearly 6 lb trout caught by the dam! 
John Carvajal was trolling a fly along the main channel between the island and the marina where he brought in this massive 8.8 pound rainbow trout!  
Lloyd Burl of Olivehurst caught his 6 pound trout trolling flashers w/worms while Doug Wittler caught a 7 3/4 pound lunker using a "special lure". 
Jennifer and Samantha from Hollister, CA absolutely loaded up on trout while fishing g the far side of the lake (likely the east side south of the islands) with lures. David from Penn Valley caught a chunky 5.5 pound trout as part of his limit fishing from shore.  
Ron and Joe Felter put four on the brag board including a 5 1/2 pound trout caught trolling using Rainbow Rapalas. Jack Sarafian from Fresno brought in a limit centered on a 5.75 lb Rainbow Trout using green PowerBait from shore just north of the beach. 
And we'll finish off this list of giant trout with Art Stufflebeam of Sacramento, who reeled in ta massive 9 pound rainbow trout trolling a dynamic lure along the main channel just north of the islands. Just look at the size of that tail and gut, what a brute!
As I mentioned at the beginning of April, it's an interesting year for bass, we saw quite a bit of early activity in the first two weeks of April. Warmer than usual water temperatures, I believe, have pushed the bass to bed down. 
The low lake level (as of this this writing below 35′ from full) means that bass can be (must be) found in places other than the usual haunts. While the first half of April we saw bass in the pro-spawn gorging on trout bait, in the last half of the month I don't think I've seen a single bass caught while fishing for trout. 
On the contrary, once they settle in to spawn bass typically don't hunt, they stay on the beds fasting and protecting. That in mind, even a fasting bass will defend their territory – try dropping a crawdad in and see what happens! 
Davis Lake
Bank Anglers, Trollers Nail Quality Rainbows
PORTOLA – The trout fishing is "OK," but not great, for most shore anglers and boaters fishing at Lake Davis, said Jeanne Graham at J&J's Grizzly Store and Camping Resort.
However, a couple of bank anglers reported excellent action on trout one evening when the fish moved in close to shore to feed. "They limited out on rainbows in the 18 to 22 inch range while floating worms off the bottom at Mallard," said Graham.
Trollers are doing best while trolling with Baby Simons and other lures up and down in the creek channel, she stated. 
"The Honker Cove boat docks are in the water. The Camp Five ramp is only 4 feet deep in middle, with no dock. The Lightning Tree ramp is high and dry," said Graham.
A few largemouth bass are starting to show up in the shallows, while brown bullhead catfish are biting on nightcrawlers.
The lake is at 63 percent of capacity.
Lake Del Valle 
Stripers and Black Bass Lead Late Spring Angling Parade
LIVERMORE –   Striped bass and black bass offer the top fishing at Lake Del Valle, as the trout fishing has slowed down with the warm weather. The water temperature at press time was 67 degrees.
Big fish honors go to Allen and Curtis lam, who caught two largemouth bass, topped by a lunker weighing 10.5 lbs. They were using Speed Worms at the Dam, reported Jack Forzano of the Rocky Mountain Recreation Company.
Other anglers have been using jigs, drop shot rigs and an array of plastic worms for the bass.
Striped bass offer the most consistent fishing at the lake now. "Anchovies and sardines are the top baits" said Forzano. "Another way to get them is to fish with lure that replicate shad or any baitfish."  
The hot spots for stripers have been the East Beach, Heron Bay and the Dam lately.
Tim Woods and Denise from Livermore caught 4 stripers weighing up to 4 lbs. They were using anchovies at the Dam.
The trout have gone into deeper water with the warm water. The best baits for the trout are PowerBait and nightcrawlers, while the most productive lures are Panther Martins, Kastmasters, Rooster Tails and small spinners and spoons.
Dane Palmez from San Mateo caught a 6 lb. rainbow trout while soaking Power Bait at the East Beach. 
The last plant of 750 pounds of Mt. Lassen trout took place on April 27. 
Feather River/Knights Landing-Colusa
Shore Anglers Nail Feisty Shad
YUBA CITY – While most boaters haven't been able to access the Feather River because of the low water conditions, shore anglers have been able to battle both American shad and stripers.
Shad are definitely providing the top action on the Feather River now. "Shore anglers are picking up good numbers of shad on the Feather at Shanghai Bend," said Jim Emery at Johnson's Bait and Tackle. "They are using a variety of shad darts and grubs for a mixture of male and female shad."
Bank fishermen are also landing some stripers, mostly 5 to 8 pounders with an occasional bigger fish, while tossing out swimbaits and top water lures on the Feather from Nicolaus to Verona. However, the fishing is relatively slow for this time of year because of the low flows.
The striper fishing is better on the Sacramento in the Colusa/Tisdale area, but fishing is slowing down there as the fish begin spawning with the rise in water temperatures. 
"We weren't able to catch any fish on my last trip on the Sacramento," said Rob Reimers of Rustic Rob's Guide Service. "Before that trip we were scratching out limits and near-limits of stripers, but the fishing wasn't very good. We fished with live jumbo minnows for stripers averaging 18 to 22 inches long."
At press time, Reimers was heading to Lake Oroville to target king salmon and to Bullards Bar Reservoir to target kokanee salmon.  
Folsom Lake 
Bass Hitting Shallow in South Fork
FOLSOM – Black bass fishing is very good now at Folsom Lake, but boaters are reminded that the Folsom Lake speed limit is now 5 mph and Hobie Cove Ramp at Brown's Ravine is the only open launch ramp.
Don Paganelli of Paganelli's Bass Fishing Experience made a recent solo fishing adventure at Folsom that produced solid action.
"I caught and released a dozen bass while throwing tubes and small swimbaits in the top 10 feet of water near the mouth of the South Fork," said Paganelli. "All of the fish were spotted bass except one smallmouth. The fish ranged from 1-1/2 to 2-1/2 pounds."
Craig Newton at Willfish Bait and Tackle confirmed the top-notch bass fishing at Folsom. "Boaters have been using NED rigs and 5 inch Senkos to catch spotted bass in as little as 2 feet of water," said Newton. "Two customers reported catching and releasing 15-20 fish each on their latest trip; all were spotted bass except one largemouth."
Although the king salmon fishing has slowed down a bit, the rainbow trout fishing has shifted into high gear at Folsom.
"Steve, Dave and John put the hurt on the rainbows today at Folsom.," reported Jerry Lampkin of Willfish Bait and Tackle after his latest trip. "They kept 3 kings and 5 rainbows for supper and released the other 6 or 8 (kind of lost count) to fight another day."
"The kings liked the GVF pina colada spin bug, behind a glow crush dodger down about 70 feet," he advised. "They've gone deep with the rise in water temperatures. Remember to stay in the river channel or you'll lose your downrigger weights." 
"The rainbows liked nightcrawlers behind the watermelon or chartreuse/red dot Sideckick, on the top lines or the GVF pink Draggin down to 25 ft. at 1.5 to 2 mph.," he added. 
Folsom Lake is holding 363,111 acre feet of water, 37 percent of capacity and 49 percent of average.
Los Vaqueros Reservoir
Big Plants Bolster Trout Action
BURSON – The rainbow trout plants continue at Los Vaqueros, with the latest plant of 3,000 pounds of Mt. Lassen rainbows going into the lake on May 6. Plants will continue to be bi-weekly as weather allows
"People are catching limits of trout while fishing from rental boats with Power Bait, nightcrawlers and other baits," said Ray Filyua. at the Los Vaqueros Marina.  
Big fish honors go to Al Hurwitz, who caught an 8.6 lb. trout while fishing anchovies for stripers. Other successful anglers include Pollero Capuli, who landed three hefty rainbows, and Yekam El Nakar, who continues to catch big trout on his frequent visits to Los Vaqueros.  
No huge stripers have been caught over the past few weeks, with the largest one topping the scales at 5-1/2 pounds. Most of the keeper stripers being caught by rental boaters and boaters are in the 18-22 inch range. Your best bet for the stripers it to bait fish with anchovies, troll with Rapalas or other plugs or to cast out trout pattern swimbaits and top water lures.
For those wishing to target catfish, chicken liver and anchovies are the best choices of bait. South Cove, Cowboy Cove and Oak Point have been mentioned by anglers as some of the better spots.
The water level is currently at 127,000-acre feet. The surface water temperature is 67 degrees. 
The water clarity has been good except for windy days. If you are looking to rent a boat, it is always a good idea to call ahead to check current wind conditions. Remember; rental boats are first come first serve. Weekends and some weekdays sell out quickly. For more information, call 925-371-2628.
Trinity River
 Spring Flow Releases Continue
WEAVERVILLE – Due to lack of precipitation and snowpack in the Trinity Mountains this winter, the flow schedule for 2021 is scaled to a critically dry water year, the Bureau of Reclamation reported.
Critically dry is one of five water year types used by the Trinity River Restoration Program to decide how much reservoir water will be released in support of the program's goals to improve habitat for anadromous fish—fish that migrate to fresh water from salt water to spawn—like salmon and steelhead. 
This year marks the third critically dry year in the last five years for the Trinity watershed. The planned release schedule attempts to maximize benefits to the physical and biological character of the Trinity River, given the constraints of the limited amount of water available. 
Key components of the flow release schedule are: 
April 16-17: Increase daily average flows from 300 cubic feet per second to 1,300 cfs
April 21: Decrease flows to 500 cfs
April 23: Increase flows to 1,500 cfs
April 28: Increase flows to peak release of 3,550 cfs
Thereafter, two additional flow increases to 1,950 cfs on May 6 and 1,600 cfs on May 28 are scheduled before flow decreases to summer baseflow (450 cfs) on June 18, which continues until September 30. 
Visitors near or on the river can expect river levels to increase during the flow releases and should take appropriate safety precautions. Landowners are advised to clear personal items from the floodplain prior to the releases. 
A daily schedule of flow releases is available at the program's website www.trrp.net/restore/flows/current/. The public may subscribe to automated notifications of Trinity River release changes (via phone or email) at https://www.trrp.net/restoration/flows/flow-release-notifications/. 
The Trinity Management Council is the governing body of the Trinity River Restoration Program. The council's membership includes Hoopa Valley Tribe, Yurok Tribe, Trinity County, State of California, USDA-Forest Service, US Fish and Wildlife Service, NOAA Fisheries, and the Bureau of Reclamation. 
For additional information, visit https://www.trrp.net/ or contact the office at 530-623-1800 (TTY 800-877-8339) info@trrp.net. 
Shasta Lake
Kokanee, Browns, Bows and Kings
Shasta Lake – Jeff Goodwin, Jeff Goodwin's Guide Service, reports that Shasta Lake saw a solid trout bite improvement this past week and the Kokanee salmon bite is going strong as well.  May is when we see our rainbow trout bite improve dramatically and this year is no exception.  Rainbow trout averaging 2 pounds make up the bulk of the days catch, but as we get closer to June we'll start to see more rainbows in the 2-5 pound range daily.  There are still some big brown trout available, but we do see a slow down in the numbers of browns we catch in late spring through summer on Shasta.  The land locked salmon bite has improved and we're starting to see some better numbers of King salmon caught now.  The Kokanee salmon fishing has been pretty good for a month or so now, but we'll likely see another big improvement heading into June.  Most all species can be found in the top 30′ of the water column in Shasta right now, especially early in the day.  As the sun comes up and the fish start to feel the pressure of boats working in the areas they are holding, look for them a bit deeper in the lake.  40-60′ feet deep is where the cold water is so expect most of the lakes trout and salmon to retreat to those depths after the morning bite.  The morning bite has definitely arrived and you can expect to see a dramatic decline in bites after 10;00 am.  We've been concentrating our efforts down in the main body of Shasta between the I-5 bridge and Shasta Dam.  Every year during late spring and summer this is always the most productive area to fish for trout and salmon species in Shasta.  Access to the lake is still pretty good with several launches still in the water.  Bridge Bay, Jones Valley, Centimudi, Packers Bay, and Sugarloaf launches are your best bets for June.  As a reminder, Shasta Lake fishes very good in the summer months and often times sees the very best fishing of the year for trout and salmon.  Trout and salmon concentrate in smaller areas and orient to the temperature lines in the lake (thermocline) making them very easy to locate.  The trout and salmon feed heavily on Threadfin Shad in the summer so fishing with small spoons is easy and very effective through September every year.  So while most lakes in California see a slow down in the fishing during summer, Shasta remains an exception to that rule and is very productive all summer long.  If you haven't made plans for a summer fishing trip with friends or family, I highly recommend Shasta Lake as a top fishing destination again this year.
Rob Hower, Avid Angler, reports that Shasta lake is starting to produce good fishing everyday now. The end of May should really turn on. The lake is at ruffly 95′ to crest, but is dropping around 6″ a day.  Water temperature is starting at 66° in the morning and get up to almost 70° in the afternoon. Right now the best time is early morning, then it starts slowing down. But we are still getting nice clean fish throughout the day. But conditions are always changing. We're expecting 90° weather and this will bring the boaters, as well shad which will bring better fishing. Fish are still full of bug's and haven't seen any shad in the stomachs. We're catching a real mixed bag right now, fish are still in that 20-45′ and you can expect kokanee, rainbow and browns all in the same depths. Fish are being caught with your typical trout lures, rolling baits  have been productive for us. Kokanee lures are best tipped with shoepeg corn marinated in garlic and your favorite fish scents. Lot of kokanee are being caught near the dam as well as rainbows and browns. Some kings are also being picked up in the area. Kokanee are in the 12-16″ range. They are still being caught throughout the whole lake. They're plenty of great guides that really know how to get you on the fish as well.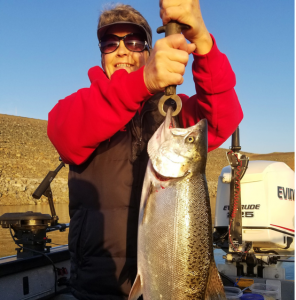 Rustic Rob Reimer's fished Lake Oroville on Mother's Day and put his client on a 7lb 8oz salmon.  What an amazing fish and a happy client!  Photo Courtesy of Rustic Rob's Guide Service