Nothing is more exciting than a vicious top water strike and buzzbaits have a well-deserved reputation for generating giant blowups and big bass. Buzzbaits have been around for a long time but with the flood of newer and flashier baits, buzzbaits have lost some of their luster in the eyes of many anglers.
Northern California Bass Guide, Ron Gandolfi of Paradise relies on buzzbaits to put fish in the boat for his clients. Recently I made a trip with Gandolfi to Lake Oroville where we got on a good topwater bite and it was the buzzbait that took center stage. Just in time for some great fall topwater action, we share six quick tips for better buzzbait success.
Ron Gandolfi On Choosing The Correct Buzzbait
"Buzzbaits work great in all types of water," explains Gandolfi. "I think it is the noise factor that draws so much attention. Whether it is around matted vegetation or tules or clean water you can fish buzzbaits in all types of water, it is such a universal bait."
In clear water Gandolfi relies on a ½ oz white Persuader American buzzbait in the blade in blade or clacker style blade. Both these blade styles produce a subtle sound. If there are a lot of bait fish around, he likes to add a plastic swimbait such as a Keitech as a trailer.
When the water is stained or muddy, Gandolfi switches to a chartreuse Persuader Double Buzz in chartreuse and in low light conditions he favors darker colors like a combination of black and red. The two side by side counter rotating blades make the Double Buzz a noisy flashy bait that draws a lot of attention from aggressive bass.
Presentation Matters
As with any bait, the proper presentation creates more opportunities for success. When target fishing with buzzbaits, casting accuracy is extremely important. When possible, cast past the target and make sure the bait is up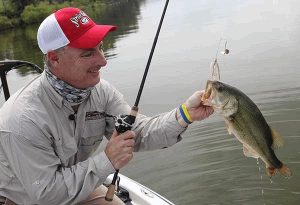 and running as it enters the strike zone. Also, it is important to get the bait up and running on the surface the instant the bait hits the water. "By throwing the buzzbait properly and to the right spot, the success rate will be much higher," advises Gandolfi.
Attention To Detail
Retrieve speed depends on how active the fish are. Generally speaking, the warmer the water temperature means that the fish will be more active. "If you are getting bumped quite a lot, it probably is because you are not going fast enough," explains Gandolfi. "A good tip is to add a trailer hook and speed the bait up a bit."
Fall Fishing
While it is true that buzzbaits take their share of summer time bass, don't put your buzzbaits away when summer gives way to fall. Fall brings about shorter days and cooling water temperatures. Weed growth that flourished during the heat of the summer begins to thin out as bass aggressively put the feedbag on in preparation for winter. This combination of events can set the stage for some of the best buzzbait opportunities of the entire year. Once the water temperature into the low 50's the buzzbait bite goes away.
Positive Connections
When bass are less aggressive, they have a tendency to swipe at a buzzbait without getting the hook. As such I always use a trailer hook when fishing a buzzbait. I thread a 3/0 Gamakatsu trailer hook over the buzzbaits main hook and fasten it with a short piece of the supplied rubber tubing. When fishing open water, I will substitute a size 2 Gamakatsu treble for the traditional single hook. This works especially well for both smallmouths and spotted bass which have a tendency to slash at the bait.
The Last Cast
Do yourself a favor and don't forget about buzzbaits.  Get on the water now for some great fall top water excitement.
To learn more about Ron Gandolfi or to book a trip, please visit his website at www.lakeorovillebassguide.com/about.htm or contact him directly at. Ron guides on a number of Northern California Lakes and works hard to create fishing memories for his clients.